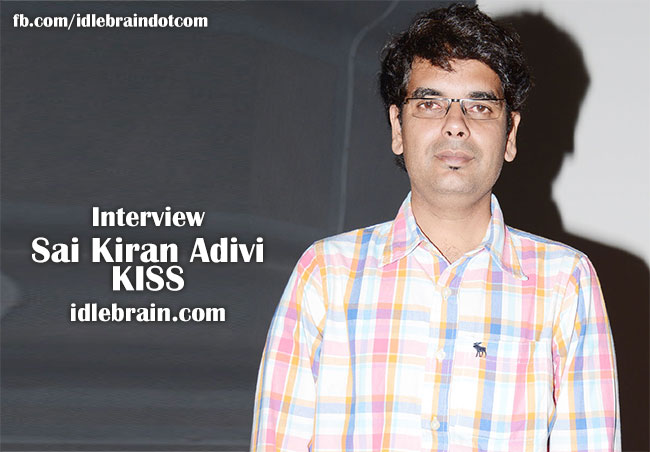 12 September 2013
Hyderabad
Sai Kiran Adivi - the director of Vinayakudu is making his debut as fulltime producer with Kiss which stars and is being directed by his brother Sesh Adivi. Kiss is all set to release on 13 September. Sai Kiran Adivi talks about his passion for making indie films in an exclusive interview with idlebrain.com -

Why do you want to become a producer?
I came to film industry to make the films I like and I love indie films (Independent films). I had always been associated with indy films. I want to create myself a brand as Indie filmmaker. Being a producer, there is always a lot of freedom to do it.
Why Kiss?
Karma is not a typical launch pad film for any hero in Telugu film industry. I personally liked Karma. And I know the capability of Sesh as an actor and a director. My directorial venture Kerintha got delayed. Sesh has been approached for solo hero film projects, but none of them have been encouraging enough. He needs a commercial film and it should be within the strengths of Sesh. He shouldn't be going out of his comfort zone to do a routine commercial film. Hence we zeroed on doing a romantic comedy. It should be like a dream with a strong characterizations for hero and heroine.
We worked together on Kiss script. We have argued about a lot and it was a fruitful exercise. Once the script work is completed, the director is completely free to shoot the film. I haven't interfered with him. Bhavani Adivi (Sesh's mother) took care of logistics for USA shoot and I have taken care of India-part. We do come to know at script level if that works or not. Kiss is a kind of script that works on universal scale. Love and comedy are universal elements. The USA backdrop has added lot of freshness to the film. This film is unlike any other Telugu film shot in USA. Sesh is brought up in San Francisco and he explored it well enough to make visuals look very attractive.
Sesh is very good at music and he took care of Kiss is a fast paced film with lot of freshness.
How is the business aspect of the film?
We haven't sold the film except for Vizag, East Godavari and USA. As a producer of Kiss, I knew that I should make a film only when I am in position to release the film on my own. The output of the film is good. Hence I have decided to retain the rights of the film and distribute it on my own.
At this outset, I would like to thank Mr. Ramesh Prasad for trusting me and financing the film. He has come to my rescue whenever I ran out of finances while producing this movie.
How many theaters is it going to be released?
We are releasing Kiss in over 100 screens across AP. In Nizam, it is releasing in 29 theaters.
What are your future plans?
Script work for Kerintha to be produced by Dil Raju is going on. I have started a banner called 'My Dream Cinema Private Limited' with me, Sesh Adivi and Sashidhar Adivi as partners. We will continue producing independent films on this banner.