Story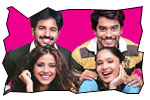 Abhiram (Santosh Samrat) and Deepti (Deepa Shah) are love. Bindu (Pia Bajpai) and Chandu (Chaitanya Krishna) are another pair in love. Ambiram and Bindu are sent to USA for an on-site project. They meet for the first time in the flight. Being the colleagues in USA project, they become friends. And their intimacy leads to the feelings of love, but they don't express to each other. Meanwhile, Deepti and Chandu become good friends and they enjoy each other's company. The rest of the story is all about if Abhiram and Bindu express their love to each other or not.
Artists Performance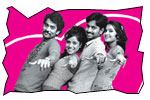 This film sports four new actors in the lead roles. All of them are decent. Abhiram suited the role. Deepa Shah is adequate. Chaitanya Krishna is energetic and expressive. Pia Bajpai's character has depth and she justified the role and she is glamorous too. Jagapati Babu has done a guest role as himself and he is very good. Krishnudu is wasted in this movie and he didn't suit that characterization at all. Siva Nageswara Rao did a cameo as Prem Baba. Though his dialogue delivery is good, he looked little camera conscious. MS Narayana and Master Bharath did a comedy track and both of them are unappealing. Most of the other characters are done by new artists.
Technical departments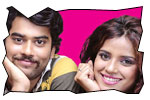 Story - screenplay - directon: The story idea is nice. But the screenplay is uninteresting. The director could able to handle the climax adequately well, but didn't do justice to the rest of the movie. Youth subjects with interweaving story lines need intelligent screenplay and fresh taking. Director tried to imitate Anand and Happy Days by casting new character artists and making them speak in Telugu which they aren't familiar. The comedy threads of wannabe music director and bald guy who want to grow hair by rubbing nails fail to generate the required effect.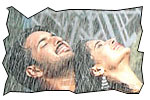 Other departments: Music by Sunil Kashyap is an asset. All the songs are scored and rendered excellently. The background music is also interesting. If he gets a right project, Sunil will shine well commercially. Cinematography by BL Sanjay is neat. Art direction is nice. Editing is slack. This movie is an example of the excellent production and post-production facilities Ramoji Film City possess.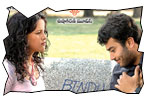 Analysis: The basic story idea is good and execution of the movie is bad. The plus points are music, cinematography and reasonable climax. The negative points are slack narration and uninteresting screenplay. On a whole, Ninnu Kalisaka disappoints.
Ninnu KalisakaLinks:
• User reviews
• Siva Nageswara Rao interview
• Music launch
• Photo gallery
• Wallpapers
• Trailers
Jeevi reviews of previous 5 films
• Ganesh
• Eenadu
• Banam
• Sankham
• Josh
• Mallanna
• Anjaneyulu
• Snehituda
• Magadheera
• Kalavaramaye Madilo
• Gopi Gopika Godavari
• Oy!
• Evaraina Epudaina
• Current
• Raju Maharaju
• Boni
• Kavya's Diary
• Ride
• Aa Okkadu
• Diary
• Pista
• Prayanam
• Kick
• Veedokkade
• Mitrudu
• Circus Circus
• Adhineta
• Punnam Naagu
• Ananda Tandavam
• Billa
• Bheebatsam
• Manorama
• Aakasamantha
• Sontha Vooru
• Malli Malli
• Mesthri
• Naa girlfriend baga rich
• Drona
• 16 Days
• Satyameva Jayathe
• Siddham
• Nenu Devudni
• Konchem Istam Konchem Kastam
• Shh...
• Arundhati

More Reviews