October 14 , 2008
My movie - Kotha Bangaru Lokam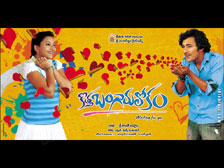 Kotha Bangaru Lokam is the movie we decided upon to watch as a part of dusera celebrations. Somehow I always trust Dil Raju banner movies. So our natural family entertainer perference was 'Kotha bangaru lokam'.
Story starts with narration by a mother about her son. Balu's (Varun Sandesh) middle class parents (played by Praksah Raj and Jayasudha) are very protective and loving, studies in a residential college. Swapna (Shweta Prasad) too joins the same college. Both of them are attracted to each other and after a couple of scenes and songs they feel it is love, not simply attraction. On a college picnic for girls, Balu follows her and takes her out, eventually is caught by the authorities in college and they are asked to come back only with their respective parents inorder to write their exams which is just a month away. Swapna's dad (Ahuthi Prasad) gets to know about his daughter's wrong track and takes her home.
Balu goes home and lies to his parents that for a small mistake in the college he is dismissed. Both hero and heroine do not concentrate on their studies and decide to elope. What follows next is the excellent emotional drama, which is not the usual melodramatic or sentimental scene we normally watch in the routine movies. Yes it is not one of its kind stories and we have seen many love stories like these before. What this movie offers is the realistic solution to the parents while dealing with 'teenage children in love'. There is a scene of prakash raj when he comes to know about his son's love through one his friends, where he says "Intha badha manasulo pettukoni vidu inka exams emi rasuntadu" and another dilogue in which he gives confidence to his son when he tells his dad that he might fail, Prakash raj replies " Exam pass aina fail aina nuvvu naa kodukuvi". These are small things that actually gives confidence to children is what the movie tries to teach us.
Direction by Srikanth Addala stands out. Screenplay and casting is excellent. Especially Varun Sandesh and Shweta Prasad have the faces which suit their characters and perform well. I need not mention about Jayasudha and Prakash Raj, as usual they do justice to their characters. But surprise package is the new set of actors who act as friends to hero and heroine. They appear realistic and add freshness to the movie. Music by Mickey J Mayers is good and two songs "Nuvvani… and Nijanga nenena..." are excellent. Choreography could have been better. I need to mention about cinematography by Chota.K.Naidu. This movie stands out from other normal movies because of the camera work. Producer Dil Raju has another hit movie in his kitty.
More My Movie experiences:
Ashta Chemma by Deepthi
Ashta Chemma by Lalitha Spoorthi
Sarkar Raj by Pradeep
Jalsa by Lalitha Spoorthi
Gamyam by Sridhar
Gamyam by Sreekanth D
Gamyam by Sanjay
Halla Bol by Purnesh
Taare Zameen Par by Ashok Varma
Taare Zameen Par by Raja Simha
Happy Days by Krishna Sastry
Chirutha by Phani Kumar
Chak De India by Ravi
Yamadonga by Lalitha
Chak De India by Shyam
AMAV by Darsakudu
5 in March by Sashidhar
Okkadunnadu by Anand
Black Friday by Ratnakar
Desamuduru by Krishna Prasad
Guru by It's opinion
Dhoom 2 by Lalitha Spoorthi
Dhoom 2 by ASK
Don - Syam
Boss - Anand
Boss - Hrithik
Stalin - Bala
Bommarillu - Nandini
Bommarillu - Darsakudu
Bommarillu - Vasu
Bommarillu - Harsha Prakash
Bommarillu - Lalitha Spoorthi
LRMB - Shravan
Bommarillu - Anirudh
LRMB - Srinivas
LRMB - Darsakudu
LRMB - S Sridhar
Bommarillu - Shridevi
Bommarillu - Vasudev
Bommarillu - Roopa
Sriram - Godavari
Sarath - Bangaram
Bala - Pokiri
Srinadh - Allari Pidugu
Sudheer Allari Pidugu
Anu - Athadu
Shyam Krishna - Iqbal
Purnesh - Grahanam
Sudhindra - Super
Vijay - Aparichitudu
Madhav - Aparichitudu
Hazaraon Kwaishein Aisi
Swades
Shyam - Black
Sai - Anand
Rohit - Anand & Veer Zaara
Jaya Prakash - 7GBC
Raj - Anand
Purnesh - Anand
Purnesh - The Village
Sriram - Gudumba Shankar
Purnesh - Gharshana
Purnesh - Lakshya
Purnesh - Yuva
Leenesh - Yuva
Kis - Lakshmi Narasimha
Indian Pride - Tagore
Raj - Boys
Phani - Gangotri
Phani - Khadgam
Vikram - CKR
BKR - Indra (Singapore)
Ram - Indra (Dubai)
Ranjeet - Idiot
Rahul - Indra
King Koduri - Indra
Srilakshmi Katragadda - Mitr: My Friend