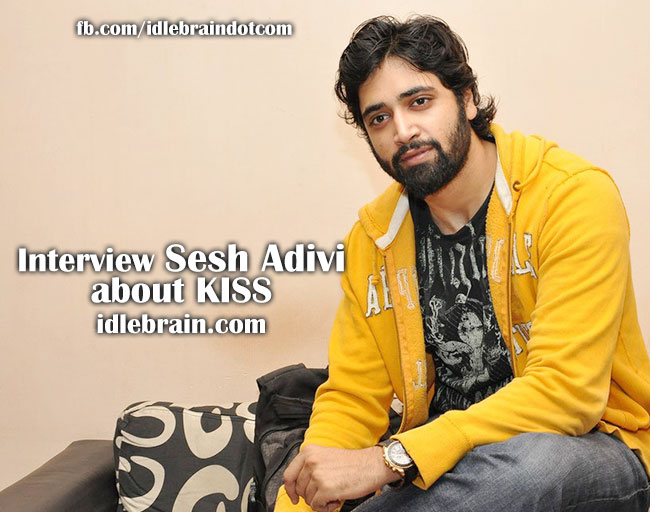 13 September 2013
Hyderabad
Sesh Adivi who has made his debut as actor and as director with Karma is coming up with his second directorial venture Kiss. He opines that Karma didn't do well due to mismatch of sensibilities and is expecting audiences to embrace Kiss movie as it's a romantic comedy with an entertainment value. Kiss is releasing on 13 September. Here are the excerpts of an interview -

What went wrong with your debut film Karma?
I think I have served Pasta for Biryani lovers. When I visited Vijayawada, a couple of college students told me that they didn't understand last 15 minutes of the film. On the other hand, a few of Americans and NRIs loved the subtitled version of Karma. The failure of Karma is more to do with the mismatch of sensibilities of audiences and filmmaker.
However, It was my performance in Karma that brought me a call from Vishnu Vardhan to cast in Panja movie. Pawan Kalyan happened to see Karma when it was telecast in TV and suggest not to stop making films. The advice of Pawan Kalyan helped me in getting more confidence. If my performance in Panja is recognized by movie lovers, I would like to give a part of credit to Pawan Kalyan for inspiring me. Rajamouli said that I was the best part in Panja when I met on the release night at the birthday bash by producer Devineni Prasad.
Tell us about Kiss?
As an actor and as a director, I am good at certain things. I have evaluated the strengths in me that will appeal to the Telugu film lovers and came up with the script of Kiss. It has something which makes audiences instantly connect with. It's a journey of a petty thief and a upper class Telugu-origin girl in San Francisco. The entire story takes place in 24 hours. He ends up changing the life/personality of the girl.
Casting: I had done dark and negative roles in Karma, Panja and Balupu. I wanted to do a happy role for a change. My role in Kiss is a bright and joyful role. Shafi who is known as a mean guy in films has done a hilarious character in Kiss. Dr. Bharath did another important role. My dad made debut as heroine's father. There are a lot of NRI actors in this film.
Tell us about music?
Pete Wonder who has done music for Karma has composed music for two songs (Kiss title song and Dochavu Manase) in this movie. Enno Navaragalu song is composed by both Pete Wonder and Sri Charan. Sri Charan composes rest of the songs and background music. Sri Charan heads a popular rock band from Vizag. There is a fusion of Karnatic, Rock and Hiphop in the music of Kiss. We have 7 background music scores of Kiss in Kiss music CD which is unique and never done before in any Telugu cinema albums.
Tell us about the locations?
The USA part of the film is shot extensively in San Francisco. I grew up in SFO and I knew quite a few hidden gems. You will see freshness in visuals because we have shot the film in a professional way.
What is the budget of the movie?
The first copy cost us Rs. 2.8 crores The climax of the film is shot inside SFO airport with live travellers. Pre-climax of the film is shot in Golden Gate Bridge with live traffic. The runtime of the film is 2 hours and 12 minutes excluding end titles.
What are your next projects?
I am going to do Rajamouli's Baahubali from 29 of this month. It's a pivotal role and lot of preparations are being made for that role.