December 27, 2008
Nachavule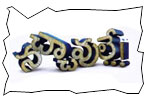 "Amma Enduku kannave veedini ?"
"Nuvvu Nachaka " comes the reply from tanish, the child actor who performed the role of Sonali bendre's brother in the movie manmadhadu.
Ever wondered how time passed by after the movie. I still feel the movie is as gud as the one released this year. Credit goes to trivikram.
Sravan my frend told me about the movie "Nachavule", in which the hero is Tanish. Just was wondering had it been so much time tat even this chap became a Hero.
I always had a good feeling for Ravi babu movies though some of them have been debacles, some of them put up a great work by him. Whether its Allari ,Soggadu or Anasuya - Ravi babu is the guy who makes different movies.
He gives utmost importance to script that even minute details are taken gud care of in his movies. Be it giving recognition to every artist (starting from the light boy) or showing up different way of picturising the same old clichéd scene.
The Movie is very good. It brings in the Tender touch of a Fresh love story which off late has been missing in many movies.
Ramoji rao is back with a bang to his legend of making cute lovestories like Nuvve kavali, Anandam and Nachavuley is definitely going to be joining the same genre.
Though it appears that Ravi wanted to have a Different Publicity for his movie with Cute Doggies, monkey's.,etc may be that's one reason why the movie started on a dull note. But the movie is gradually picking up as it is finding to resonate itself with the Urban student community who envisage and envy to have a Wonderful couple as depicted in the movie.
The lead pair is cut enough to make every one in the audience feel comfortable with. And mind you this movie is not only for Children or Adults it has would definitely strike a chord with the Parent community as it deals with some sensitive subjects like responsibility sharing with Kids, being frenz which I guess every child wants to be associated with.
I haven't even checked who the music director was, but for the past two days ever since I saw the movie I have been listening to only Nachavuley Songs. The songs are fresh upfront with the lyrics adding the right dose to make the moment relish upon.I liked the complete album.
The movie may have its own faults like dragging end, but you can forgive the last 20 minutes of the movie for the first 90 minutes of enjoyement that you have.
All faces on the screen are new and you don't find any resemblance to any known characters.
Go and watch it amidst the hue and cry of King and Ghazini, you will not repent for spending your 50 bucks in vain.
Vamsi
[email protected]
More My Movie experiences:
Avakai Biryani by Vamsi Krishna
Kotha Bangaru Lokam by Vamsi Krishna
Kotha Bangaru Lokam by S
Ashta Chemma by Deepthi
Ashta Chemma by Lalitha Spoorthi
Sarkar Raj by Pradeep
Jalsa by Lalitha Spoorthi
Gamyam by Sridhar
Gamyam by Sreekanth D
Gamyam by Sanjay
Halla Bol by Purnesh
Taare Zameen Par by Ashok Varma
Taare Zameen Par by Raja Simha
Happy Days by Krishna Sastry
Chirutha by Phani Kumar
Chak De India by Ravi
Yamadonga by Lalitha
Chak De India by Shyam
AMAV by Darsakudu
5 in March by Sashidhar
Okkadunnadu by Anand
Black Friday by Ratnakar
Desamuduru by Krishna Prasad
Guru by It's opinion
Dhoom 2 by Lalitha Spoorthi
Dhoom 2 by ASK
Don - Syam
Boss - Anand
Boss - Hrithik
Stalin - Bala
Bommarillu - Nandini
Bommarillu - Darsakudu
Bommarillu - Vasu
Bommarillu - Harsha Prakash
Bommarillu - Lalitha Spoorthi
LRMB - Shravan
Bommarillu - Anirudh
LRMB - Srinivas
LRMB - Darsakudu
LRMB - S Sridhar
Bommarillu - Shridevi
Bommarillu - Vasudev
Bommarillu - Roopa
Sriram - Godavari
Sarath - Bangaram
Bala - Pokiri
Srinadh - Allari Pidugu
Sudheer Allari Pidugu
Anu - Athadu
Shyam Krishna - Iqbal
Purnesh - Grahanam
Sudhindra - Super
Vijay - Aparichitudu
Madhav - Aparichitudu
Hazaraon Kwaishein Aisi
Swades
Shyam - Black
Sai - Anand
Rohit - Anand & Veer Zaara
Jaya Prakash - 7GBC
Raj - Anand
Purnesh - Anand
Purnesh - The Village
Sriram - Gudumba Shankar
Purnesh - Gharshana
Purnesh - Lakshya
Purnesh - Yuva
Leenesh - Yuva
Kis - Lakshmi Narasimha
Indian Pride - Tagore
Raj - Boys
Phani - Gangotri
Phani - Khadgam
Vikram - CKR
BKR - Indra (Singapore)
Ram - Indra (Dubai)
Ranjeet - Idiot
Rahul - Indra
King Koduri - Indra
Srilakshmi Katragadda - Mitr: My Friend