December 22, 2008
Neninthe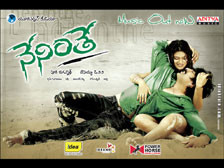 Dear Puri Jagan garu:
I am a great fan of yours. My admiration began from your debut vehicle Badri and grew boundlessly with subsequent releases. Your style of a presenting the hero in a reckless and "don't-care" attitude struck a chord with me (and many others) and won you an enviable fan following. I also like comedy threads in your movies.
I watched Neninthe movie with family. It is certainly not your best movie but not your worst movie either. The following scenes were made well in the movie:
Thrashing of gossip sites: It was excellent; the audience watched this particular scene spellbound. Certain sites derive a sadistic pleasure of creating rumors for the sake of getting more hits. I am using the word "sadistic" because of the anguish it causes to the concerned celebrities but these websites don't seem to care and cross all limits of decency and morals. The way you ended the scene saying that cinema industry is reason behind their (rumor mongering websites) livelihood is a slap on the face. Kudos!

Pseudo audience: My personal favorite among all scenes. To be known as the connoisseurs of good cinema, certain sections of the audience have developed this pseudo taste of appreciating anything and everything made by the so-called elite directors. If similar work is done by a relatively unknown person, these audiences immediately reject.

In this following scene, comedian Venu Madhav is reciting a story to Ravi Teja.

Venu Madhav: Hero ki AIDS, heroine ki AIDS
Ravi Teja: Aite cinema sanka naakipoddi
Venu Madhav: Adentanna? Hero heroine ki cancer ane story line to Geetanjali cinema Mani Ratnam teeste egesukuni andaru chooseru kada. Nenu teeste choodara?

Fans: The scenes involving Sairam Shankar were very well made.

Assistant Directors: The scenes involving Brahmanandam and his team of assistant directors Ravi Teja, MS Narayana are hilarious.

Success rate of Telugu films: Sayaji Shinde's performance as the unlucky producer was very good. Your articulation (through his character) of present day Telugu films, success ratio is thought provoking.
The following scenes let us down:
Hero and Villain confrontation: One of the major factors that contributed to the success of Badri, Pokiri and Idiot was the confrontational scenes between hero and villain. From that standpoint, the characterization of hero was very confusing. In some situations, we see Ravi Teja hitting the villain mercilessly and in others, we see him falling at the villain's feet even when the latter abuses hero's mother.

Website reviews: I observed that most websites were merciless in their review of Neninthe. FYI, I watched this movie on Saturday 10:30 PM show at VA and the hall was 80% occupied. The patronage was even better for the earlier shows. You had said that websites affect movie collections overseas. Athadu and Pokiri were given less than 4/5 ratings by idlebrain.com, but these ratings could/did not stop these movies from becoming top blockbusters in the USA. Good movies do well and bad movies don't.

You mentioned that reviewers don't have an experience of making a movie hence have no right to review a movie. I want to buy a new camera and would like to reach out to my friend for his advice. Are you suggesting that my friend should be a camera manufacturer to recommend and otherwise he is disqualified from doing so? A website reviewer is an individual merely expressing his personal opinion (a fundamental right ordained by the constitution of India) through his website. Like I explained, many of your earlier movies did exceedingly well irrespective of web reviews so that should prove a point.

NRI audience: You had commented/alleged (through one of the characters) that NRI audience read through reviews and only then watch a movie and think twice even to spend $8. In India, it is very easy to plan and watch a movie; in the USA, it involves planning and scheduling. Sometimes we have to travel around 40-50 miles to watch a movie. Like you said, Telugu audience has been deprived of good Telugu films in recent times and we are being pitilessly fed with illogical flicks thus robbing our peace of mind. We don't want to go through these hassles just to come back with swollen heads and losing valuable time that we otherwise could have spent with families.
Tailpiece
Your movies are worth a watch irrespective of reviews. You have reached a certain stage where audiences wait for your movies intently and that is an excellent achievement. But for some reason, you lost focus and made lot of generic assumptions in Neninthe.
Please don't forget that an audience member has a right to express his opinion about a movie that he has legally paid for. You should accept the feedback and assimilate suggestions from your audience for betterment of your subsequent movies instead of becoming defensive. All the very best in your forthcoming endeavors!
Thanks
A die hard Telugu movie lover
More My Movie experiences:
Avakai Biryani by Vamsi Krishna
Kotha Bangaru Lokam by Vamsi Krishna
Kotha Bangaru Lokam by S
Ashta Chemma by Deepthi
Ashta Chemma by Lalitha Spoorthi
Sarkar Raj by Pradeep
Jalsa by Lalitha Spoorthi
Gamyam by Sridhar
Gamyam by Sreekanth D
Gamyam by Sanjay
Halla Bol by Purnesh
Taare Zameen Par by Ashok Varma
Taare Zameen Par by Raja Simha
Happy Days by Krishna Sastry
Chirutha by Phani Kumar
Chak De India by Ravi
Yamadonga by Lalitha
Chak De India by Shyam
AMAV by Darsakudu
5 in March by Sashidhar
Okkadunnadu by Anand
Black Friday by Ratnakar
Desamuduru by Krishna Prasad
Guru by It's opinion
Dhoom 2 by Lalitha Spoorthi
Dhoom 2 by ASK
Don - Syam
Boss - Anand
Boss - Hrithik
Stalin - Bala
Bommarillu - Nandini
Bommarillu - Darsakudu
Bommarillu - Vasu
Bommarillu - Harsha Prakash
Bommarillu - Lalitha Spoorthi
LRMB - Shravan
Bommarillu - Anirudh
LRMB - Srinivas
LRMB - Darsakudu
LRMB - S Sridhar
Bommarillu - Shridevi
Bommarillu - Vasudev
Bommarillu - Roopa
Sriram - Godavari
Sarath - Bangaram
Bala - Pokiri
Srinadh - Allari Pidugu
Sudheer Allari Pidugu
Anu - Athadu
Shyam Krishna - Iqbal
Purnesh - Grahanam
Sudhindra - Super
Vijay - Aparichitudu
Madhav - Aparichitudu
Hazaraon Kwaishein Aisi
Swades
Shyam - Black
Sai - Anand
Rohit - Anand & Veer Zaara
Jaya Prakash - 7GBC
Raj - Anand
Purnesh - Anand
Purnesh - The Village
Sriram - Gudumba Shankar
Purnesh - Gharshana
Purnesh - Lakshya
Purnesh - Yuva
Leenesh - Yuva
Kis - Lakshmi Narasimha
Indian Pride - Tagore
Raj - Boys
Phani - Gangotri
Phani - Khadgam
Vikram - CKR
BKR - Indra (Singapore)
Ram - Indra (Dubai)
Ranjeet - Idiot
Rahul - Indra
King Koduri - Indra
Srilakshmi Katragadda - Mitr: My Friend