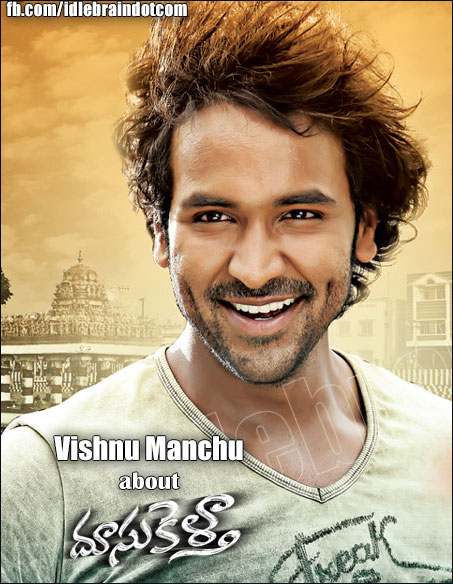 16 October 2013
Hyderabad
Vishnu Manchu's latest film Doosukeltha is releasing in 900 theaters this week. His last film Deikaina Ready was an instant hit for the comedy quotient it had. Doosukeltha too is said to be having a high entertainment value. Here is an exclusive interview of Vishnu Manchu by idlebrain.com -

In your interview given before the release of Denikaina Ready you sounded very confident about the success of it. And what's your take on Doosukeltha now?
Success of Denikaina Ready is a perfect example of home work, though I admit that controversy created through brahmin-protests created hype and brought more audiences to the theaters. Our Telugu TV channels which were busy with programs on Obama took their time off to telecast controversy about the film.
We held previews of Doosukeltha for our family friends like Dasari, B Gopal, Seenu Vytla, G Nageswara Reddy and Srivas. All of them are impressed with the entertainment value of the film and professed a great success. Prem Rakshit has choreographed the title song of this film so exceptionally well that I will be considered as one of the best dancers of Tollywood after watching that song.
Why were there so many protests for Denikaina Ready?
All those protests were politically driven. We know when somebody is genuinely hurt. My bava (Anand - husband of Lakshmi Manchu) is a Brahmin and he liked the film and found nothing controversial.
Tell us about how this film was conceived?
The story was narrated by Veeru Potla. Manoj and dad listened to it and thought that it works well. Gopi Mohan and Veeru Potla penned an interesting screenplay. I play the role of an investigative journalist and Doosukeltha is an action comedy. My previous film Denikaina Ready was released during Dasara season and we are releasing Doosukeltha for Dasara season this year. You can see my films release for Dasara every year henceforth.
Your looks are different and good for this movie?
It's a retro physique. I should give credit to my costumes designer Vinny and my hairstylist from Rajahmundry.
Is dimples a criterion to select heroines (Hansika and Lavanya) in your movies?
We wanted a glamorous heroine for Denikaina Ready and Hansika was perfect choice. I saw posters of Andala Rakshasi and was impressed by her. Then we got hold of portfolio. It's just a coincidence that both Hansika and Lavanya have dimples. Incidentally I am pairing up with Hansika again for my next film (a multistarrer which is a remake of Golmaal 3). Sometimes we joke that I and Lavanya look like siblings with those dimples.
Tell us about Lavanya?
She is a very good actress and has the potential to fill up the slot that was left vacant by Soundarya. We spent a lot of budget on her costumes. We got her costumes designed by Badasaab, Mumbai. Each set of her costumes cost us around 40k.
What's the budget of Doosukeltha?
My earlier film Denikaina Ready was made with 13 crores and it cost me 18 crores to produce Doosukeltha. We are releasing Doosukeltha worldwide in 900 theaters.
What's reason behind subtitling it?
We have subtitled all the prints that are releasing outside Andhra Pradesh. There is a highly talented lady called Reks who runs a subtitling company in Chennai. She is highly efficient and I am going to tie-up with her to start a subtitling company in Hyderabad for Telugu films soon.
You twitter was hacked. Can you explain how it did happen?
I was doing shoot in a studio a day before that incident. My cell phone's battery died and I used a desktop in that studio to access my twitter account. I logged out after completing my work. But somebody must have run a program to read keystrokes and found out my pass word. Vinny found out the moment hacker tweeted first and alerted me. We got hold of twitter administration and requested them to deactivate the account for the time being. I am busy with release of Doosukeltha at present and will activate my twitter account once I find some free time.
Are you planning any action on the people who hacked your account?
No. At present I am busy with my work. I am a kind of guy who look at things differently. Somebody hacked Manoj's facebook account thrice. We later traced it and found out that it was done by a student of Sri Vidya Niketan. He is not a hacker, but he guessed the password combination three times. He thought that I would be angry with him. Instead, I offered a job for him whenever he wants it. He is currently working in Mahindra.
What are your future films?
I am currently doing a multistarrer (Golmal 3 remake) which will be released before Sankranthi 2014. My next film will be directed by Puri Jagan. I will also do a role in Ravana - a magnum opus to be produced on our banner with my dad playing the title role in the direction of K Raghavendra Rao. Ravana will throw a challenge to Indian film industry in terms of technology and storytelling. I plan to work for 2-3 films per year as hero. I am open to produce films with new and talented directors in Telugu and other languages.