Story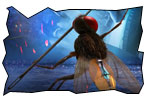 Bindu (Samantha) is a an expert at micro art and she runs a charity organization which runs on donations. Nani (Nani) is a sweet guy in Bindu's neighborhood who has been following loyally Bindu for the past two years. Sudeep (Sudeep) is a big businessman who falls for Bindu when she approaches him for donation. When Sudeep comes to know that Bindu loves Nani, he kills Nani. The rest of the story is all about how Nani is reborn as Eega (housefly) and takes revenge on Sudeep.
Artists Performance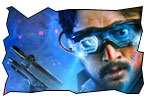 Nani's screen time is hardly 20 minutes. But his work is essential for the story to elevate when he is reborn as Eega. He is extremely lovable and makes a deep impact with casual looking yet intense performance. His brilliant comedy timing is perfectly used by Rajamouli. When you pit an Eega against a man, it is absolutely necessary to choose the right villain to elevate the heroism of Eega. The frustration of the villain results into the heroism of Eega. Sudeep has taken the movie to next level with his fervent expressions and violent body language. Samantha's run of success continues as she did extremely well as a bereaved lover.
Technical departments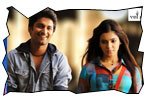 Story: When you narrate this story to anybody, they will laugh at you. Since Rajamouli has narrated the story, everybody listens. It is an extremely difficult to allot a particular genre for this movie. There is love, there is sentiment, there is comedy, there is fantasy, there is action and there is the biggest commercial emotion of all - REVENGE. I liked the way Rajamouli started off the movie with his own voice over in the darkness behind the titles. Father narrates a revenge story of Eega to his daughter like a chandamama katha. Incidentally, this story was prepared by Rajamouli when he was a kid.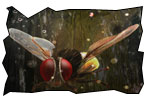 Screenplay - direction: Eega doesn't have dialogues. It has to get our sympathy and empathy at the same time. Hence the director has to use the body language of Eega and the other characters' love and frustration to elevate the emotion among the crowds. Rajamouli's screenplay of the movie is exceptionally good. He made sure that there is a peak point in the movie for every 10 minutes after Eega enters. The reason why heroine is shown as a micro artist because she would be helping and arming Eega at a later point of time. Rajamouli lets his imagination run wild when it comes to show the techniques adapted by Eega to take the revenge on mighty villain. Using of hexagonal mesh transparent layer for Eega point of view gives clarity to audiences. There are several scenes I have liked and listing them all here might affect the thrill you are going to have when you watch it. The booby traps by Eega are hilarious. There is a marketing genius in Rajamouli. The eega appears synthetic at the first look. But by showing eega photo and videos continuously for the last six months, he made sure that we are all familiarised with it by the time we watch the movie. Sudeep's dialogues in trailers appear abrupt and made-up, but when you watch the same in the film - Sudeep dialogues are natural and free-flowing. The most hilarious part of the film is the thread of drunken thief (Thagubothu Ramesh) and how it is connected to the post-climax scene. However, a couple of booby traps (chandelier falling) are little complex to understand when you watch for the first time. Rajamouli has taken Telugu cinema to national level with his concept of Eega. In my opinion, Eega is the best film in Rajamouli's career.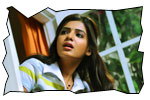 Other departments: Keeravani's background music pumps oxygen into the movie. There are two complete songs in the movie. Both of them are shot superbly. First song has beautiful love-build-up collages and the second song has terrific eega-build-up collages. Cinematography by Senthil Kumar is extraordinary. It takes a lot of brilliance from any cameraman to showcase the conflict between millimeters Eega and a 6-feet villain. The team at Makuta has done exemplary job. I have already listening to the comments that fims like Arundhati and Maghadheera had better graphics than Eega. That is completely a false notion. As explained by Rajamouli in a video interview, the graphics in earlier big films were in the background of main leads. Here Eega is the main lead. Hence creating Eega and animating it without looking funny is awesome. In other films, actor is in the middle of action surrounded by graphics. In Eega, graphically made Eega is in the middle of action surrounded by actors. Art direction by S Ravinder is completely natural. Styling by Rama Rajamouli is good and is in sync with the theme. Dialogues by Janardhan Maharshi complement the story. Editing by Kotagiri Venkateswara Rao is very good. Producer Sai Korrapati should be commended for coming forward and producing such a risky project like Eega, which doesn't have any reference points in Indian film history.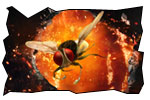 Analysis: When Rajamouli attained the peak of his popularity by delivering Magadheera after doing consecutive hits, he didn't go after stars. He has taken the route a very few commercially super successful directors would dare to. He has made a different comedy with Sunil as hero. He went to the extreme by making a concept film Eega with a budget of 30 crores. Films like Eega differentiates a classic director from the rest. Eega is a classic revenge story told in unimaginable proportions (few millimeters vs six foot). There are a few dull moments and second half should have been little trimmed. But this small dissatisfaction fade out in front of the magnitude of efforts made by the filmmakers. On a whole, Eega is a must watch film in theaters.
Trade aspect: I guess one need not give any trade reports for a SS Rajamouli film. Be it a star or an eega. It's obvious!
Eega links
• Sai K interview
• Muhurat
• Music launch
• Photo gallery
• Wallpapers
• Videos
• US schedules
Jeevi reviews of previous films
• All the best
• Mem Vayasuku Vacham
• Shakuni
• Oka Romantic Crime Katha
• Endukante Premanta
• Gabbar Singh
• Dhammu
• Racha
• Lovely
• Ee Rojullo
• Mr. Nookayya
• Ishq
• Poola Rangadu
• Love Failure
• SMS
• Snehitudu
• Bodyguard
• Businessman
• Rajanna
• Journey
• Panjaa
• Priyudu
• Solo
• Sri Ramarajyam
• Oh My Friend
• Mogudu
• Nuvvila...
• 7th Sense
• Pilla Zamindar



More Reviews