Story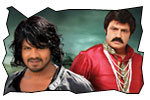 Gandharva Mahal is an ancestral property of Rayudu (Prabhu) who lets it out for rents. He has two daughters. He wants to marry off his elder daughter and the boy's side want Gandharva Mahal as dowry. That is when an youngster (Manoj) arrives at Gandharva Mahal and rents a bachelor room. There is a legacy to Gandharva Mahal and a bitter episode that takes place four decades back which haunts the house. Rest of story is all about why this youngster entered Gandharva Mahal and what he has done to bring back the past glory.
Artists Performance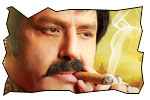 Bala Krishna Nandamuri: Bala Krishna's role is excellent and he has done extraordinary job. He is regal and imperial due to body language and looks. His look has personified the character he portrayed. His dialogues are good and entertaining.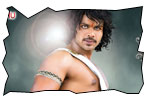 Manoj Manchu: Manoj is known for variety in his roles and he carried it off with this film too. His introduction episodes are intriguing, but we realise it later that these episodes are part of the justification to the title UKUP. Manoj is a kind of an actor who doesn't want himself to restrict the parameters drawn around the hero character in Telugu cinema. If you like Manoj, your admiration will grow multi-fold after seeing him certain episodes.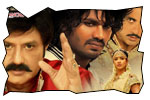 Others: Lakshmi Manchu steals the show with a role that is spread across decades. Her make-up and body language is apt for the aged-role. Deeksha Seth is good. She looks more glamorous in this movie. Sonu Sood is excellent in the negative role. Sai Kumar does another negative character with poise. Prabhu suits the role. Bhanu Chandar gets a suitable role after many years. Ajay is good as mantrikudu, but somebody else dubbed his voice (may be to get heavier voice). Panchi Bora is pretty as Bala Krishna's wife. Simer Motwani looks majestic as Bala Krishna's sister. Madhumita played Deeksha's sister.
Technical departments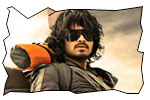 Story - screenplay - direction: The story of the film is about how a passionate zamindar made sure that Gandharva Mahal remains as a memory of his ancestors despite certain forces trying to disintegrate the pride of Gandharva Mahal. Screenplay is slow in the first hour, but pace picks up once Bala Krishna character enters. There are a couple of unexpected twists in the second half.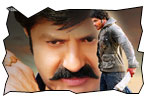 Other departments: Music by Bobo Shashi is good. Anuragam song (original by Vidya Sagar) is pretty melodius and helped the flashback episode. Idi Ani Idi Ani tune is my personal favorite. Background score by Chinna is nice. Cinematography by Rajasekhar is an asset. Visual effects done by Pixion, Chennai are good (especially the Ghostrider kind of horse shots). Dialogues are good. Dialogues written to Manoj Manchu are mostly casual and naughty, dialogue written to Bala Krishna are powerful. Editing is okay. Action choreography by Manoj Manchu deserves a special mention. Art director Bhupati has done a fabulous work with Gandharva Mahal. This Mahal looks different in different time lines. Producer Lakshmi Manchu should be appreciated for passionately believing and investing in the story line that is different from routine commercial stuff.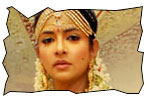 Analysis: UKUP is a special film for two reasons. One is that it introduces a big star like Bala Krishna in a vital role. If big stars accept story oriented films and act as per demand of the role instead of looking for equal screen space, it's good for the industry. The second reason is that the producer has passionately invested on the project though it's a story oriented film with a bit of experimentation. Films like should be accepted and encouraged. Watch it for the performances of Bala Krishna Nandamuri, Manoj Manchu and Lakshmi Manchu. And for the spectacular Gandharva Mahal set!
UKUP links
• Lakshmi interview
• Music launch
• Photo gallery
• Wallpapers
• Videos
• US schedules
Jeevi reviews of previous films
• Eega
• All the best
• Mem Vayasuku Vacham
• Shakuni
• Oka Romantic Crime Katha
• Endukante Premanta
• Gabbar Singh
• Dhammu
• Racha
• Lovely
• Ee Rojullo
• Mr. Nookayya
• Ishq
• Poola Rangadu
• Love Failure
• SMS
• Snehitudu
• Bodyguard
• Businessman
• Rajanna
• Journey
• Panjaa
• Priyudu
• Solo
• Sri Ramarajyam
• Oh My Friend
• Mogudu
• Nuvvila...
• 7th Sense
• Pilla Zamindar



More Reviews