Open letter on Naughty NAANI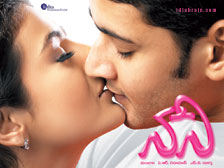 Here is an ardent movie lover (from Atlanta, USA), neither a hardcore fan of mahesh, nor a detail-savvy media critic; just a typical movie buff, writes about the Naughty 'Naani' in a nut shell. It is just to tell the film making world, how a typical telugu moviegoer's mind works on a tollywood movie before and after it hits the silver screen on a fine Friday.
Soon after 'Naani' hit the silver screens all over, one simple question has been lingering over my mind. SHOULD I WATCH THIS 'NAANI'!, If so, WHY? The answer turned to be, YES! it's worth a watch, ONCE. Bcoz, it's "The Most Awaited/Expensive/Talked about/Criticized Telugu Movie of this Summer'. My reasons are as simple as below.
MOST AWAITED: Bcoz it's been in making for a couple of years and postphoned a couple of times. The delay is due to
i) Film crew's insistance on AR Rehman's music, and his policy of recording only @London

ii) )Director Suryah's two-fold involvement in tamil version too, and his concerns to match the other tamil releases at the box office.

iii) Long elections hungama, and even more long wait for summer vacation as the movie aims at new generation youth audience too.
MOST EXPENSIVE: The Producer reportedly spent about 14 crores for this movie - for grand locales, cinematography, choreography, extravagant production values, apart from the sky high remunerations for talented technicians that include AR Rehman, Guhan,Raju Sundaram, Saroj Khan & Brinda famous play back singers, popular lyricists, and u know Pyari 'Patel' seems to have charged around a crore for her intimate romantic songs & lessons with the hero, who is a child mentally, but an adult physically.
MOST TALKED ABOUT:
1. It's produced by none other than Super Star Krishna's daughter 'Manjula' who earlier hit the national awards scene with her movie 'Show'.

2. It's directed by talented & upcoming technician SJ Suryah, who gave two blockbusters with Kushi & Vaali, made Pawan Kalyan & AJIT to hog the screen for a couple of years .

3. The one and only AR Rehman's Music for a direct telugu film after long time.

4. Lyrics by Veturi, Sirivennala, Chandrabose, and play back singing by SPB, Hariharan, Sankar Mahdevan et al.

5. A very different, unusval photography in the hollywood style by a techno-savvy cinematographer Guhan

6. The lead pair @ their romantic best, for example; the most romantic ever on-screen kiss of Tollywood picturised intimately with Mahesh & Amisha recalls the simple, yet memorable, and central issue of 'navel' factor in the Pavan Kalyan & Bhomika's block buster 'Kushi'.

7. Special song with RamyaKrishna like the one in 'Simhadri' with Junior NTR. And also, an introductory modern number with three glamour dolls/ box office bombs Anjala Zaveri, Kiran Rathod, and Mehak

8. Above all, Mahesh is expected to entertain one and all, especially after the debacle of Teja's 'Nijam'.

9. Finally, it's my own punch line: Hrithik of Tollywood and Pyari 'Patel' @ their Romantic Best
MOST CRITICIZED:
1. It's said to be inspired:) again from a Hollywood flick, this time 'The Big' of Tom Hanks(1988), that talks about a kid becoming an adult overnight. But the high point z Suryah claims to have been working on this for the last 3 yrs. I guess, if there is one person who has seen the 'BIG' movie more no.of times than any critic who reviewed the movie, it's none other than film's director 'SJ Suryah' himself. It is another point that he could not recreate the magic with the hypocratic & conservative audience, who claim to absorb different, creative, westernized movies privately, but not so publicly. It's for these double standards, this brave attempt of 'Naani' has been the talk of tollywood, which is first hyped by none other than the same media, who often create artificial hype/expectations/previews and what not, just to blame later about the artificialness of the movie and its theme. As always, media hyped this movie artificially from the day one before the relase along with the film crew, and later it blames Suryah entirely for the artificiality in the story(an inspiration of Hollywood blockbuster 'The BIG'), which he copied,moulded, and aptly packaged over a couple of yrs for the romantic, fast paced young generation of 21 st century. It's all but a part of marketing strategy, both of the media and of the movie makers as well.

2. On the one hand, almost all the movie reviewers/critics appreciated the performances of the leading pair as fantastic/authentic/genuine/ effective/ sensitive/sexual/bold and brave etc; on other hand, they go gaga over romantic intimacies, sexual insinuations, bold dialogues/exposures, weird camera techniques, fast/rap tunes, dances, screen play direction and what not! One way, many viewers embrace and enjoy western culture privately, but when it comes out publicly it's the age-old conservativeness and hypocrisy that matters most. In a story, a kid embedded into an adult body physically is bound to behave as 'Naani' behaves. A romantic girl coming from elite strata of 21 st century is bound to behave and exhibit sexual desires with her kid husband as pyari 'patel' exhibited it, though after taking the remuneration worth it. Remember, the same Surya made blockbusters on two more sensitive issues, one on the ever romantic 'navel'; second on the sexually adulterated mindset of an otherwise good big brother. Then, there was no gaga over it, bcoz Surya could still manage the balance without any inspiration from Hollywood flicks. This time, he could not balance the romance stuff bcoz of his own involvement as hero in tamil version, with Simran doing her first onscreen kiss, that hit the Chennai hoardings long before the movie hit the screens.

3. FANS are upset with the choice of movies by their hero 'Prince Mahesh'. It is these fans who made him Prince, Omega Star, Hrithik of Tollywood etc, who wanted him to be another super star overnight, but with only routine masala stuff of 3 fights + 6 songs with larger than life macho image etc., who opened (and ultimately closed) websites to exhibit his superstardom, who feel, at the end of the day, that they were taken granted by their hero, wasted some of their most valuable, precious labor hours just within the disguise of fun & entertainment, and yet they eagerly await the upcoming 'Arjun' release under the direction of Guna Sekhar, who gave the blockbuster 'Okkadu'. These same fans, who embrace their hero when he gives BO hits, who celebrate his 100 days hits with hungama, also create hungama when their hero takes bold/creative/different/wrong decisions, instead of supporting morally their hero when he is really down/upset/trouble. The height of the issue is, they realize the potential of the hero, acknowledge the great performance reviews their hero got for this movie, but at the same time they don't want their hero to be experimental/creative/ different, but wish to create BO blockbusters every time he hits the silver screen, they wish him to be a box office basha 'Rajani Kanth', but not an experimental actor 'Kamal Hasan'.
Fans of Prince! Cool down folks. After all, Mahesh is in his 20s, and a long way to go in this fantasy world of tollywood, which was earlier ruled by the greats like NTR, ANR, and his own super star dad, who was referred as daring and dashing hero by these very fans, who himself experimented with 'Mosagaalla ku Mosagaadu', 'Alluri Seta Rama Raju', 'Eenadu', 'Kurukshetram', 'Simhasanam' to mention a few. Even the next generation of stars like Chiranjeevi, Balakrishna, Nagarguna, Venkatesh took over a decade to stabilize their positions in the so-called funny Friday-based Filmiworld. Finally, if it interests you, I wish, I can pen down a couple of stories for this prince of tollywood, which could be another 'rahasya goodachari' or 'eenadu' or for that matter 'gharana dong' in the style of 'Deadwood'. Mahesh himself or any of his ardent fans, wish to give it a thought!!! I'm excited and ready for the big challenge.
My dear fellow movie lovers, 'Naani' has not even reached a double figure yet on his movies, as his mental age in the movie itself. He has the potential to be competitive enough for long in this hits-misses oriented, hollywood inspired tollywood, and I'm sure he is here to stay and make a name of his own in the annals of telugu cinefield.
Coming back to my basic point , Yes, 'Naani' is worth a watch for funny filmgoer to have fun over the weekend with popcorn in hand, and with an open mind.
Itlu,
Ramesh B Manyam
[email protected]

Other Open Letters
-> from MD to YSR
-> On Telugu heroines from Anil
-> From Swetha to Anoop
-> From Raja to Chiranjeevi
-> From Supriya to Nagarjuna
-> From Vijay N to Nagarjuna
-> From Ravi S Banda to Uday Kiran
-> From Ram Narayan to NTR
-> From Kishore to Shyam Prasad Reddy
-> From Malladi KS Pathy to VV Vinayak
-> From PC to Telugu film industry
-> From Archana to Sirivennela
-> From Giri to Chiranjeevi
-> From Suresh to Bala Krishna
-> From Vijay to Shankar
-> From Thodakottu to Hari Krishna
-> From Mahesh to Vamsy
-> From Raghava to Bala Krishna
-> From Rocky to Chiranjeevi
-> From Bhanu Prakash to Nagarjuna
-> From Srikanth to Chiranjeevi
-> From Vijay to the team of KMG
-> From Megapowerstar to Pawan Kalyan
-> From Saradhi to Telugu film industry
-> From Sneha to Telugu film writers and lyricists
-> From Coolphani to Uday Kiran
-> From Prabhakar on Telugu cinema
-> From Raj to director Vikraman
-> From Hardhik about SP Balu's liveshow at NJ
-> From Yathiraja to Chiranjeevi
-> From Mouna Laya to TV Channels
-> From Kiran to Chiranjeevi
-> From Srilekha to Mahesh Babu
-> From Kanak to Nagarjuna
-> From Ashok about Nijam
-> From Srinadh to Chiranjeevi
-> From Simha to Pawan Kalyan
-> From Venkat to Venky and Chiru
-> From Prathima & Sujatha to Nijam
-> From Shaik Abdul to Bala Krishna
-> From Sudheer to Pawan Kalyan
-> From NBK fan to Balayya
-> From Bobby to Teja
-> From Bhargavi Chowdary to Venky
-> From Ram to Teja
-> From Nikhila to RP Patnaik
-> From Vinu regarding Johnny
-> From Murai regarding Johnny
-> From Sreeni regarding Johnny
-> From Krishna regarding Johnny
-> From Raj regarding Johnny
-> From Balu regarding Johnny
-> From Sreedhar regarding Johnny
-> From Nagender on PK-DC Issue
-> From Ranga on PK-DC Issue
-> From Gowtam to Johnny distributors
-> From Srikanth to Guna Sekhar
-> Responses to openletter to Chiranjeevi from DPS
-> To Chiranjeevi from DPS
-> To Pawan Kalyan from LP Harsha
-> To RP Patnaik from Raj
-> To film Industry from Naresh (Jamaica)
-> From Vijay to Krishna Vamsi
-> From Sharjah NRIs to Teja
-> From Rani to Venkatesh
-> From Harish to Devi Sri Prasad
-> From JKV Sharma to Mani Sharma
-> From Malladi to Guna Sekhar
-> From Satish to Allu Arjun
-> From Jhansi to Chiranjeevi
-> From Ravindranath to Okkadu team
-> VJ to Okkadu team
-> From Hemanth to Jr. NTR
-> From Rajesh to Guna Sekhar
-> From Srinivas to Bala Krishna
-> From Shrinivas to K Vijaya Bhaskar
-> From VJ to Krishna Vamsi
-> From Kiran to Khaled
-> From Khaled to Phani
-> From Sankar to Nagarjuna
-> Chakri Response to Anil
-> Phani response to Anil
-> From a fan to Nagarjuna
-> From Anil to Indian
-> From Gowtam to Aswini Dutt
-> To MAA from Soma
-> To Venky from Shailaja
-> To Trivikram Srinivas from Raja
-> To Krishna Vamsi from Hasan
-> To Ravi Teja from Somy Ali
-> Do we know our mother?
-> To Mahesh Babu from Soma
-> To Mahesh Babu from Superstar Fan
-> To K Raghavendra Rao from Hasan
-> To Chiru fans from Prince
-> Think a while by SMD
-> An open letter to IB DB participants by Venkat
-> An open letter to IB DB participants by Kiran
-> An open letter on plight of Telugu movie lovers in Malaysia
-> An open letter regarding Video Piracy
-> From Anupama to Pawan Kalyan
-> From Prince to Nagarjuna fans
-> From Ravi to Sirivennela
-> to editor from Ramana Reddy
-> To Chiranjeevi from Buzz
-> To Teja from Kumar Kuppam
-> From Vikram Aditya to Gemini Kiran and Ramoji Rao
-> Plight of Telugu films by Murthy
-> from a Chiru fan from Bellari to idlebrain visitors
-> to Allu Arvind from Aditya
-> To Nagarjuna from Krishna
-> To Teja from a Telugu fan
-> To Chiranjeevi from a fan
-> From Raja to Teja
-> From Anupama Prasad to Indra Unit
-> From Prakash to idlebrain.com visitors
-> From Venu to Bala Krishna
-> From Rajesh Sonti to Late Rao Gopal Rao
-> From Venkat to Usha
-> From Srinivas to EVV Satya Narayana
-> From Balaji to Pawan Kalyan
-> From Naga Kalyan to Pawan Kalyan
-> From Pavan Karthik to Ram Gopal Varma
-> From Pradeep to Teja
-> From Hrudaya to Pawan Kalyan
-> From BKR to Chiranjeevi
-> From Amit Patel to Chiranjeevi
-> From Anupama Prasad to Chiranjeevi
-> Nagarjuna meets idlebrain openletter writer Raju
-> From Ajay Kumar Reddy to Chiranjeevi
-> From Chandrika to idlebrain community
-> From Raju to Nagarjuna
-> From Bharat to Chiranjeevi
-> From Srinivas Josyula to Chiranjeevi