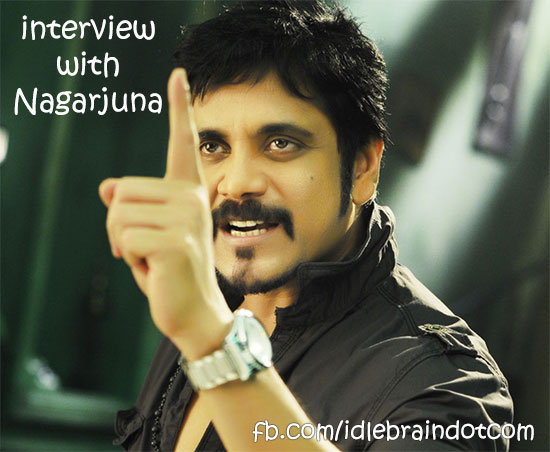 24 October 2013
Hyderabad
Nagarjuna is the hero who can give run for money for any of the youth heroes in terms of glamor. Here is an exclusive interview with Nagarjuna on the occasion of his latest film Bhai's release on 25 October.

It's era of entertainment now. What kind of entertainment does Bhai promise?
There are no separate comedy tracks in the movie. However, the entertainment is mixed in the story and characters. Hence comedy/entertainment is generated out of situations.
What is the reason for picking up the director?
I liked entertainment orientation in Veerabhadram's Poola Rangadu. Story of Bhai is simple and predictable. But one can enjoy every moment of the film and there will be no heavy stuff in it.
You give a lot of freedom to the directors. Tell us about the support Veerabhadram has got from the studio?
Big directors doesn't need help from me. There will be ego issues even if I try helping them. But, I make sure that I provide all the help needed for the upcoming directors like Veerabhadram. I made sure that I have given him perfect cast and crew. We have also provided rich production values. The mafia backdrop part is shot in Thailand and Hong Kong. The local part is shot in old city and in a huge set. We have gone to new places like Slovenia to shoot songs.
Heard that Bhai has sister sentiment?
Yes. Zara (Life is beautiful fame) is doing the role of my sister. I play the role of Bhai in two ways - as brother to a sister and as a don.
What about the financials of Bhai?
As a producer, I made sure that there is no wastage and every paisa is shown on the screen. Since we put in our own capital, there is no interest cost. For most of the projects, it is the exorbitant interest cost that becomes the losing proportion. I know my market and we shot the film in a budget that supports my market. A film's success essentially depends on budget. I have made the film on an optimal budget, hence there are high chances of this film to become economically viable.
Tell us about the censor certificate of Bhai?
Bhai has got U/A certificate from censor board. I feel that Bhai deserves an U certificate. There are so many discrepancies among the ways various censoring boards look at the same issue. For example, a U scene in Bollywood will be an A scene in Telugu. Since, censoring is subjective, we are unable to fight for it. If my dad's films like Devadas and Prem Nagar were to be made today, they will get A certificates.
Bhai is releasing on 25 October. What is your gut feel on the film?
The 45-50 minutes part in second half should help the film to do commercially well. There will be Sreenu Vaitla kind of entertainment in the second half. There will be good family emotions as well.
Tell us about ANR's brave statement about cancer?
ANR is an inspirational figure for us in all aspects. We are all proud of him. He said that he has seen everything in life for 90 years and whatever he has left with him is a bonus. He has also said that he was not having a purpose in life till now and cancer gave him an opportunity to have a purpose. His purpose now is to fight cancer.
Who is directing Akhil's debut?
The story and director of the film is yet to be finalized.
Tell us about your future projects?
I am currently doing Manam with ANR and Naga Chaitanya. Other projects are yet to be finalized.