Story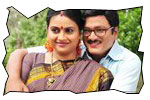 Narayana Rao (Rajendra Prasad) is a retired village school teacher and a widower who stays with his son in USA. Narayana Rao longs to go to his village in India. But his son and his family in USA are too busy to take him India. He leaves a message to his son and returns to India without informing him. Narayana who has been living in his memories of village for the past few years goes to his village. But everything is changed. The people are not same anymore. So is the village. The rest of the film is all about how he tried to change the people in his own way.
Artists Performance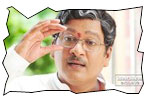 Rajendra Prasad has owned the role of Narayana and carried it on his shoulders with his ultimate performance. His dialogue delivery and body language suited the role of a teacher so well. Kalyani is appropriate for the role of teacher's wife. Siva Parvathy has got a vital role in the film and she has lived that character. We see lot of veteran actors like Chalapati Rao and Giri Babu speaking in nice Telugu and doing roles with dignity. Five kids and their grown-up versions have done exceptionally well. You see only characters in the movie, not actors. Raghubabu entertains in the role of a cab driver.
Technical departments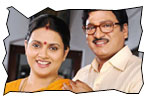 Story - screenplay - direction: The story of Onamalu is realistic. The first half deals with the sweetness of villages we used to live when we were kids. The second half deals with the harsh reality we see in villages today. It's not a commercial story where there is a format and a climax. Onamalu is an open ended film that doesn't provide any solution, but shows the life the way it is. Debutant director Kranthi Madhav is a man of honesty and ideals. A person of that idealism can only direct/produce a movie like Onamalu. He has used the right actors and technicians who are apt for this kind of story. Direction of the film is good. The following scenes are really good –
1. Muslim boy doing Indian National Pledge after getting insulted by the fellow Hindu boy as anti-National.
2. Cell phone, Mineral Water and TV episodes in second half
3. Explaining the greatness of villages in climax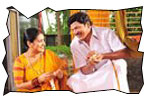 Other departments: The top credit for this movie in technician's department should go to writing (story, dialogues and lyrics). Khadeer Babu (Dargamitta Kathalu fame) has penned beautiful, meaningful and heart-touching dialogues. I used to be a Telugu fiction lover when I was in my college and I used to read novels of Yandamuri and Malladi a lot. After graduation I have read only a few books in Telugu and Dargamitta Kathalu is one among them. Though the dialogues are very good, It is the time of crisp dialogues for Telugu cinema where the gist of paragraph need to be explained in a small sentence (punch line, they sometimes say). He has let the literature writer dominate the dialogue writer in him. However, the dialogues/explanations are wonderfully written if you pay attention. Lyrics written by Sirivennela are simple and thoughtful. Cinematography by Hari Anmolu is good and clean. Due credit should also be given for selection of locations and DI (color grading). After watching the film I had realized why the director has chosen a green theme for poster designs. Because, 80% of the visuals are of green color (village greenery). Gowtam Raju's editing is fine.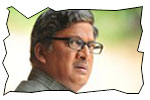 Analysis: Analysis: First half is little slow. The satires and meaningful episodes in the second half will attract you. There are certain hard realities we prefer ignoring in our real life. The director has made sure that such incidents are well presented. Onamalu is a good attempt to remind us of our roots and responsibility towards our villages. It is a clean and green film that takes us into the memory lane. And a heart-touching film that should be encouraged not just by awards, but also by revenue.
Onamalu links
• Kranthi Madhav interview
• Music launch
• Photo gallery
• Wallpapers
• Videos
• US schedules
Jeevi reviews of previous films
• Uu Kodathara Ulikki Padathara
• Eega
• All the best
• Mem Vayasuku Vacham
• Shakuni
• Oka Romantic Crime Katha
• Endukante Premanta
• Gabbar Singh
• Dhammu
• Racha
• Lovely
• Ee Rojullo
• Mr. Nookayya
• Ishq
• Poola Rangadu
• Love Failure
• SMS
• Snehitudu
• Bodyguard
• Businessman
• Rajanna
• Journey
• Panjaa
• Priyudu
• Solo
• Sri Ramarajyam
• Oh My Friend
• Mogudu
• Nuvvila...
• 7th Sense
• Pilla Zamindar



More Reviews