January 9, 2009
Sasirekha Parinayam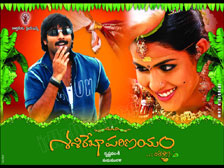 It's all about Sasirekha's parinayam. It's about an Indian wedding as it happens in the backdrop of coastal Andhra. Which camp do you belong to: arranged marriage or love marriage? By the way what's the difference! You will figure out which camp wins at the end of this movie or may be... Let us debate after you watch the movie!
Bride: Sasirekha(Genelia): A girl from Amalapuram studying B.Sc Comp. Science in Kakinada. An impulsive village girl who knows little outside of Amalapuram / Kakinada, follower of her grandma's advice yet a modern Telugu girl with the belief she's no less than a boy.
Groom: Supposedly a Bezawada born rich NRI Abhimanyu from USA who respects his prospective bride as much as he respects himself.
Pelli Peddalu: Bride's dad Ahuthi Prasad (a rustic village zamindar from old school), and Bridegrooms's dad Paruchuri GopalaKrishna (a rich arrogant lawyer).
Highlights: There are no defining moments in the movie, just enjoy every moment of it! There are many romantic songs in the movie but no duets excepting when you get up & start walking out and that too only picturization-wise. That is Krishna Vamsi! No need for slapstick comedy as it is full of situational comedy and punch dialogues. Absolutely no vulgarity and violence! A complete family entertainer. What a refreshing movie!
Twists and Turns:
Old school thinking of parents' false prestige, "ranges" and insecurities clashing with modern Telugu boy's and girl's outlook for respect to the opposite sex.
First half is all about the story (the what) and the second half is about the director's screenplay (the how)! You will be spellbound throughout!
Don't miss:
The dialogues on vijayawada, Krishna/Godavari and many punch dialogues throughout.
Tarun's logical thinking with samskaram. Genelia's commanding of equality to a girl.
Performance: Tarun, Genelia, Paruchuri Gopala Krishna, Ahuthi Prasad and every single small/big character. Everyone has a role, of significance, and they all delivered!
Analysis: We have seen all sorts of love stories, teenage, triangular …, fights with uncooperative parents ..., but we haven't seen anything like this. This starts out as one kind of marriage and concludes as something else… may be…
Director's movie: This is one of the rare movies where director gives truly well balanced characterization to both heroine (girl) and hero (boy), consistently throughout the movie. And it is their parents who need to evolve!
To top it off, each character has his/her own defining moment.
Since this is purely a director's movie, don't worry about who has how much screen length. Pay close attention to how Krishna Vamsi methodically treats each of his characters with respect and in turn the audience!
Exceptional: Sirivennela's songs are superb with highly rich lyrical value, of course with "bharatiyata" as the foundation! Romantic yet with precise logical debate with oneself! Only Sirivennela can conceive them in the context of "an indian parinayam"! The situational song "Edo Oppukonandi Naa pranam" with the same pallavi at three times each in a totally different emotional context. When Tarun falls in love with Genelia & how Tarun (Indian boy) dreams of his girl in the song "Ila entha sepu ninnu chusina". Krishna Vamsi's imaginative picturization of this song is brilliant! The climax song is after Genelia (an Indian girl) realizes when the boy (Tarun) she loves also loves her "Ninne ninne allukoni Kusiminche Gandham nenavvani". Wow! Manisharma's music is very romantic.
Caution: Don't get distracted by the native foul language, it has reasons for the depth in the story.
Message: All roads lead to Rome - A wedding is a wedding whatever kind it may be!
Final Kicker: This is a story that should never have happened!
Summary: Sasirekha parinayam is an Epic Wedding! An Epic Telugu Movie! A mature romantic comedy with a great message in the backdrop of the confluence of Telugu nativity in the changing times!
The best ever Krishna Vamsi Film!
Rating: 4.75/5
Santhi-Venkat
[email protected]
More My Movie experiences:
Sasirekha Parinayam by Vamshi Muthapu
Sasirekha Parinayam by Niharika Reddy
Nachavule by Vamsi Krishna
Neninthe by movie lover
Avakai Biryani by Vamsi Krishna
Kotha Bangaru Lokam by Vamsi Krishna
Kotha Bangaru Lokam by S
Ashta Chemma by Deepthi
Ashta Chemma by Lalitha Spoorthi
Sarkar Raj by Pradeep
Jalsa by Lalitha Spoorthi
Gamyam by Sridhar
Gamyam by Sreekanth D
Gamyam by Sanjay
Halla Bol by Purnesh
Taare Zameen Par by Ashok Varma
Taare Zameen Par by Raja Simha
Happy Days by Krishna Sastry
Chirutha by Phani Kumar
Chak De India by Ravi
Yamadonga by Lalitha
Chak De India by Shyam
AMAV by Darsakudu
5 in March by Sashidhar
Okkadunnadu by Anand
Black Friday by Ratnakar
Desamuduru by Krishna Prasad
Guru by It's opinion
Dhoom 2 by Lalitha Spoorthi
Dhoom 2 by ASK
Don - Syam
Boss - Anand
Boss - Hrithik
Stalin - Bala
Bommarillu - Nandini
Bommarillu - Darsakudu
Bommarillu - Vasu
Bommarillu - Harsha Prakash
Bommarillu - Lalitha Spoorthi
LRMB - Shravan
Bommarillu - Anirudh
LRMB - Srinivas
LRMB - Darsakudu
LRMB - S Sridhar
Bommarillu - Shridevi
Bommarillu - Vasudev
Bommarillu - Roopa
Sriram - Godavari
Sarath - Bangaram
Bala - Pokiri
Srinadh - Allari Pidugu
Sudheer Allari Pidugu
Anu - Athadu
Shyam Krishna - Iqbal
Purnesh - Grahanam
Sudhindra - Super
Vijay - Aparichitudu
Madhav - Aparichitudu
Hazaraon Kwaishein Aisi
Swades
Shyam - Black
Sai - Anand
Rohit - Anand & Veer Zaara
Jaya Prakash - 7GBC
Raj - Anand
Purnesh - Anand
Purnesh - The Village
Sriram - Gudumba Shankar
Purnesh - Gharshana
Purnesh - Lakshya
Purnesh - Yuva
Leenesh - Yuva
Kis - Lakshmi Narasimha
Indian Pride - Tagore
Raj - Boys
Phani - Gangotri
Phani - Khadgam
Vikram - CKR
BKR - Indra (Singapore)
Ram - Indra (Dubai)
Ranjeet - Idiot
Rahul - Indra
King Koduri - Indra
Srilakshmi Katragadda - Mitr: My Friend