Open letter to Allu Arjun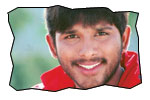 Dear Arjun,
I am coming after having watched your latest blockbuster ARYA. It has been 2 hours since I came from the movie and still the movie hasnt left my mind. Let me tell you this is one movie which I have REALLY liked in the past 5 years or so. It will remain as one of the best movies I ever watched in my life. Thanks a lot for giving such a wonderful movie.
Honestly speaking I wasnt impressed much with Gangothri. But this movie really got onto my nerves. The best part of the movie is YOU, the ARYA. We dont see Allu Arjun in the movie and only the ARYA characterization. In the beginning of the movie I found ARYA character to be a bit irritating by the way he is after heroine, but as the movie keeps on going I have just fallen in love with the character. In the climax more than either hero or heroine it is we audience that wanted them to unite!!
Thanks a lot for giving such a wonderful movie to us. And how did I forget to mention this till now? Your dances are amazing dude. You are a dancing machine!! Especially the steps in thakadimithom song are mind boggling. Similarly fights too.
I really wonder why we rarely find directors like sukumar in telugu industry. If ARYA is a break for you, then for telugu industry ARYA is a revelation in the form of sukumar. The way he executed some scenes really amazed me about his creative thinking. Especially the role playing scene, the feel my love concept, and all the scenes leading to the climax.
More than a letter this is a thank you note for you and sukumar for giving us such a wonderful movie. Please keep selecting such movies and keep entertaining us. I hope telugu industry will find more these kind of movies than regular seema stuff.
Vineeth
[email protected]

Other Open Letters
-> from Ramesh on Naani film
-> from MD to YSR
-> On Telugu heroines from Anil
-> From Swetha to Anoop
-> From Raja to Chiranjeevi
-> From Supriya to Nagarjuna
-> From Vijay N to Nagarjuna
-> From Ravi S Banda to Uday Kiran
-> From Ram Narayan to NTR
-> From Kishore to Shyam Prasad Reddy
-> From Malladi KS Pathy to VV Vinayak
-> From PC to Telugu film industry
-> From Archana to Sirivennela
-> From Giri to Chiranjeevi
-> From Suresh to Bala Krishna
-> From Vijay to Shankar
-> From Thodakottu to Hari Krishna
-> From Mahesh to Vamsy
-> From Raghava to Bala Krishna
-> From Rocky to Chiranjeevi
-> From Bhanu Prakash to Nagarjuna
-> From Srikanth to Chiranjeevi
-> From Vijay to the team of KMG
-> From Megapowerstar to Pawan Kalyan
-> From Saradhi to Telugu film industry
-> From Sneha to Telugu film writers and lyricists
-> From Coolphani to Uday Kiran
-> From Prabhakar on Telugu cinema
-> From Raj to director Vikraman
-> From Hardhik about SP Balu's liveshow at NJ
-> From Yathiraja to Chiranjeevi
-> From Mouna Laya to TV Channels
-> From Kiran to Chiranjeevi
-> From Srilekha to Mahesh Babu
-> From Kanak to Nagarjuna
-> From Ashok about Nijam
-> From Srinadh to Chiranjeevi
-> From Simha to Pawan Kalyan
-> From Venkat to Venky and Chiru
-> From Prathima & Sujatha to Nijam
-> From Shaik Abdul to Bala Krishna
-> From Sudheer to Pawan Kalyan
-> From NBK fan to Balayya
-> From Bobby to Teja
-> From Bhargavi Chowdary to Venky
-> From Ram to Teja
-> From Nikhila to RP Patnaik
-> From Vinu regarding Johnny
-> From Murai regarding Johnny
-> From Sreeni regarding Johnny
-> From Krishna regarding Johnny
-> From Raj regarding Johnny
-> From Balu regarding Johnny
-> From Sreedhar regarding Johnny
-> From Nagender on PK-DC Issue
-> From Ranga on PK-DC Issue
-> From Gowtam to Johnny distributors
-> From Srikanth to Guna Sekhar
-> Responses to openletter to Chiranjeevi from DPS
-> To Chiranjeevi from DPS
-> To Pawan Kalyan from LP Harsha
-> To RP Patnaik from Raj
-> To film Industry from Naresh (Jamaica)
-> From Vijay to Krishna Vamsi
-> From Sharjah NRIs to Teja
-> From Rani to Venkatesh
-> From Harish to Devi Sri Prasad
-> From JKV Sharma to Mani Sharma
-> From Malladi to Guna Sekhar
-> From Satish to Allu Arjun
-> From Jhansi to Chiranjeevi
-> From Ravindranath to Okkadu team
-> VJ to Okkadu team
-> From Hemanth to Jr. NTR
-> From Rajesh to Guna Sekhar
-> From Srinivas to Bala Krishna
-> From Shrinivas to K Vijaya Bhaskar
-> From VJ to Krishna Vamsi
-> From Kiran to Khaled
-> From Khaled to Phani
-> From Sankar to Nagarjuna
-> Chakri Response to Anil
-> Phani response to Anil
-> From a fan to Nagarjuna
-> From Anil to Indian
-> From Gowtam to Aswini Dutt
-> To MAA from Soma
-> To Venky from Shailaja
-> To Trivikram Srinivas from Raja
-> To Krishna Vamsi from Hasan
-> To Ravi Teja from Somy Ali
-> Do we know our mother?
-> To Mahesh Babu from Soma
-> To Mahesh Babu from Superstar Fan
-> To K Raghavendra Rao from Hasan
-> To Chiru fans from Prince
-> Think a while by SMD
-> An open letter to IB DB participants by Venkat
-> An open letter to IB DB participants by Kiran
-> An open letter on plight of Telugu movie lovers in Malaysia
-> An open letter regarding Video Piracy
-> From Anupama to Pawan Kalyan
-> From Prince to Nagarjuna fans
-> From Ravi to Sirivennela
-> to editor from Ramana Reddy
-> To Chiranjeevi from Buzz
-> To Teja from Kumar Kuppam
-> From Vikram Aditya to Gemini Kiran and Ramoji Rao
-> Plight of Telugu films by Murthy
-> from a Chiru fan from Bellari to idlebrain visitors
-> to Allu Arvind from Aditya
-> To Nagarjuna from Krishna
-> To Teja from a Telugu fan
-> To Chiranjeevi from a fan
-> From Raja to Teja
-> From Anupama Prasad to Indra Unit
-> From Prakash to idlebrain.com visitors
-> From Venu to Bala Krishna
-> From Rajesh Sonti to Late Rao Gopal Rao
-> From Venkat to Usha
-> From Srinivas to EVV Satya Narayana
-> From Balaji to Pawan Kalyan
-> From Naga Kalyan to Pawan Kalyan
-> From Pavan Karthik to Ram Gopal Varma
-> From Pradeep to Teja
-> From Hrudaya to Pawan Kalyan
-> From BKR to Chiranjeevi
-> From Amit Patel to Chiranjeevi
-> From Anupama Prasad to Chiranjeevi
-> Nagarjuna meets idlebrain openletter writer Raju
-> From Ajay Kumar Reddy to Chiranjeevi
-> From Chandrika to idlebrain community
-> From Raju to Nagarjuna
-> From Bharat to Chiranjeevi
-> From Srinivas Josyula to Chiranjeevi