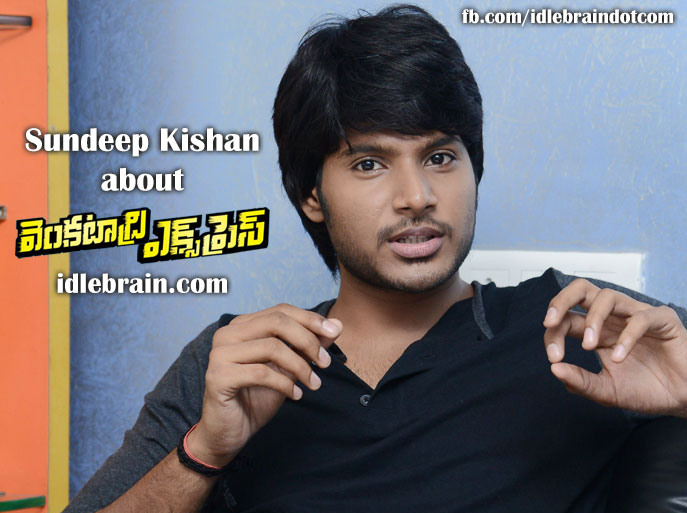 28 Novemberr 2013
Hyderabad
Venkatadri Express is Sundeep Kishan's first solo commercial film. This film is directed by Merlapaka Gandhi - a film school graduate with no film experience. Venkatadri Express is releasing in USA on 28 Nov and on 29 November in India. Here is an exclusive interview with Sundeep Kishan -.

What went wrong with your previous release Mahesh?
It's a Tamil film made with Tamil sensibilities. It's a comedy that targets Tamil audiences. The humor in this film was lost in translation in Telugu version. 12 minutes of vital part of the film was edited and removed in Telugu version. It was a lesson learnt in a hard way. An entertainment oriented film like Nene Ambani which has collected 25 crores in Tamil and did no business in Telugu due to the same reason. I make sure that only films that work in Telugu be dubbed from other languages when I sign a film.
Tell us about Venkatadri Express?
Venkatadri Express is my most important film. It has the most innovative and funny script. Director Merlapaka Gandhi is a young director with no prior film experience. He is straight out of a film school and did an award winning short film. This film's success will help film industry in getting more short film directors handling commercial full-length feature films.
What is the story of Venkatadri Express?
Just imagine the movie 'aa naluguru' in Puri Jagan kind of taking and screenplay. Venkatadri Express is a nice family romantic entertainer dealt in a way that is liked by the current day's youth and family audiences. It's about a strict father who holds a limit of 100 mistakes for his son who has already committed 99 mistakes. He has to attend his brother's marriage in Tirupathi and he misses the train. Will this be his 100th mistake or he attends his brother's marriage?
There are three types of people. One is of type who minds his/her own business. 2nd one is of type where he helps others, but makes sure that he doesn't get ruined for helping others 3rd kind is the one who goes out of his way to help others and in the process he gets into unwarranted trouble. The character I play in this film falls into 3rd category.
Tell us about actress Rakul Preet Singh?
Hero meets heroine in the journey. Rakul Preet Singh plays a high-energy character in this movie. Our play in this movie is like that of Tom and Jerry.
You have 3 unreleased films waiting in cans?
I sign films based on good scripts and I am in a position where I have no say in deciding release dates. It's up to the producer's prerogative and comfort levels. Venkatadri Express is releasing on 29 November. We are planning to release D for Dopidi for Christmas on 25 December 2013. DK Bose will release at an appropriate time. I can promise you that all these three films are good films.
Tell us about Chota K Naidu's work?
I am working for the first time with my uncle. This is his first film made entirely with digital cameras. He has used Arri Alexa and Red Epic cameras. He has used lights in an effective way. We have hired a train for 11 days and shot in real locations like Kachiguda Railway station.
You are good at marketing your films?
I did my MBA in marketing. I have started my career with a negative role followed by one-among-three film. Now I am doing solo commercial films. I am very much satisfied with the position I am in now. I helps my market if I promote my films passionately. I am using my MBA experience and the things I learned by observing to promote my films.
Tell us about your new films?
As I have said Venkatadri Express, D for Dopidi and DK Bose are ready for the release. I am working on another film titled Rara Krishnayya. It's an action romantic comedy.