Story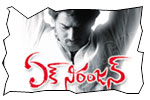 Chotu (Prabhas) is born to poor parents. A beggars mafia guy steals Chotu to make him a beggar. Chotu grows up as an informer to the cops. And he calls himself as 'bounty hunter'. His duty is to catch the criminals on behalf of police and earn some money from the cops for doing their duty. He falls in love with a guitar music teacher Sameera (Kangana Raunat) and her brother happens to be a mafia guy whom Chotu is entrusted to nab. Johnny (Sonu Sood) is a mafia kingpin in the city. The rest of the story is all about what happens when Johnny encounters Chotu and when Chotu has multiple responsibility of apprehending and saving the same guy.
Artists Performance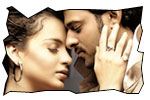 Prabhas's characterization in this movie is an extention of his character in Puri Jagan's Bujjigadu - made in Chennai. Prabhas is adorable with his mass language with godavari dialect. He is charming with his carefree demeanor. Kangana Raunat who looked fabulous in Hindi flicks like Gangster and Fashion seemed out of place in this Telugu film. She is just average. Sonu Sood walks away with honors, thanks to terrific characterization by Puri Jagan. He played the role of a sadistic villain and entertains us with funny dialogues. Brahmaji did another terrific character in this movie after his cameo in Athadu film. The pair of Sonu Sood and Brahmaji is hilarious. Brahmanandam's comedy in not upto the mark. Ali is wasted as a magician in 'Jack Sparrow' get-up. Venu Madhav and Sunil characters are partly entertaining. Posani Krishna Murali provides humor as a cunning politician. Mukul Dev and Tanikella Bharani are adequate. The kid who did the mimicry is good. Makrand Deshpande suited the role well and he adds value to the movie. Half of his dialogues are in written in Hindi for his convenience.
Technical departments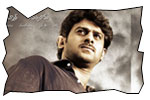 Story - screenplay - directon: Story of the movie is about a son in search of his parents. The characterization of Prabhas is extended from their last movie Bujjigadu and you can see some shades of Pokiri in this movie too. Direction by Puri Jagan is good. But the screenplay should have been better in the second half. The characterizations of villain and hero are good. And there is nice confrontation scenes between them. Puri Jagan who has shown promise in the first half of the movie couldn't carry the same element of interest in the second half. The last twenty minutes of the movie is a downer. I liked the point at which he closed the movie instead of showing some routine and dramatic reunion in the end.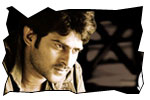 Other departments: Music by Mani Sharma is very good. All songs are canned well on the screen. The title song Ek Niranjan is excellent. Evaru Lerani song is very good. There is a tribute to Michael Jackson in the last song of the movie. This song is nicely edited with some rare footage of MJ. Dialogues by Puri Jagan deserves a special appreciation. The dialogues penned for Prabhas and Sonu Sood are excellent. The dialogues before 'evaru lerani' song (heroine proposal scene) are really good. Puri Jagan has made it a habit to make heroine call hero 'naa kodaka' in his recent movies. Cinematography by Shyam K Naidu is nice. Editing by Varma is adequate. Fights are good. The climax fight should have been impact-making.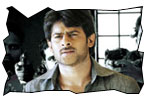 Analysis: First half of the movie is entertaining. Second half is also adequate but for the last twenty minutes. The graph of the movie goes down from the time the story shifts to Bangkok. The plus points are Prabhas, dialogues and music. On the flip side the second half should have been better and the violence should have been toned down. On a whole, Ek Niranjan is a not a bad film. We have to wait and see how the masses receive it.
Ek Niranjan Links:
• User reviews
• Music launch
• Photo gallery
• Wallpapers
• Trailers
• Abroad: USA | Europe
Jeevi reviews of previous 5 films
• Jayeebhava
• Bendu Appa Rao
• Mahatma
• Ninnu Kalisaka
• Ganesh
• Eenadu
• Banam
• Sankham
• Josh
• Mallanna
• Anjaneyulu
• Snehituda
• Magadheera
• Kalavaramaye Madilo
• Gopi Gopika Godavari
• Oy!
• Evaraina Epudaina
• Current
• Raju Maharaju
• Boni
• Kavya's Diary
• Ride
• Aa Okkadu
• Diary
• Pista
• Prayanam
• Kick
• Veedokkade
• Mitrudu
• Circus Circus
• Adhineta
• Punnam Naagu
• Ananda Tandavam
• Billa
• Bheebatsam
• Manorama
• Aakasamantha
• Sontha Vooru
• Malli Malli
• Mesthri
• Naa girlfriend baga rich
• Drona
• 16 Days
• Satyameva Jayathe
• Siddham
• Nenu Devudni
• Konchem Istam Konchem Kastam
• Shh...
• Arundhati

More Reviews