Story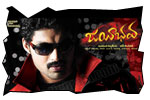 Bhavani Shankar (Mukesh Rushi) and Narasimha (Jaya Prakash Reddy) are two warring leaders in that town. Ram (Kalyanram Nandamuri) is the son of Bhavani Shankar. He falls in love with Anjali (Hansika Motwani) when he is in abroad. After coming back to the town, they realise that they belong to two warring groups. The rest of the story is all about how Ram and Anjali play a game to unite their fathers.
Artists Performance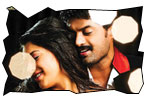 Kalyan Ram Nandamuri is pretty good as Ram. His dialogue delivery improved a lot and he is looking good in casual and comedy scenes compared to his earlier movies. He underplayed his character well. Hansika Motwani offers loads of glamor in the movie without being sexy. Asish Vidyardhi is alright in a limited role. Jaya Prakash Reddy is good in certain scenes. Mukesh Rushi and Chalapati Rao are adequate. Raghubabu's comedy in this movie is good. Ali is also good. Brahmanandam has a cameo towards the end.
Technical departments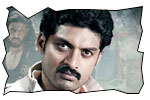 Story - screenplay - directon: Story of the movie is adequate. Screenplay should have been better. Direction is decent in the second half. But the director couldn't articulate story in a clear manner in the first half. The movie gets better in the latter part of the second half where there is family orientation and comedy. The characterization of hero is good. But the characterizations of Jaya Prakash Reddy and Mukesh Rushi should have been more logical and consistent to convince the audiences to believe in the proceedings of the second half.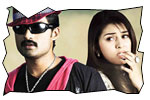 Other departments: Music by SS Thaman is alright. The picturization of songs is good. The second song with graphics backdrop is nicely done. All songs are picturized with lot of care. Dialogues by BVS Ravi are adequate. Art direction is good. Cinematography by Dasaradhi Sivendra is neat. Editing should have been crisp as there is lag in the movie (runtime is more). Production values by NTR Arts are good.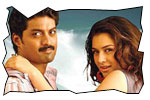 Analysis: First half of the move is inarticulate and uninteresting. However the movie gets better in the second half where the hero and heroine swap their houses. The comedy and entertainment is good in the last half an hour of the movie. The plus points in this movie are Kalyan Ram, Hansika and last half-an hour. On the flip side, a better screenplay and an articulated first half would have helped the film immensely. We have to wait and see how Jayeebhava works at the box office.
Jayeebhava Links:
Kalyanram chat
Music launch
Photo gallery
Wallpapers
Trailers
US schedules
Jeevi reviews of previous 5 films
• Bendu Appa Rao
• Mahatma
• Ninnu Kalisaka
• Ganesh
• Eenadu
• Banam
• Sankham
• Josh
• Mallanna
• Anjaneyulu
• Snehituda
• Magadheera
• Kalavaramaye Madilo
• Gopi Gopika Godavari
• Oy!
• Evaraina Epudaina
• Current
• Raju Maharaju
• Boni
• Kavya's Diary
• Ride
• Aa Okkadu
• Diary
• Pista
• Prayanam
• Kick
• Veedokkade
• Mitrudu
• Circus Circus
• Adhineta
• Punnam Naagu
• Ananda Tandavam
• Billa
• Bheebatsam
• Manorama
• Aakasamantha
• Sontha Vooru
• Malli Malli
• Mesthri
• Naa girlfriend baga rich
• Drona
• 16 Days
• Satyameva Jayathe
• Siddham
• Nenu Devudni
• Konchem Istam Konchem Kastam
• Shh...
• Arundhati

More Reviews