January 22, 2009
Arundhati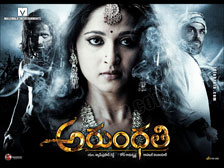 I am one of those millions of telugu audience who crave to watch a good telugu film. Usually i keep browsing idlebrain.com and a few other sites almost daily to get the latest updates about the tinsel town. Frankly speaking i had no expectations on Arundhati prior to its release, but when i was browsing idlebrain i saw Arundhati in "RED". Its been quite some time since you rated a movie red. I felt very happy when read your review which said "Arundhati is a film which you can proudly show it as a Telugu film to all your non-Telugu friends". I couldnt wait to watch the movie.
"I FELT ASHAMED"
I enjoyed the movie...it was just awesome,the screeplay was taut, performances amazing and the graphics incredible and i felt proud about this telugu movie, but i was more ashamed than proud, the reason- not one lead actor in the film was from our state. Yes, Anushka, Sonu Sood, Shayaji Shinde and Deepak- all did a wonderful job, but is there not one telugu actor who could do this. Infact its our big stars who are reluctant to experiment with such roles- they just keep dissapointing us with some stupid masala movies which never make any sense. It is the same reason why only tamil movies and tamil actors get recognition and never our telugu movies or actors.
I'd have loved to watch Gopi Chand(remember him Jayam and Nijam) or even Ravi Teja in the role of Pasupati. The role of Aghora evoked great resonse from the audience, imagine the response- had it been one of our stars. I agree Sonu Sood was just fabulous, but a telugu actor would have been even more gratifying. Our hereos are trapped in the so-called "IMAGE", infact they are not realising that they are loosing their image with each silly roles they play.
Anyways Kudos to the producer M.Shyam Prasad and the whole team of Arundhati for coming up with such a great movie. I wish this movie wins a national award and the lead actors get Nandi awards...hope no politics atleast this time...!!
Bharath Bhupathi.
[email protected]
More My Movie experiences:
Sasirekha Parinayam by Santhi Venkat
Sasirekha Parinayam by Vamshi Muthapu
Sasirekha Parinayam by Niharika Reddy
Nachavule by Vamsi Krishna
Neninthe by movie lover
Avakai Biryani by Vamsi Krishna
Kotha Bangaru Lokam by Vamsi Krishna
Kotha Bangaru Lokam by S
Ashta Chemma by Deepthi
Ashta Chemma by Lalitha Spoorthi
Sarkar Raj by Pradeep
Jalsa by Lalitha Spoorthi
Gamyam by Sridhar
Gamyam by Sreekanth D
Gamyam by Sanjay
Halla Bol by Purnesh
Taare Zameen Par by Ashok Varma
Taare Zameen Par by Raja Simha
Happy Days by Krishna Sastry
Chirutha by Phani Kumar
Chak De India by Ravi
Yamadonga by Lalitha
Chak De India by Shyam
AMAV by Darsakudu
5 in March by Sashidhar
Okkadunnadu by Anand
Black Friday by Ratnakar
Desamuduru by Krishna Prasad
Guru by It's opinion
Dhoom 2 by Lalitha Spoorthi
Dhoom 2 by ASK
Don - Syam
Boss - Anand
Boss - Hrithik
Stalin - Bala
Bommarillu - Nandini
Bommarillu - Darsakudu
Bommarillu - Vasu
Bommarillu - Harsha Prakash
Bommarillu - Lalitha Spoorthi
LRMB - Shravan
Bommarillu - Anirudh
LRMB - Srinivas
LRMB - Darsakudu
LRMB - S Sridhar
Bommarillu - Shridevi
Bommarillu - Vasudev
Bommarillu - Roopa
Sriram - Godavari
Sarath - Bangaram
Bala - Pokiri
Srinadh - Allari Pidugu
Sudheer Allari Pidugu
Anu - Athadu
Shyam Krishna - Iqbal
Purnesh - Grahanam
Sudhindra - Super
Vijay - Aparichitudu
Madhav - Aparichitudu
Hazaraon Kwaishein Aisi
Swades
Shyam - Black
Sai - Anand
Rohit - Anand & Veer Zaara
Jaya Prakash - 7GBC
Raj - Anand
Purnesh - Anand
Purnesh - The Village
Sriram - Gudumba Shankar
Purnesh - Gharshana
Purnesh - Lakshya
Purnesh - Yuva
Leenesh - Yuva
Kis - Lakshmi Narasimha
Indian Pride - Tagore
Raj - Boys
Phani - Gangotri
Phani - Khadgam
Vikram - CKR
BKR - Indra (Singapore)
Ram - Indra (Dubai)
Ranjeet - Idiot
Rahul - Indra
King Koduri - Indra
Srilakshmi Katragadda - Mitr: My Friend