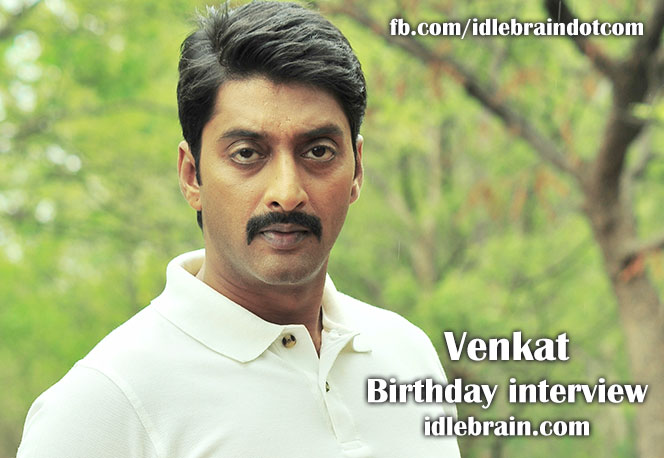 17 December 2013
Hyderabad
Venkat
Venkat who made his debut as one of the lead actors in YVS Chowdary's first film Seetaramula Kalyanam Choodamu Raarandi is pinning his hopes on Aa Aiduguru to be his comeback film. 17 December is his birthday and here is an interview with actor Venkat -.

Aa Aiduguru
I am currently doing a film titled Aa Aiduguru which is produced by Prema Patra who has produced Nandi award winning films like Aa Naluguru and Vinayakudu. Prem Patra has the knack of choosing right subject. Producing a film like Aa Aiduguru is a daring decision and not every producer is capable of producing such films. This film is directed by Anil Guduru who has earlier worked for Vinayakudu. This movie is a character based movie and each character is realistic. Asmita Sood is doing female lead. Though she is a heroine in this movie, she is not paired with anybody.
APPA training
We play the roles of young cops. In order to make it more realistic, the producer has sent all leads to get trained in AP Police Academy. We were rigorously trained under the supervision of SI Anil Kumar for a month. We learnt about real techniques. Hence you don't see any unrealistic fights in Aa Naluguru. No rope work and no filmy fight. You see such kind of reatistic characterizations in films like Border (Sunny Deol), Prahaar (Nana Patekar) and Chak De India (SRK). I got injured while getting trained at APPA and was bedridden for a couple of months. I play the role of a cop called Thota Chakravarthy. The story is about a team of officers and youth implementing reforms of an young and educated CM.
Wrong timing
I made my debut as actor in 1999. It was only after a few years, audiences started welcoming new heroes. Hence there was a considerable gap. But I had the privilege of acting with stars like ANR, Chiranjeevi, Bala Krishna, Mohan Babu, Jagapati Babu and Srihari. I have been in this industry for 14 years and didn't have a single bad remark about my work and my behavior. In the mean time, I have also produced a film titled Konchem Kothaga in Telugu and Hindi. I will do quality projects and I am pinning my hopes on Aa Aiduguru to bring me back the much needed break.