Story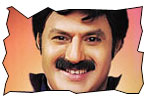 Srimannarayana (Bala Krishna) is a TV investigative journalist. He is son of a farming reformer Narayana Murthy (Vijaya Kumar) who amasses 5000 crores as donations to help farming community. He is murdered by a group of six people from different professions. Their intention is to steal the wealth and distribute it among themselves. The rest of the story is all about how Srimannarayana takes revenge and recovers the entire amount to fulfil his father's ambition.
Artists Performance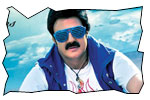 Bala krishna: Bala Krishna has donned the role of journalist who uses modern technology along with a bit of common sense to accomplish his goal. The steps he has done in Ottedduna song shot in Putra Jaya, KL offer variety. He has uttered his trade mark mass dialogues in an appealing way. The meaning of 'trouble-dialogue' is unclear, but the way Bala Krishna delivered it with emotion made sure that it's one of the best dialogues of the movie.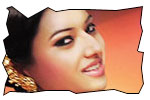 Other actors: Isha Chawla is adequate as maradalu of hero. It has become a fashion in movies to make direct comments on looks of heroines. Be it gas cylinder (Arti Agarwal in Nenunnanu), Kilo Mamsam (Trisha in Athadu), Pitta Moham (Samantha in Dookudu), Karuvu Vachina Country ki brand ambassador (Ileana in Julayi). In this film Bala Krishna tells Parvati Melton - 'bonguki pant shirt vesinattunnav'. Vijay Kumar fits the role of an reformist farmer. There are plenty of villains in the movie. Jaya Prakash provides some comedy. Veteran actor Suresh did the role of the kingpin villain. Rao Ramesh is becoming a permanent fixture in big budgeted Telugu films. He did well. Duvvasi Mohan's dialogues clicked well and he entertains. Kota played one of the villains.
Technical department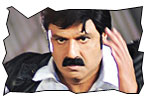 Story - screenplay - direction: The story is about a son avenging father's death and there by helping the farmers. Ravi Chavali has always shown a bit of variation in selecting scripts when he did low-budget films in the past. This is his first big hero film. He tried to balance his sensibilities with the mass image of Bala Krishna. Hence, you see mismatch and conflict of orientation during the movie progress. Some times, the tricks/strategies are good and some times they are silly (massy). In one scene, you have Bala Krishna appearing in all powerful Lakshmi Narasimha get-up and in the following scene you have him threatening villain for a password. Screenplay should have been more interesting.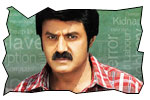 other departments: Music by Chakri is average. The best song of the film is the two-heroines song that comes before climax. Cinematography by Surendra Reddy is okay. Dialogues by Polur Ghatikachalam are partly good. A few comedy dialogues uttered by Duvvasi Mohan (dual sim and Sri Krishna's geeta leak) are entertaining. Editing by Gowtam Raju should have been smooth as one can clearly see abrupt cuts. Fights are decent. This film is wrapped up in minimal time, there by saving a lot on budget by the producer Ramesh Puppala.
Analysis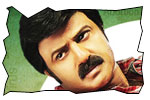 Analysis: First half of the film is okay. Interval bang is interesting. The strategies and screenplay should have been more effective in the second half. The plus points are the performance of Bala Krishna. On the flip side, the technical aspects and screenplay should have been better. On a whole, Srimannarayana is a difference mass film aimed as masses. We have to wait and see how masses take it.
Srimannarayana links
• Disc function
• Music launch
• Photo gallery
• Wallpapers
• Videos
• US schedules
Jeevi reviews of previous films
• Sudigaadu
• Julayi
• Onamalu
• Uu Kodathara Ulikki Padathara
• Eega
• All the best
• Mem Vayasuku Vacham
• Shakuni
• Oka Romantic Crime Katha
• Endukante Premanta
• Gabbar Singh
• Dhammu
• Racha
• Lovely
• Ee Rojullo
• Mr. Nookayya
• Ishq
• Poola Rangadu
• Love Failure
• SMS
• Snehitudu
• Bodyguard
• Businessman
• Rajanna
• Journey
• Panjaa
• Priyudu
• Solo
• Sri Ramarajyam
• Oh My Friend
• Mogudu
• Nuvvila...
• 7th Sense
• Pilla Zamindar



More Reviews