February 7, 2009
KIKK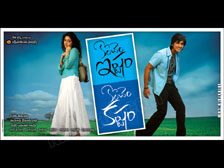 Chala Ishtam unte inka No Kashtam!!
Finally!!3 days after the movie released I managed to get hold of the tickets and went to the theatre-my latest outing with my mom, long after bommarillu. Expectations were obviously high –this being Siddharth's movie 22 long months.
And boy, he sure has returned with a bang-proving once again that clean romantic comedies are his forte. He just carries forward his lover boy act adding a new dimension of a serious flirt to it. His new makeover compliments the character perfectly.
Next moving onto the lady-love...Tamanna impresses with her improved acting and emoting skills and makes her calm, pretty Geetha a good anti-thesis to Siddhu. The hat-trick combination of Prakash Raj and Sid as father and son acquires a new angle in this movie-what with the father learning a few things from his son. Ramya Krishna as Siddhu's mother and Prakash's estranged wife is a delight to watch especially towards the climax. Nasser who plays the very popular 'Subramanyam' is apt for the role but fails to make much of an impact. Sudha is wasted in the role of Geetha's mother.
Another high point of the movie is its music…it sounds so pleasant and mellifluous that even the presence of 8 songs (2 of them in the background) doesn't bore you. Shankar-Ehsaan-Loy-welcome to tollywood!! You guys rock!!
Brahmanandam as 'gachibowli Divakar' and Venu Madhav literally brought the house down and I was in raptures at the situational comedy.
The director, Kishore Kumar, deserves all praise for handling the feelings of a son whose parents have separated in a deft manner. Abburi Ravi has also written awesome dialogues to suit the characters.
Choreography is in tune with the mood of the film…but I didn't particularly like Raju Sundaram's work in 'Evade Subramanyam'
My most favorite scenes are the ones where- Siddhu apologizes to geeta after an argument , Ramya's dialogues before she separates from Prakash and where geeta waits for Siddhu to shed at least one tear.
The cinematography is beautiful and picturesque. A very pleasing overall effect is created and you leave the hall feeling light and happy. A wonderful family film and I must say the producer's expensive gamble has paid off!!
-R.Lalitha Spoorthi
[email protected]
More My Movie experiences:
Arundhati by Naveen
Arundhati by Srini
Arundhati by Bharat
Sasirekha Parinayam by Santhi Venkat
Sasirekha Parinayam by Vamshi Muthapu
Sasirekha Parinayam by Niharika Reddy
Nachavule by Vamsi Krishna
Neninthe by movie lover
Avakai Biryani by Vamsi Krishna
Kotha Bangaru Lokam by Vamsi Krishna
Kotha Bangaru Lokam by S
Ashta Chemma by Deepthi
Ashta Chemma by Lalitha Spoorthi
Sarkar Raj by Pradeep
Jalsa by Lalitha Spoorthi
Gamyam by Sridhar
Gamyam by Sreekanth D
Gamyam by Sanjay
Halla Bol by Purnesh
Taare Zameen Par by Ashok Varma
Taare Zameen Par by Raja Simha
Happy Days by Krishna Sastry
Chirutha by Phani Kumar
Chak De India by Ravi
Yamadonga by Lalitha
Chak De India by Shyam
AMAV by Darsakudu
5 in March by Sashidhar
Okkadunnadu by Anand
Black Friday by Ratnakar
Desamuduru by Krishna Prasad
Guru by It's opinion
Dhoom 2 by Lalitha Spoorthi
Dhoom 2 by ASK
Don - Syam
Boss - Anand
Boss - Hrithik
Stalin - Bala
Bommarillu - Nandini
Bommarillu - Darsakudu
Bommarillu - Vasu
Bommarillu - Harsha Prakash
Bommarillu - Lalitha Spoorthi
LRMB - Shravan
Bommarillu - Anirudh
LRMB - Srinivas
LRMB - Darsakudu
LRMB - S Sridhar
Bommarillu - Shridevi
Bommarillu - Vasudev
Bommarillu - Roopa
Sriram - Godavari
Sarath - Bangaram
Bala - Pokiri
Srinadh - Allari Pidugu
Sudheer Allari Pidugu
Anu - Athadu
Shyam Krishna - Iqbal
Purnesh - Grahanam
Sudhindra - Super
Vijay - Aparichitudu
Madhav - Aparichitudu
Hazaraon Kwaishein Aisi
Swades
Shyam - Black
Sai - Anand
Rohit - Anand & Veer Zaara
Jaya Prakash - 7GBC
Raj - Anand
Purnesh - Anand
Purnesh - The Village
Sriram - Gudumba Shankar
Purnesh - Gharshana
Purnesh - Lakshya
Purnesh - Yuva
Leenesh - Yuva
Kis - Lakshmi Narasimha
Indian Pride - Tagore
Raj - Boys
Phani - Gangotri
Phani - Khadgam
Vikram - CKR
BKR - Indra (Singapore)
Ram - Indra (Dubai)
Ranjeet - Idiot
Rahul - Indra
King Koduri - Indra
Srilakshmi Katragadda - Mitr: My Friend