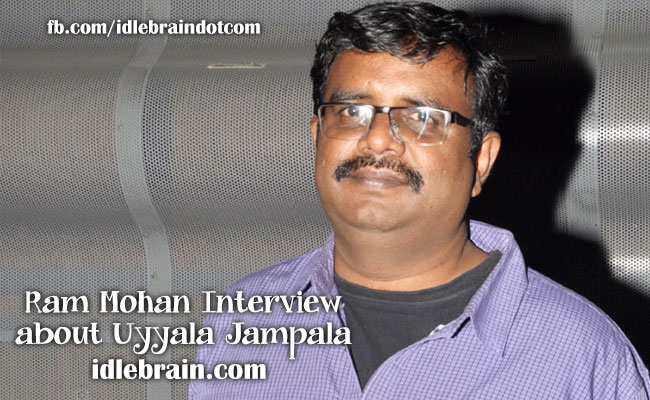 31 December 2013
Hyderabad

Ram Mohan - an alumnus of IIT and IIM and worked in senior management of prestigious production houses like UTV and Suresh Productions - has started off his own production with Asha Chemma movie followed by Golkonda High School. You find very few people like Ram Mohan who are hardworking and never publicize about themselves. His 3rd production Uyyala Jampala is creating waves among the movie lovers. Here is an exclusive interview
So how does it feel to be rocking the box office in India?
We worked on this film to reach to a larger audience as compared to my previous two productions. I am counting the number of audience who have seen the film, not the box office. In the past 5 days, over 700,000 tickets have been sold. We made this film to reach out to more than "Ashta Chamma" and "Golconda High School". Lets hope we get past their audience numbers.
Why is the film not released as yet in the USA?
Most buyers quoted bad weather conditions in the US. I haven't been to the US ever. So I went with their opinion. Also, I did not want the US audiences to be biased with rating points. Somehow as I read the reviews, I did not see the ratings justify the review. Hence, we took a conscious decision to arrive in the US markets later. My sincere apologies to Telugu film lovers in the US for the delay.
This is the first time Nagarjuna and Suresh Babu are involved in a project. What made you bring them together?
First and foremost, we are all film lovers. We love good cinema. Nagarjuna was very happy with Golconda High School when he saw it. Nagarjuna said lets do a film together even if it is with new cast. Suresh Babu is my mentor and a friend. He is my source of strength to make different films. Its been a great working relationship with two people who delivered huge blockbusters to the Industry. Both are extremely creative, appreciative, and understand the audience pulse far better than I do!
Are you making a conscious attempt to stick to clean and family entertainers?
I work on small budgets. Within those budgets, we try to tell a story. I come from a middle class service background. I am conscious of what my friends say, my sisters say about what I do. That's the primary driving force for me to stick to making clean family entertainers. I always tell my directors "Make a film that we are proud of and don't have to squirm 5 years later!".
Do we see you work with stars? Or you will work only with new comers?
I know it sounds clichéd but it is based on the script. In story telling, some subjects require a star to reach out and convey the point to the people. In every film, good or bad, a story teller has a point to make. So it all boils down to the script and which actor conveys the best.
If you had a choice of casting a star instead of Raj Tarun, who would it be?
In my order of preference, it would have been NTR Junior, Allu Arjun, Naga Chaitanya and Nani. I met NTR a couple of times at my friend Gunnam Ganga Raju's house. He has an intelligence that radiates in private conversations. Of course, his grandfather played so many of these roles so well. Allu Arjun is also for the same reason that he can perform in character. . Arya is the most difficult character and he cracked it Naga Chaitanya just did 100% love as a bava maradalu story. Nani is of course my hero. He will always be mine no matter how big he becomes!
Then why did you not approach them? Are stars not receptive?
I never approached anyone! Nagarjuna garu heard the script and said "Ram, go with newcomers. I know it will work with them". I spoke to Suresh Babu on what Nagarjuna said. Suresh agreed and said Nagarjuna is right in his judgement when he likes something. So that's how the film happened with Raj Tarun. Raj Tarun immerses himself into the character completely. He is still struggling to come out of being Suri. His accent, his body language, everything has changed. He recently asked me for a 1 month break to get out of Suri and come back to normalcy!
So what are the future projects?
A leading industrialist told me recently " Creativity fosters in the company of Freedom". He is so true. I want to be free, I want actors and directors to be free. Let the next project roll out of freedom. A story is like a life form. It evolves and grows and one day, the story will scream at you that "I am ready".
Any words of advice for producers or directors?
A: Let me quote a film maker called Venkat Sidda Reddy here. After watching the film, he called me and said "In the industry, people say that if you go to Ram Mohan, you will get stuck for 2 years and he becomes a part of the creatives. Today after seeing Uyyala Jampala, I realize that those 2 years wait are worth it". I myself am not a patient man. I have people whom I trust that hold me together and make me patient. My advice is just be patient and truthful to the characters and story. You might tell something very predictable. There is nothing to be ashamed of. Always remember that no one should be disappointed or feel that he has not got his moneys worth at the end of the screening. .