Story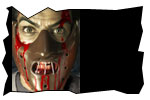 Amaravathi (Bhumika Chawla) is the daughter of a landlord in Muthyala Revu. Seenu is the son of maid servant in Amaravathi's home. Amaravathi's father doesn't like Seenu's proximity to Amaravathi and cuts his throat and throws him in a running river. After 15 years, the STF (Special Task Force) is assigned with the task of finding out a mysterious serial killer who kills pregnant women and steals their embryos. Venkat (Ravi Babu) is an efficient STF officer who heads the investigation team and captures a mysterious guy (Taraka Ratna). The rest of the story is all about how Venkat cracks the mystery.
Artists Performance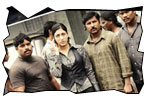 Taraka Ratna is surprise package of the movie. He looks good with shaven moustache and neat haircut. He performs adequately well in the role of psychopath. Ravi Babu did the role of male lead in this movie and he is nice. Sneha looks tender and homely as Ravi Babu's love interest. Bhumika Chawla has a pivotal role in the film and her screen time is less. Sindhura Gadde did a character role of a cop and she is adequate. Allari Subhashini is dreary in that get-up. The guy who did the role of a suspicious cop is nice.
Technical departments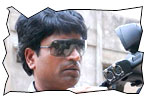 Story - screenplay - direction: Story of the movie is nice and it has striking similarities to the basic plot of Anasuya. Director Ravi adapted Hollywood style of narrative and set-up to tell his story. The concept of killing pregnant women and stealing embryos is harsh for Telugu cinema sensibilities. He has got all the ingredients right for the movie. But the movie in unconvincing in vital scenes where Sneha gets injured and Bhumika turns mentally unstable. The concept of hypnotization is good. Screenplay penned by Satyanand is adequate.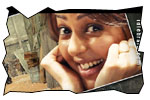 Other departments: Cinematography by Sudhakar Reddy is good and it adds to the mood of the movie. Background score by Sekhar Chandra is neat. Dialogues by Nivas are adequate. Art direction by Narayana Reddy deserves special mention. He succeeded in replicating USA set-up (police cars, STF office set, mask from Silence of the Lambs etc).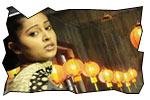 Analysis: Ravi Babu has got all ingredients that required for a perfect thriller in the movie. But he couldn't get the desired results at the end. If you look at the script, it is an interesting movie. But some of the content is lost during translation. The typical USA set-up and the concept of stealing embryos seem alien to Telugu audiences. On a whole, Amaravathi which has some chilling content would only appeal to niche audiences.
Amaravathi Links:
• User reviews
• Photo gallery
• Wallpapers
• Trailers
• Abroad: USA
Jeevi reviews of previous 5 films
• Pravarakhyudu
• Arya 2
• Kurradu
• Village lo Vinayakudu
• Ek Niranjan
• Jayeebhava
• Bendu Appa Rao
• Mahatma
• Ninnu Kalisaka
• Ganesh
• Eenadu
• Banam
• Sankham
• Josh
• Mallanna
• Anjaneyulu
• Snehituda
• Magadheera
• Kalavaramaye Madilo
• Gopi Gopika Godavari
• Oy!
• Evaraina Epudaina
• Current
• Raju Maharaju
• Boni
• Kavya's Diary
• Ride
• Aa Okkadu
• Diary
• Pista
• Prayanam
• Kick
• Veedokkade
• Mitrudu
• Circus Circus
• Adhineta
• Punnam Naagu
• Ananda Tandavam
• Billa
• Bheebatsam
• Manorama
• Aakasamantha
• Sontha Vooru
• Malli Malli
• Mesthri
• Naa girlfriend baga rich
• Drona
• 16 Days
• Satyameva Jayathe
• Siddham
• Nenu Devudni
• Konchem Istam Konchem Kastam
• Shh...
• Arundhati

More Reviews