February 9, 2009
My Opinion on LuckByChance, Neeninthe, Kathanayakudu and Om Shanti Om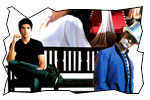 All of these movies belong to aspiring actor's or celebration of Indian Cinema genre. I watched LuckByChance this weekend, it is perhaps the best Indian movie made surrounding aspiring Bollywood actors. Please forgive me Dimpleji for calling Hindi Film Industry as Bollywood. Despite we always had flare for socialism and enjoyed close relationship with Russia for the better or worse, we Indians actually emulate American way of life more than socialists in our personal life. We are self-centric, highly aspiring, family-oriented, hard-working and entrepreneurs. Remember there are four Indians among top ten richest Billionaires in the world. Coming back to the movies listed above: there is only a thin line between commercially successful movies vs. commercially failed movies. Based on media reports, Neninthe and Kathanayakudu did not fare well at the box-office. Om Shanti Om was a runaway success. LuckByChance is also going to be a huge hit. Evidently both of these movies were made by female creative directors. This may be another reason we need diversity in all aspects of the society. Farah Kahn was simply brilliant the way she Choreographed Om Shanti Om, despite Sharukhkhan's six pack or whatever pack – Om Shanti Om was successful only because of Farah Kahn's creativity! How she blended western & eastern dances, looped-in virtually entire Hindi Film celebrities supported by enthralling music, costumes, sets and dances – I say it was Farah all the way.
LuckByChance taken more realistic approach in presentation of Hindi Cinema Making and Aspiring Actors, Zoya did not leverage fantasy. I am an aspiring actor, Diplomat in Film Acting so I can completely relate to characters in LuckByChance. There is only slight difference between Neninthe and LuckByChance – presence of villain and unnecessary violence. While Zoya touched upon natural jealous, competence and being envy among aspiring actors, she avoided unnecessary violence and true villain character. Zoya cleverly roped-in Hritik Roshan for a perfect super star character for a movie within the movie. Farhan Akthar and Konkona Sen suited very well for their roles, both have boy or girl-next-door image. Rishi Kapoor can be compared to Brahmanandam of Neninthe, Rishi was the best, he was simply hilarious as frustrated director, and Sanjay Kapoor was adequate. I personally thought Kathanayakudu was the best movie with right theme among these four; it was poorly presented by tasteless old-time director. Kathanayakudu portrays how boy and girls in South India grow-up with fantasies on becoming actors and ceremonial status of film celebrities. It lacked much needed glamour aspect of a film, in my opinion, this may be the reason Kathanayakudu did not become a success commercially. In the west, most kids would say they want to become an astronaut, police officer or firemen. In India, kids would want to become actors when they grow-up, some may express openly whereas others may not. The song Krishna Nagar loo.. From Neninthe have right lyrics about aspiring Telugu film actors - their passion & mission in their life is to become actors nothing but to become actors!
LuckByChance pretty much takes complete life cycle of aspiring actors from the days at acting school to seeking roles while struggling to pay bills to knocking on film production companies to auditions to becoming an actor to acting in a film. And beautiful narration around relationships you form in this process as well as relationships you sacrifice to achieve lifetime passion of becoming an actor.
Go Ahead and watch LuckByChance soon !!!
Srini Chittaluru
[email protected]
More My Movie experiences:
KIKK by Lalitha Spoorthi
Arundhati by Naveen
Arundhati by Srini
Arundhati by Bharat
Sasirekha Parinayam by Santhi Venkat
Sasirekha Parinayam by Vamshi Muthapu
Sasirekha Parinayam by Niharika Reddy
Nachavule by Vamsi Krishna
Neninthe by movie lover
Avakai Biryani by Vamsi Krishna
Kotha Bangaru Lokam by Vamsi Krishna
Kotha Bangaru Lokam by S
Ashta Chemma by Deepthi
Ashta Chemma by Lalitha Spoorthi
Sarkar Raj by Pradeep
Jalsa by Lalitha Spoorthi
Gamyam by Sridhar
Gamyam by Sreekanth D
Gamyam by Sanjay
Halla Bol by Purnesh
Taare Zameen Par by Ashok Varma
Taare Zameen Par by Raja Simha
Happy Days by Krishna Sastry
Chirutha by Phani Kumar
Chak De India by Ravi
Yamadonga by Lalitha
Chak De India by Shyam
AMAV by Darsakudu
5 in March by Sashidhar
Okkadunnadu by Anand
Black Friday by Ratnakar
Desamuduru by Krishna Prasad
Guru by It's opinion
Dhoom 2 by Lalitha Spoorthi
Dhoom 2 by ASK
Don - Syam
Boss - Anand
Boss - Hrithik
Stalin - Bala
Bommarillu - Nandini
Bommarillu - Darsakudu
Bommarillu - Vasu
Bommarillu - Harsha Prakash
Bommarillu - Lalitha Spoorthi
LRMB - Shravan
Bommarillu - Anirudh
LRMB - Srinivas
LRMB - Darsakudu
LRMB - S Sridhar
Bommarillu - Shridevi
Bommarillu - Vasudev
Bommarillu - Roopa
Sriram - Godavari
Sarath - Bangaram
Bala - Pokiri
Srinadh - Allari Pidugu
Sudheer Allari Pidugu
Anu - Athadu
Shyam Krishna - Iqbal
Purnesh - Grahanam
Sudhindra - Super
Vijay - Aparichitudu
Madhav - Aparichitudu
Hazaraon Kwaishein Aisi
Swades
Shyam - Black
Sai - Anand
Rohit - Anand & Veer Zaara
Jaya Prakash - 7GBC
Raj - Anand
Purnesh - Anand
Purnesh - The Village
Sriram - Gudumba Shankar
Purnesh - Gharshana
Purnesh - Lakshya
Purnesh - Yuva
Leenesh - Yuva
Kis - Lakshmi Narasimha
Indian Pride - Tagore
Raj - Boys
Phani - Gangotri
Phani - Khadgam
Vikram - CKR
BKR - Indra (Singapore)
Ram - Indra (Dubai)
Ranjeet - Idiot
Rahul - Indra
King Koduri - Indra
Srilakshmi Katragadda - Mitr: My Friend