Open letter of thanks to Venkatesh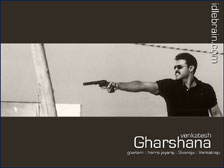 A wise woman once said "People are like stained glass windows, they sparkle and shine when the sun is out, but when darkness sets in their true beauty is revealed only when there is light from within", and if you are reading this, I am very thankful to Mr.Jeevi and the IdleBrain team for publishing my letter on their site.
I am a good movie fan like you all. I have been watching all kinds of movies for many years. I have been an IB visitor for quite some time and I have always been reading various letters that people submit. Well coming to my very own letter I have observed that there have been open letters from fans to Chiru and Nag and Balakrishna and Pavan Kalyan, but I am very surprised not to find any on Venkatesh save for three by Ms.Rani, Ms.Bhargavi Chowdary, Mr.Venkat. But with due respect to them I believe that they have done terrible injustice to Venkatesh by not listing his achievements and merely mentioning the facts that they are his good fans. If I have missed out on any published letters, which were meant for Venkatesh, I apologize, but I would like to write anyways.
The first movie that I saw in my schooldays, which starred Venkatesh, was Sundarakanda, a good hilarious movie with an emotional touch and I was fascinated. The next movie that I saw was Swarnakamalam and I was quite amazed. Later on I started watching his movies frequently and I had found out, to my delight, that instead of acting in stereotyped roles like many other contemporary actors, he chose different roles. He not only chose different roles but also did justice to them all and proved over the years that he is a capable versatile actor.
Coming to the quote that I have written earlier, I have mentioned it because I think it is somewhat apt. If you ask why, I must say I really don't know but I feel while other actors always go by a consistent hit formula he is one of the few actors in the Telugu film industry who has dared to experiment with different roles and different themes. Also one must not forget that his movies are the ones that usually introduce new talent to the industry. Yet I am always surprised that he does not have a huge fan following or die hard fans like other prominent actors. He was, is, and will continue to be one of the best actors of our time and I am sure he will continue doing good movies like he has always done. I am eagerly waiting for his new movie Gharshana. Incidentally I have seen it's tamil version 'Kaakha Kaakha' and it was brilliant. I used to tell my friends that if they decide to remake 'Kaakha Kaakha' in Telugu the only actor who can do justice to the role is Venkatesh and I am very happy that he is the one who's actually doing the remake in Telugu. I am sure it will be a big hit and will be liked by almost everyone.
Venkatesh, Sir, if you are reading this letter, I would like to thank you on behalf of myself and all my friends who like you, for all those wonderful movies that you have acted in and given us. You are a good actor and I sincerely hope you'll continue your good work. I can honestly say that whenever I am feeling down I can pop in your movie 'Sundarakanda' to cheer my selves and to lift my spirits up, whenever I am feeling naughty I can pop in your movie 'Nuvvu Naaku Nachav' and amuse myself, whenever I feel like watching a classic I can pop in your movie 'Swarnakamalam' and feel good about it. You might not have a huge mass following or maybe your fans are not as vocal as others but everyone likes you and your movies and of that I am very sure.
From the guy next door trying to help a reluctant girl realize her true talents in 'Swarnakamalam', an avenging young lawyer in 'Sathruvu', an honest cop in 'Surya IPS', a thief saving a damsel in distress in 'Kshana Kshanam', an innocent servant in 'Chanti', a funny teacher with a conscience in 'Sundarakanda', a good husband stuck with two wives in 'Intlo Illalu Vantintlo Priyuralu', a good Samaritan saving a wronged girl from the society in 'Pavithra Bandham', a guy who gets his girl against all odds in 'Preminchukundam Ra', a witty boy in 'Nuvvu Naaku Nachav', to the desperate banker in 'Malleswari', it has been a wonderful and enriching journey for you and entertaining for us. I wish you good luck for your next movie 'Gharshana'.

Thank you once again.
Abhilasha.
[email protected]

Other Open Letters
-> from Ravi on dubbing artists
-> from Anil on Fans and stars
-> from Rain to Telugu film industry
-> from Venu and Kishore to Bala Krishna
-> from Nandamuri (IBDB) to Bala Krishna
-> from NBK fans to Bala Krishna
-> from Anil to Telugu film heroes
-> from Surendra to Allu Arjun
-> from Vineeth to Allu Arjun
-> from Ramesh on Naani film
-> from MD to YSR
-> On Telugu heroines from Anil
-> From Swetha to Anoop
-> From Raja to Chiranjeevi
-> From Supriya to Nagarjuna
-> From Vijay N to Nagarjuna
-> From Ravi S Banda to Uday Kiran
-> From Ram Narayan to NTR
-> From Kishore to Shyam Prasad Reddy
-> From Malladi KS Pathy to VV Vinayak
-> From PC to Telugu film industry
-> From Archana to Sirivennela
-> From Giri to Chiranjeevi
-> From Suresh to Bala Krishna
-> From Vijay to Shankar
-> From Thodakottu to Hari Krishna
-> From Mahesh to Vamsy
-> From Raghava to Bala Krishna
-> From Rocky to Chiranjeevi
-> From Bhanu Prakash to Nagarjuna
-> From Srikanth to Chiranjeevi
-> From Vijay to the team of KMG
-> From Megapowerstar to Pawan Kalyan
-> From Saradhi to Telugu film industry
-> From Sneha to Telugu film writers and lyricists
-> From Coolphani to Uday Kiran
-> From Prabhakar on Telugu cinema
-> From Raj to director Vikraman
-> From Hardhik about SP Balu's liveshow at NJ
-> From Yathiraja to Chiranjeevi
-> From Mouna Laya to TV Channels
-> From Kiran to Chiranjeevi
-> From Srilekha to Mahesh Babu
-> From Kanak to Nagarjuna
-> From Ashok about Nijam
-> From Srinadh to Chiranjeevi
-> From Simha to Pawan Kalyan
-> From Venkat to Venky and Chiru
-> From Prathima & Sujatha to Nijam
-> From Shaik Abdul to Bala Krishna
-> From Sudheer to Pawan Kalyan
-> From NBK fan to Balayya
-> From Bobby to Teja
-> From Bhargavi Chowdary to Venky
-> From Ram to Teja
-> From Nikhila to RP Patnaik
-> From Vinu regarding Johnny
-> From Murai regarding Johnny
-> From Sreeni regarding Johnny
-> From Krishna regarding Johnny
-> From Raj regarding Johnny
-> From Balu regarding Johnny
-> From Sreedhar regarding Johnny
-> From Nagender on PK-DC Issue
-> From Ranga on PK-DC Issue
-> From Gowtam to Johnny distributors
-> From Srikanth to Guna Sekhar
-> Responses to openletter to Chiranjeevi from DPS
-> To Chiranjeevi from DPS
-> To Pawan Kalyan from LP Harsha
-> To RP Patnaik from Raj
-> To film Industry from Naresh (Jamaica)
-> From Vijay to Krishna Vamsi
-> From Sharjah NRIs to Teja
-> From Rani to Venkatesh
-> From Harish to Devi Sri Prasad
-> From JKV Sharma to Mani Sharma
-> From Malladi to Guna Sekhar
-> From Satish to Allu Arjun
-> From Jhansi to Chiranjeevi
-> From Ravindranath to Okkadu team
-> VJ to Okkadu team
-> From Hemanth to Jr. NTR
-> From Rajesh to Guna Sekhar
-> From Srinivas to Bala Krishna
-> From Shrinivas to K Vijaya Bhaskar
-> From VJ to Krishna Vamsi
-> From Kiran to Khaled
-> From Khaled to Phani
-> From Sankar to Nagarjuna
-> Chakri Response to Anil
-> Phani response to Anil
-> From a fan to Nagarjuna
-> From Anil to Indian
-> From Gowtam to Aswini Dutt
-> To MAA from Soma
-> To Venky from Shailaja
-> To Trivikram Srinivas from Raja
-> To Krishna Vamsi from Hasan
-> To Ravi Teja from Somy Ali
-> Do we know our mother?
-> To Mahesh Babu from Soma
-> To Mahesh Babu from Superstar Fan
-> To K Raghavendra Rao from Hasan
-> To Chiru fans from Prince
-> Think a while by SMD
-> An open letter to IB DB participants by Venkat
-> An open letter to IB DB participants by Kiran
-> An open letter on plight of Telugu movie lovers in Malaysia
-> An open letter regarding Video Piracy
-> From Anupama to Pawan Kalyan
-> From Prince to Nagarjuna fans
-> From Ravi to Sirivennela
-> to editor from Ramana Reddy
-> To Chiranjeevi from Buzz
-> To Teja from Kumar Kuppam
-> From Vikram Aditya to Gemini Kiran and Ramoji Rao
-> Plight of Telugu films by Murthy
-> from a Chiru fan from Bellari to idlebrain visitors
-> to Allu Arvind from Aditya
-> To Nagarjuna from Krishna
-> To Teja from a Telugu fan
-> To Chiranjeevi from a fan
-> From Raja to Teja
-> From Anupama Prasad to Indra Unit
-> From Prakash to idlebrain.com visitors
-> From Venu to Bala Krishna
-> From Rajesh Sonti to Late Rao Gopal Rao
-> From Venkat to Usha
-> From Srinivas to EVV Satya Narayana
-> From Balaji to Pawan Kalyan
-> From Naga Kalyan to Pawan Kalyan
-> From Pavan Karthik to Ram Gopal Varma
-> From Pradeep to Teja
-> From Hrudaya to Pawan Kalyan
-> From BKR to Chiranjeevi
-> From Amit Patel to Chiranjeevi
-> From Anupama Prasad to Chiranjeevi
-> Nagarjuna meets idlebrain openletter writer Raju
-> From Ajay Kumar Reddy to Chiranjeevi
-> From Chandrika to idlebrain community
-> From Raju to Nagarjuna
-> From Bharat to Chiranjeevi
-> From Srinivas Josyula to Chiranjeevi