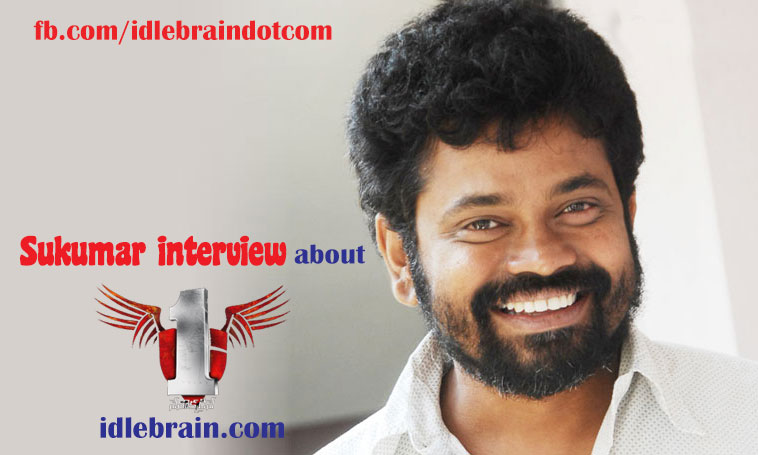 09 January 2014
Hyderabad

Sukumar is regarded as a new-age director and intelligent screenplay writer. His films Arya and 100% Love are different in content, but are on the spot when it comes to commercial results. His first huge budget film with Superstar 1 Nenokkadine is releasing on 10 January. Here are the excerpts of an exclusive interview with director Sukumar -
Your films Arya and 100% Love have interesting screenplay and out-of-box thinking. What can we expect from 1 Nenokkadine?
1 Nenokkadine belongs to a different genre compared to my earlier films. I call 1 Nenokkadine a psychological thriller. Like my earlier films, the screenplay will be interesting and there will be out-of-box thinking in characterization and scenes. We didn't have any big star films in genre in Telugu in the past.
Mahesh Babu has developed terrific judgment in selecting films. His last three films were super hits. How did you impress Mahesh Babu with a different story idea?
I had written the script by keeping Mahesh Babu as hero. Hence I have taken care of his box office image and fan following while writing the script. That's why Mahesh Babu is impressed with the script. We don't have emotion in most of the thrillers. But there is an underlying emotion in each and every scene of 1 Nenokkadine. There is plenty of action and excellent emotion in this movie.
What is the reason for having such a huge budget for this movie?
We have balanced the content and commercial viability of the film. This film has intense action sequences. If I had to shoot scenes, I can complete any film in 50 working days. But this film has terrific action sequences. As per the story, the hero has to go to a foreign country. Instead of doing regular foreign locations, we preferred London and Belfast as it's not explored in Telugu films. We shot the film in roof tops of central London. We got the permission and stopped traffic on main London Bridge for a day to shoot our film. The budget is high because the story demanded it. The producers are highly passionate and provided whatever is required. I know that filmmaking is business and the economics have to be taken care of. 1 Nenokkadine is a film that justifies the budget and delivers the goods with the finest commercial quality.
On a sidenote, I must admit that it's highly expensive in UK. My coffees bill for two months of stay itself ran into lacs of Indian rupees.
Tell us about the experience of working with Mahesh Babu?
Mahesh is a perfectionist. He goes for an extra take even if everybody is satisfied with the shot. It's amazing to listen to him why he want an extra take. He has brilliant analysing power. He puts a lot of thinking into his performance. It's extremely difficult to show variation in subtlety and he shows it in 1 Nenokkadine film.
Any alternative titles considered for this film?
We considered both 1 and Nenokkadine. Later on decided to merge them!
1 Nenokkadine is releasing tomorrow. Can you throw light into what the film is all about?
What happens when you throw a stone in a placid lake? It creates ripples. What happens when there is a conflict on what hero believes in and what society believes in. 1 Nenokkadine has new screenplay and will give a new experience to the movie lovers. Though it's a psychological thriller, we didn't miss any commercial points in the movie.
It's easy to cut trailers with misleading material just to attract the hardcore masses. The trailers and posters reflect the mood of the film. Is it intentional?
Yes. Mahesh Babu has told me in the beginning of shoot that he trusts me a lot and we should stick to the content and shouldn't deviate from it. He has encouraged me to come up with what we believed in. He has asked us to stick to the story in promoting the movie. That's why the promos reflect the content.
Debutant heroines you had selected in your earlier movies turned out to be weak points. You have selected another debutant heroine for 1 Nenokkadine?
I realised it and cast established heroines for Arya 2 and 100% Love. We have selected Kajal Agarwal for 1 Nenokkadine. But we required her for 2 months of shoot in UK and her dates became a problem. The producers wanted to cast a new heroine and I objected. Producers convinced me and we went for auditions. New actress Kriti Sanon is beautiful, talented and intelligent. I was also impressed with her education credentials. She has scored 89% in her engineering which is a proof that she can remember. She remembered her lengthy Telugu dialogues and delivered with perfect lip sync. Mahesh is an actor who can remember page-length dialogues when we narrate (he don't have the habit of reading dialogues from paper. he remembers when we tell him) and deliver it to a T. When you have such a perfect actor like Mahesh, the heroine shouldn't upset his rhythm. After watching the final product recently, Mahesh Babu has complimented her performance. I think I have passed this time with a new heroine.
Are you inspired by any Hollywood or world cinema for 1 Nenokkadine?
The only film where I am accused of getting inspired is Jagadam. Everybody felt that I was inspired by Brazilian film 'City of God'. But I had prepared the story much before the release of City of God. But I can't deny the fact that I watched City of the God in the process and used it for characters' establishment the film. Other than that it was an authentic story idea. Most of the scenes in Jagadam are inspired by my childhood incidents that involves me and my friends. I feel that inspiring from other films is the cheapest form of copying. I am a huge book lover and I read many books since childhood. I don't feel bad if somebody says I am inspired by books. But it pains me when people accusing me of getting inspired by other films. I tried to be authentic, sincere and original for 1 Nenokkadine.
You have seen the final version of 1 Nenokkadine. What is your gut feel?
I am very positive for the first time in my career. I am more confident of the success of this film compared to my earlier films. Mahesh Babu and producers are extremely confident and positive about the result of the movie.
You are planning to produce small films in your banner?
Yes. I have many assistants and associates who have exceptionally good stories. I plan to introduce them and make movies with a budget not exceeding Rs. 5 crores. The first film will be directed by my associate Vema Reddy and it will have Sumanth Ashwin playing the male lead. The shoot will start in February.
Your film is competing against a film of your mentor Dil Raju this Sankranthi?
Sankranthi is a season that can take two big hits. Last year too, we had two big releases and both of them became hits. I want both of us to be happy this Sankranthi.
What is your next film?
My next film will star NTR and will be produced by BVSN Prasad. We are still in the process of preparing the script. It's too early to discuss about it..