February 14, 2009
Konchem Istam Konchem Kastam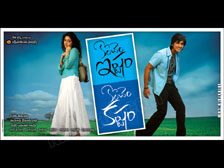 One week after the release i could manage to take time from my very busy schedule filled with work deadlines, kids and their activities , and a never ending list of chores. I debated till we got into the car, to go to the movie or not...go to the movie or not, finally i gave in to watch Siddharth and Tamanna. Eventhough i am a regular idlebrain vistor and always interested in flim news, gossip e.t.c , i am very very choosy with the movies that i watch in Theatre. As i was very impressed with the stills of the movie i didn't want to give it a miss. It's such a feel good movie, i left the theatre feeling so light hearted. The characters are so real and adorable, not to mention Siddarth and Tamanna make a very cute pair. A cute lead pair, a very sweet and endearing story , beautiful and vibrant visuals , Shankar,Eshaan, Loy's music ..it sure is a delight to watch.
A special mention goes to Abburi Ravi for the dailogues. I think this is his best work after Bommarillu. Songs are so good, my favourite is 'O Maina..', i thought 'evade subhramanyam' could have been choreographed better. The romance between sidharth and Tamanna , specially rootna, manaana .. are so adorable.
The best thing i liked about the movie is the relationships... the bonding, love,respect between father and daughter, father and son, wife and husband. Relationships are meant to be nurtured,valued, kept and never to be taken for granted...its narrated very beautifully in its entertaining best. I just felt like hugging my family after the movie. Kudos to the debutant director Kishore Kumar and Producer Bujji for coming up with this wonderful family entertainer.
sweta nalluri
[email protected]
More My Movie experiences:
Luck by Chance by Srini
KIKK by Lalitha Spoorthi
Arundhati by Naveen
Arundhati by Srini
Arundhati by Bharat
Sasirekha Parinayam by Santhi Venkat
Sasirekha Parinayam by Vamshi Muthapu
Sasirekha Parinayam by Niharika Reddy
Nachavule by Vamsi Krishna
Neninthe by movie lover
Avakai Biryani by Vamsi Krishna
Kotha Bangaru Lokam by Vamsi Krishna
Kotha Bangaru Lokam by S
Ashta Chemma by Deepthi
Ashta Chemma by Lalitha Spoorthi
Sarkar Raj by Pradeep
Jalsa by Lalitha Spoorthi
Gamyam by Sridhar
Gamyam by Sreekanth D
Gamyam by Sanjay
Halla Bol by Purnesh
Taare Zameen Par by Ashok Varma
Taare Zameen Par by Raja Simha
Happy Days by Krishna Sastry
Chirutha by Phani Kumar
Chak De India by Ravi
Yamadonga by Lalitha
Chak De India by Shyam
AMAV by Darsakudu
5 in March by Sashidhar
Okkadunnadu by Anand
Black Friday by Ratnakar
Desamuduru by Krishna Prasad
Guru by It's opinion
Dhoom 2 by Lalitha Spoorthi
Dhoom 2 by ASK
Don - Syam
Boss - Anand
Boss - Hrithik
Stalin - Bala
Bommarillu - Nandini
Bommarillu - Darsakudu
Bommarillu - Vasu
Bommarillu - Harsha Prakash
Bommarillu - Lalitha Spoorthi
LRMB - Shravan
Bommarillu - Anirudh
LRMB - Srinivas
LRMB - Darsakudu
LRMB - S Sridhar
Bommarillu - Shridevi
Bommarillu - Vasudev
Bommarillu - Roopa
Sriram - Godavari
Sarath - Bangaram
Bala - Pokiri
Srinadh - Allari Pidugu
Sudheer Allari Pidugu
Anu - Athadu
Shyam Krishna - Iqbal
Purnesh - Grahanam
Sudhindra - Super
Vijay - Aparichitudu
Madhav - Aparichitudu
Hazaraon Kwaishein Aisi
Swades
Shyam - Black
Sai - Anand
Rohit - Anand & Veer Zaara
Jaya Prakash - 7GBC
Raj - Anand
Purnesh - Anand
Purnesh - The Village
Sriram - Gudumba Shankar
Purnesh - Gharshana
Purnesh - Lakshya
Purnesh - Yuva
Leenesh - Yuva
Kis - Lakshmi Narasimha
Indian Pride - Tagore
Raj - Boys
Phani - Gangotri
Phani - Khadgam
Vikram - CKR
BKR - Indra (Singapore)
Ram - Indra (Dubai)
Ranjeet - Idiot
Rahul - Indra
King Koduri - Indra
Srilakshmi Katragadda - Mitr: My Friend