Open letter to Chiranjeevi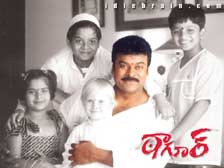 Dear Chiranjeevi sir,
On this day, I was happy to meet you through this open letters to stars from IDLEBRAIN.COM.
We are grateful to idlebrain by giving all of us, this opportunity to open up our thoughts, feelings, and views about our favorite stars. Thanks a lot to them, as because of this, we can even know about other persons feelings too.
Sir, I had a special place in my heart for you. Though I am not the great ardent fan of you, I had been the admirer of you from a long long time. Its because of your all time movies and for all the social service you do. You do a great service by these charitable trusts, blood banks and eye banks. I sincerely appreciate your attitude and you became the inspiration for so many people.
To say about your movies, there are many movies that had greater impact on my thoughts and ideas.
One such a movie is SWAYAM KRUSHI. This portrays all your real life dimensions. Just it shows how you succeeded step by step in your life. You had started as a small actor and now you are the MEGA STAR and its only possible because of your HARDWORK and the striving POTENTIAL in you.


About RUDRAVEENA, the songs are very classical and melodious. This movie shows not just you, but the character itself. Your emotions are very lively.


SUBHALEKHA Sir, you are really very apt for this role and seems as if you are born for the role. Your role as a loyal and honest friend who always cares for the good of the heroine, not expecting any thing in return (just admires her all the way) is simply superb. At present many movies are based on this story.


APADHBANDHAVUDU, VIJETHA, are really the movies to be remembered a long time.


GANGLEADER, KHAIDHI show your rough and tough image of You. Those types of movies add the special touch to your film along with your charm.


JAGADEKA VEERUDU .., CHUDALANI UNDI, MASTER, It becomes a big list, if I write about all the movies.


DADDY - You are so humble in the character as a lovely father to a child as well as a loving husband.


TAGORE is the best movie and it shows the present status of the corruption very vividly. The role TAGORE is simply made for you. This shows the peeks of acting talent in you.
This is all I want to say about your movies. Apart from your movies, I want to share some of my thoughts with you, sir.
I had a friend by name Vijay. He is a big fan of you from your childhood. He loves you more than his friends, brothers, sisters and every one. He will be most happy on your birthday than his birthday. Its only because of your attitude, honesty, loyalty, kindness and your life style. You are the only inspiration for him, and he says it to everyone proudly.
When he had prepared a profile (to say in college) he had mentioned about You, that how you had influenced him through your good deeds. I had known on that day that people appreciate you more than words. Not only that, when he went to Hyderabad recently, he had seen you in Shanker Dada MBBS shooting. He had felt very happy and excite on that day. I hadn't seen him that much happy on any day.
Of course, there are many people who love you a lot more than my friend does. But he is the person I knew and I met who loves you very much.
He always says,
"CHIRANJEEVI is an actor,
If anyone is in his place, they may not care about charities or blood banks. They can be happy enjoying the luxuries and earning lots.
But he is not an ordinary actor, but an extraordinary person.
The perfect human who always care for the world. "
As said "Chiranjeevi - Born for people"
Not only my friend, but also there are more persons who admire you, inspired by you. In my college, there is my senior. He too loves you a lot and a diehard fan of you. There are my classmates Sunee, radhika, and Krupa, my neighbour, my cousins Bobby and Manoj, my Sister Saru and many more.
I had read the discussion about the Durga Prasad's comments on your article in a magazine. When one person had commented about that, many people gave their opinions in support of the matter saying facts and making him realize about what You meant to say. From that small thing, everyone can know about your place in people's hearts. Every one loves you, admires you and cares for you a lot. I really feel proud that I too was one of them.
Still I like to say only one thing, that's
"HOW YOU ARE,
WE LOVE THE WAY YOU ARE
BECAUSE YOU HAVE THAT CHARM IN YOU"

TAKE CARE OF YOURSELF,
EVER YOURS FAN
Aparna
[email protected]

Other Open Letters
-> from Balayya fans to political parties
-> from Abhilasha to Venky
-> from Ravi on dubbing artists
-> from Anil on Fans and stars
-> from Rain to Telugu film industry
-> from Venu and Kishore to Bala Krishna
-> from Nandamuri (IBDB) to Bala Krishna
-> from NBK fans to Bala Krishna
-> from Anil to Telugu film heroes
-> from Surendra to Allu Arjun
-> from Vineeth to Allu Arjun
-> from Ramesh on Naani film
-> from MD to YSR
-> On Telugu heroines from Anil
-> From Swetha to Anoop
-> From Raja to Chiranjeevi
-> From Supriya to Nagarjuna
-> From Vijay N to Nagarjuna
-> From Ravi S Banda to Uday Kiran
-> From Ram Narayan to NTR
-> From Kishore to Shyam Prasad Reddy
-> From Malladi KS Pathy to VV Vinayak
-> From PC to Telugu film industry
-> From Archana to Sirivennela
-> From Giri to Chiranjeevi
-> From Suresh to Bala Krishna
-> From Vijay to Shankar
-> From Thodakottu to Hari Krishna
-> From Mahesh to Vamsy
-> From Raghava to Bala Krishna
-> From Rocky to Chiranjeevi
-> From Bhanu Prakash to Nagarjuna
-> From Srikanth to Chiranjeevi
-> From Vijay to the team of KMG
-> From Megapowerstar to Pawan Kalyan
-> From Saradhi to Telugu film industry
-> From Sneha to Telugu film writers and lyricists
-> From Coolphani to Uday Kiran
-> From Prabhakar on Telugu cinema
-> From Raj to director Vikraman
-> From Hardhik about SP Balu's liveshow at NJ
-> From Yathiraja to Chiranjeevi
-> From Mouna Laya to TV Channels
-> From Kiran to Chiranjeevi
-> From Srilekha to Mahesh Babu
-> From Kanak to Nagarjuna
-> From Ashok about Nijam
-> From Srinadh to Chiranjeevi
-> From Simha to Pawan Kalyan
-> From Venkat to Venky and Chiru
-> From Prathima & Sujatha to Nijam
-> From Shaik Abdul to Bala Krishna
-> From Sudheer to Pawan Kalyan
-> From NBK fan to Balayya
-> From Bobby to Teja
-> From Bhargavi Chowdary to Venky
-> From Ram to Teja
-> From Nikhila to RP Patnaik
-> From Vinu regarding Johnny
-> From Murai regarding Johnny
-> From Sreeni regarding Johnny
-> From Krishna regarding Johnny
-> From Raj regarding Johnny
-> From Balu regarding Johnny
-> From Sreedhar regarding Johnny
-> From Nagender on PK-DC Issue
-> From Ranga on PK-DC Issue
-> From Gowtam to Johnny distributors
-> From Srikanth to Guna Sekhar
-> Responses to openletter to Chiranjeevi from DPS
-> To Chiranjeevi from DPS
-> To Pawan Kalyan from LP Harsha
-> To RP Patnaik from Raj
-> To film Industry from Naresh (Jamaica)
-> From Vijay to Krishna Vamsi
-> From Sharjah NRIs to Teja
-> From Rani to Venkatesh
-> From Harish to Devi Sri Prasad
-> From JKV Sharma to Mani Sharma
-> From Malladi to Guna Sekhar
-> From Satish to Allu Arjun
-> From Jhansi to Chiranjeevi
-> From Ravindranath to Okkadu team
-> VJ to Okkadu team
-> From Hemanth to Jr. NTR
-> From Rajesh to Guna Sekhar
-> From Srinivas to Bala Krishna
-> From Shrinivas to K Vijaya Bhaskar
-> From VJ to Krishna Vamsi
-> From Kiran to Khaled
-> From Khaled to Phani
-> From Sankar to Nagarjuna
-> Chakri Response to Anil
-> Phani response to Anil
-> From a fan to Nagarjuna
-> From Anil to Indian
-> From Gowtam to Aswini Dutt
-> To MAA from Soma
-> To Venky from Shailaja
-> To Trivikram Srinivas from Raja
-> To Krishna Vamsi from Hasan
-> To Ravi Teja from Somy Ali
-> Do we know our mother?
-> To Mahesh Babu from Soma
-> To Mahesh Babu from Superstar Fan
-> To K Raghavendra Rao from Hasan
-> To Chiru fans from Prince
-> Think a while by SMD
-> An open letter to IB DB participants by Venkat
-> An open letter to IB DB participants by Kiran
-> An open letter on plight of Telugu movie lovers in Malaysia
-> An open letter regarding Video Piracy
-> From Anupama to Pawan Kalyan
-> From Prince to Nagarjuna fans
-> From Ravi to Sirivennela
-> to editor from Ramana Reddy
-> To Chiranjeevi from Buzz
-> To Teja from Kumar Kuppam
-> From Vikram Aditya to Gemini Kiran and Ramoji Rao
-> Plight of Telugu films by Murthy
-> from a Chiru fan from Bellari to idlebrain visitors
-> to Allu Arvind from Aditya
-> To Nagarjuna from Krishna
-> To Teja from a Telugu fan
-> To Chiranjeevi from a fan
-> From Raja to Teja
-> From Anupama Prasad to Indra Unit
-> From Prakash to idlebrain.com visitors
-> From Venu to Bala Krishna
-> From Rajesh Sonti to Late Rao Gopal Rao
-> From Venkat to Usha
-> From Srinivas to EVV Satya Narayana
-> From Balaji to Pawan Kalyan
-> From Naga Kalyan to Pawan Kalyan
-> From Pavan Karthik to Ram Gopal Varma
-> From Pradeep to Teja
-> From Hrudaya to Pawan Kalyan
-> From BKR to Chiranjeevi
-> From Amit Patel to Chiranjeevi
-> From Anupama Prasad to Chiranjeevi
-> Nagarjuna meets idlebrain openletter writer Raju
-> From Ajay Kumar Reddy to Chiranjeevi
-> From Chandrika to idlebrain community
-> From Raju to Nagarjuna
-> From Bharat to Chiranjeevi
-> From Srinivas Josyula to Chiranjeevi