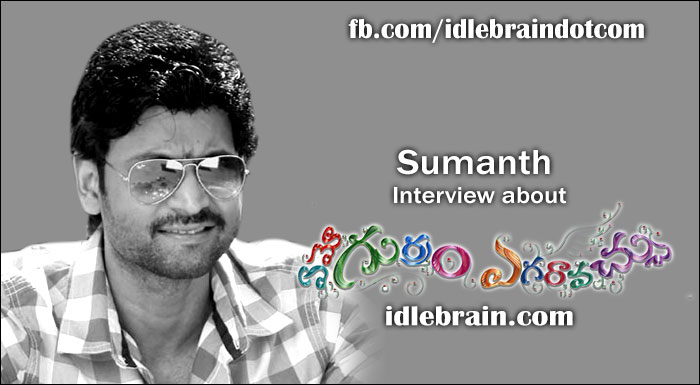 22 January 2014
Hyderabad

Sumanth's last film Daggara Dooramga was released in 2011. His latest film Emo Gurram Egaravachu - a romantic comedy is releasing on 24 January 2014. Sumanth talks about this gap and about his high-energy entertainment character in an exclusive interview with idlebrain.com -
Why is there a big gap before Emo Gurram Egaravachu?
I have done a couple of bad films after a nice movie Golkonda High School. I didn't want to repeat the mistake again.
How do you judge a film when you sign it?
I do consider three factors - script, director and producer while signing a film. A good script is a must. If it's backed by either good producer or good director, it will turn out to be a decent film.
What's the reason for signing Emo Gurram Egaravachu?
Script and director are the reason for me to sign this film. Director Chandra Siddhartha has given me a reasonable hit Madhumasam in the past. This is my second film with him. This film will be a paradigm shift for Chandra Siddhartha towards entertainment genre. EGE is a fun film.
When I listened to the story, i suggested that this script suits actors like Ravi Teja and Sunil more as it has got high energy comedy in it. But later I got convinced that I should do it. Comedy is one ingredient that is overlooked by many. That is the reason why Jim Carrey never got an Oscar because he did mostly comedy characters. Comedy is a tough thing to do. This film is a paradigm shift for me as I am attempting the comedy/entertainment genre for the first time.
What's the story line of EGE?
I play the role of a Bheemavaram town guy who failed 10th class 14 times. It's a love story between a Bhimavaram under-educated guy and a classy American NRI Neelaveni (played by Thai actress Pinky Sawika). It's a clash of ideology as well.
What does the title Emo Gurram Egaravachu signify?
I denotes that anything is possible. It's an optimistic title. MM Keeravani composed a song titled Emo Gurram Egaravachu for Rambantu film in the past.
You are working with Keeravani for the first time. How do you feel about it?
It feels great to work with a music director like Keeravani for the first time in my career spanning 13 years. I am a huge fan of him. Since his brother SS Kanchi is providing story for the film, MM Keeravani has taken personal interest in the project. He gave suggestions from the scripting stage to publicity for this movie.
Tell us about the first time producer?
John Sudheer is a Telugu guy who tasted success in Thailand in spices business. He is a very good friend of Chandra Siddharth. Entire second half of the film takes place in USA. We shot the film for 45 days in Bangkok to match outdoors of USA. It was possible to shoot such an extensively in Bangkok only due to the producer. Actress Pinky is a local girl and a big name in Thailand. That's the reason why we had music launch function in Thailand.
Tell us about your character and the lady get-up?
I surprised myself by doing the high energy and entertainment-oriented character in this film. I have also played the role of a woman as per the script's requirement. Though I am not comfortable with it, I had to because the script demanded it. There will be a shock factor. I decided not to look at myself in mirror or in monitor while doing lady character. Everybody watched my performance was raving about it.
Akhil is going to be introduced soon. What is your observation about it?
Akhil is on different level. He is very prepared and doing everything right.
Moviemaking and acting has become accessible for most of the wannabes now unlike the time when you entered film industry. What is your reading about it?
It's both good and bad. Technology and opportunities are being used properly by some and abused by many. The credit should be given audiences for appreciating the right films. I feel that promoting film has become the most important factor now.
What is your gut feel about Emo Gurram Egaravachu?
We had a big sample of test audiences and feedback is positive. MM Keeravani is known for his judgment skills. His judgment is always spot on. He gave me a thumbs up and opined that EGE is a positive film. I go with his judgment.