February 22, 2009
After Delhi 6 , I can proudly say i am from Hyderabad 7 , Simple Yet Makes A Meaningful Watch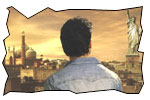 Well , Out of those millions positive & negetive critics from the movie Delhi 6 , I better pour out my sincere view & review about the movie , i have watched the movie today , and tere's actually lot to say about this movie .
Here comes a movie which is almost like the director's autobiography . Here as people say its not good , i better come to the declaration from my side later , but lemme give few similarities .
Telugu & Tamil
Director : Gowtham Menon
Previous Movies : Cheli , Gharshana ( Kaaka Kaaka ) , Raghavan .
Recent Movie : Surya s/o Krishnan
Gowtham Menon is actually an outstanding director , he is such a sincere director , his sincerity shows in his movies where most of them were based on Sincere Cops . His Ideas & way of thinking , style of taking are simply superb .
People who are just movie Goers for entertainment had lots of expectations on the movie Surya S/O Krishnan and when the movie almost related to his autobiography and was close to his heart , people didn't like this realistics funda kind of moview , 'coz this movie didn't have those villian-hero chase , but it had a meaningful lovestory , accept it was slow but was worth watching once atleast for the way the movie came out . Music was outstanding . But finally what happened was most of them didn't like the movie 'coz it was just a movie about a person , a normal human being , who becomes an Army office after so many twists & turns in his life in just a short span of time ( 6-8 years as they show in the movie ) . But, as a movie Lover , i loved the movie .
Hindi
Director : Rakeysh Omprakash Mehra
Previous Movies : Aks , Rang De Basanti
Recent Movie : Delhi 6
Rakeysh Omprakash Mehra is not just a director as long as his movies are concerned to me . Alike Gowtham Menon , he is one amongst the most sincere Director's in Bollywood . His movie AKS was a bit tough to understand even though it had lot to learn from it . But here comes the movie , his second movie RDB which had left many hearts touched and many mouths shut . It was just a splendid movie , second to none , it was the top , it was a movie of values , ideas , patriotism and what not , it was a combination of everything , all-in-all it was just simply superbbbbbbbbb , i keep watching it atleast once a week to learn the way the movie was taken . And now comes Delhi 6 , its just released but ihas a mixed responce atleast because of its comedy which is shown as ppl's innocence or ignorance but not making fun of the other
Well , Here comes my Review about the movie sincerely , The movie is really a sincere effort by Rakeysh ji , three cheers and hats off to him . His attempt of making people aware by using the Black Monkey Concept ( kala bandar ) was actually a tough experiment for most of the movie goers , but movie lovers would understand the pain of making this movie and the efforts taken . The way everything is shown in this movie by putting all elements . Its like a dish made of various delicacies . The main plot of the movie revolves around the kala bandar issue and people becoming ignorant that kala bandar is something which is creating havoc in Delhi 6 and until in the climax where it is not revealed that kala bandar is nothing but the evil thought in ourself which transforms us into that so called kala bandar
1) Hindu - Muslim Unity
2) Family Relations - Mother - Son , Brothers , Society
3) First & the Foremost - LOVE
4) Upbringing of Children
5) Patriotism - Love for the Motherland
6) Knowing inner-self by the climax scene - Atul Kulkarni pouring out his thoughts , his ignorance till then , and making ppl aware that kala bandar is nothing but our inner-self when our mind gets corrupted by evil thoughts.
7) The scene where Rishi Kapoor says that True love is not by just living in the memories of the person u loved but by expressing it to the person u love the next moment u feel it .
8) God is everywhere , God is everybody , God is in us - this is shown by the person carrying the mirror
9) Outstanding Music- Masakkali , Delhi 6 , Rehna Tu , Genda Phool , etc...
10) Media enthusiasm .
As always my aim has been of becoming a director of a debut meaningful movie , i can say the above would be my idols , and i would follow the steps if at all i reach my aim in this near future .
Overall , Delhi 6 is a sincere effort by Rakeysh OmPrakash Mehra as always alike his previous films . Movie is worth watching for normal regular movie goers , this is atleast a worth spending ur weekend watching a good movie .
vamshi shetty
vamshishetty at gmail dot com
More My Movie experiences:
KIKK by Sweta
Luck by Chance by Srini
KIKK by Lalitha Spoorthi
Arundhati by Naveen
Arundhati by Srini
Arundhati by Bharat
Sasirekha Parinayam by Santhi Venkat
Sasirekha Parinayam by Vamshi Muthapu
Sasirekha Parinayam by Niharika Reddy
Nachavule by Vamsi Krishna
Neninthe by movie lover
Avakai Biryani by Vamsi Krishna
Kotha Bangaru Lokam by Vamsi Krishna
Kotha Bangaru Lokam by S
Ashta Chemma by Deepthi
Ashta Chemma by Lalitha Spoorthi
Sarkar Raj by Pradeep
Jalsa by Lalitha Spoorthi
Gamyam by Sridhar
Gamyam by Sreekanth D
Gamyam by Sanjay
Halla Bol by Purnesh
Taare Zameen Par by Ashok Varma
Taare Zameen Par by Raja Simha
Happy Days by Krishna Sastry
Chirutha by Phani Kumar
Chak De India by Ravi
Yamadonga by Lalitha
Chak De India by Shyam
AMAV by Darsakudu
5 in March by Sashidhar
Okkadunnadu by Anand
Black Friday by Ratnakar
Desamuduru by Krishna Prasad
Guru by It's opinion
Dhoom 2 by Lalitha Spoorthi
Dhoom 2 by ASK
Don - Syam
Boss - Anand
Boss - Hrithik
Stalin - Bala
Bommarillu - Nandini
Bommarillu - Darsakudu
Bommarillu - Vasu
Bommarillu - Harsha Prakash
Bommarillu - Lalitha Spoorthi
LRMB - Shravan
Bommarillu - Anirudh
LRMB - Srinivas
LRMB - Darsakudu
LRMB - S Sridhar
Bommarillu - Shridevi
Bommarillu - Vasudev
Bommarillu - Roopa
Sriram - Godavari
Sarath - Bangaram
Bala - Pokiri
Srinadh - Allari Pidugu
Sudheer Allari Pidugu
Anu - Athadu
Shyam Krishna - Iqbal
Purnesh - Grahanam
Sudhindra - Super
Vijay - Aparichitudu
Madhav - Aparichitudu
Hazaraon Kwaishein Aisi
Swades
Shyam - Black
Sai - Anand
Rohit - Anand & Veer Zaara
Jaya Prakash - 7GBC
Raj - Anand
Purnesh - Anand
Purnesh - The Village
Sriram - Gudumba Shankar
Purnesh - Gharshana
Purnesh - Lakshya
Purnesh - Yuva
Leenesh - Yuva
Kis - Lakshmi Narasimha
Indian Pride - Tagore
Raj - Boys
Phani - Gangotri
Phani - Khadgam
Vikram - CKR
BKR - Indra (Singapore)
Ram - Indra (Dubai)
Ranjeet - Idiot
Rahul - Indra
King Koduri - Indra
Srilakshmi Katragadda - Mitr: My Friend