Open letter to Krishna Vamsi on Chakram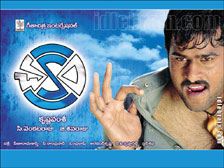 It was a hot and sunny day, it was very sultry outside but I was a little excited inside, why not?? I had good reason to be so, I was going to watch krishnavamsi's latest release that day.
I walked into the theatre with full of expectations, promising myself a treat.
I came out of the theatre with more than a sigh of relief. You all can guess what happened to me inside...
When I came out of the theatre I hardly remembered a scene from movie. As the scenes came and went by, I just kept on shift+deleting them and was hoping for the ordeal to end soon.
That night was almost peaceful except for few nightmares...courtesy krishnavamsi.
I saw krishnavamsi a lot, the next few days, talking shop. He was desperately trying to defend his movie and the values he wanted to impart....Obviously, I didn't agree a lot with what he was saying, so I decided to give him a piece of my mind.
Dear Krishna Vamsi,
I am an ardent fan of ur films. U were different from the lot.…ur films used to haunt me for days........ Each of your earlier movies (not sri anjaneyam) left lasting impressions on my mind.
Sir what's happening with you these days? It was pain watching your previous effort itself, Sri Anjaneyam...then I thought, you deserved a benefit of doubt.
But this time why were you trying so desperately to defend this project even after failing in most of the aspects of film making? This raised a doubt in my mind about your capability to judge your future projects... Well I directed no movie....but I see no fault in expressing myself....
Sir here are a few points that pissed me off from your latest project....
characterizations
One thing that stands out in all ur earlier films is ur terrific characterization. What happened to that magical touch??
koti character in Khadgam, tanikella bharani in samudram, jagapathi babu and prakash raj in anthahpuram chandra mohan and brahmaji in chandralekha, raviteja in sindooram are just a few to name.
Can u show me anything like that or even remotely resembling characterizations in Sri Anjaneyam and the so called Chakram??
I can't stop myself going into detail....
1) The worst characterization in the movie if you ask me is....Chakram, the problem solver!!!
The way our hero cures the colony people, the quick fixes are the worst part of the movie... I heard few giggles in theatre though..
Well……... every one with a sane mind will never be able to understand the rationale in the way the problems are solved. They looked so far from reality and I am so disappointed with all the whole episodes that I don't even feel like mentioning them and substantiate my stand.
Even the glossy "kal ho naa ho" has more meaningful problematic circumstances and solutions but our case is a total let down, and what the hell our hero is preaching to jeeva?? Sir, I don't get it, does anybody in the world change with just few words??
2) ah, lakshmi - I character, played by asin,
All she has done in the movie is getting impressed when chakram says that he want to build a super specialty hospital and then start hating him when he said he is in love with another girl and wants to keep her as a concubine, as if she has no brains.
Sir, pardon me if I ask, u showed her as a well educated person and knows chakram from childhood.
Then how in the hell she could possibly behave the way she did??
I wonder how couldn't she use her head to figure out what's behind his behaviour??
And on top of that, that awful song - sony, cellphone!! Oh god, is this really your idea or what??
(by the way, whose idea is that graffiti "stick no hearts" and "admit love", did you try to say something? well we didn't get it)
If we know somebody from childhood, we know them inside out, we know their behavior patterns and how credible a person they are, then how could she get carried away by the sudden changes in his behaviour. Her character just seemed to be programmed to respond to outside influence, and is in very bad taste. By foul playing, he hurt her badly twice.; once with his behavior and once with his death. It served no purpose other than what u thought as a great twist in the tale.
Don't u think it would have been more logical if Chakram explains her the fact, cancels the marriage and make his death as painless as possible. If he did the right course, it would have been more fitting to their characterizations u showed initially. It would have been more meaningful, had he stayed with them, made her in charge of the building of so called super specialty hospital and make his dreams come true.
3) What is this Lakshmi II character (played by Charmi)?
.What good it does if she stops studying her medicine and start working as a pizza delivery girl??
I agree there are no petty jobs, every job is meaningful and worth in its own right.
Is the money she earns is going to help maintain her family…well I am not sure.
Did she retire as the same pizza delivery girl???
Did she continue her medicine and assisted Lakshmi I in her ambitious project??
We are interested to know..
Well I had enough with these characterizations....
Sir, I felt all the phone call blood cancer episode was very phony (pardon my pun).
How long do you think it will take the tests to produce results?
How long do you think it will take for a doctor to call his close friend to inform his grave situation?
What's the foreign friend doing all the while between blood sampling and marriage day??
I am no doctor and I certainly don't know what the procedures are for confirming blood cancer, but my mind is not accepting all this shit. care to explain??
I saw so many FUNNY movies in the recent past But I care a damn to write anything about them. I wrote this because I believe you are far better than what you are delivering now.
In my opinion another scene that fell flat on its face is Brahmanandams comedy (??).
a very crucial scene, what u tried to convey in that scene is chakram and his dad accepted the inevitable and the legacy of chakram is passed on to his father - noble intentions, I say.
But sir, did u really think that so called comedy is good enough to convey ur intentions? you made so many people squirm helplessly in their seats.
I agree, by the comedy tracks we have seen so far, we are programmed to laugh at such scenes but u too resorting to such type of comedy(?) is unbearable to all of ur fans out here. u can do better than that.
Sir, would you be offended if we ask you about the fate of super specialty hospital?
I haven't completed yet, another one that's bothering me is ur shots. u became repetitive... .
I saw the akela crane sweeping shot first in chandralekha and I must say I was impressed, then I saw the same shots in murari and now in chakram, sir, what's our crime? Are we sentenced to akela crane sweeping shots punishment in every one of your movies.
These days I began to hate the poor akela crane itself.
Even though you tried to dig out some reason linking the first day's response to HOLI mood of the people,
Sir, the bottom line is, chakram completely failed to TRANSPORT the audience towards what they came for - to my understanding, entertainment, and if u don't agree with what I have said, sue me.
I know mine is the easiest job - criticizing,
and urs, the toughest - trying to entertain public at large,
but believe me, I did put in my best to make this not a waste of time, for both of us.
Ur taking is getting better and better, no complaints there. U can't mess it up, even if u try to.
What's really wrong with the film?
If u ask me, u did not work enough on the story...... and we wont agree with what u r saying on the telly. The intentions r good, but u failed to transform them in to movie format as was the case ins Sri Anjaneyam.
plzzzzz come up with something ori(vir)ginal next time.
Having said all this sir, u r still my fav director and I am waiting with the same anticipation for ur next film like a child who is about to go in to a candy store.
and we hope u realize the fact that we are only this demanding because it is u and not somebody else.
a little trivia for the reader, before we say adios,
Question: define the characteristics of family members in krishnavamsi's films?
Answer: they r very affectionate, especially the father and mother hug and kiss hero/hrn as the case may be,
they r always positive,
they pamper hero/hrn
and they have undying trust in protagonists.

sir, its good to have such parents/relatives in real life but all ur fans out here r getting bored having to see the same characterizations time and again.
guess what?? when the santa visits me this christmas, I am gonna ask him a new set of family characters for ur films
Lazy Dog
[email protected]

Other Open Letters
-> by Ravi on Indian Cricket Team
-> to lyricist Chandrabose
-> from Sunil about filmfare awards
-> from Sabita about filmfare awards
-> from Pournami to MS Raju
-> from Deepti Raj to Devi Sri Prasad
-> from Sivaram to Telugu film industry
-> from Ravi to Ram Gopal Varma
-> from Rohit to Pawan Kalyan
-> from Saradhi to Krishna Vamsi
-> from Srikanth on Arjun piracy
-> from Raj to USA Distributors
-> from Srikanth on Remakes
-> from Ravi Kiran to Krishna
-> from Aparna to Chiranjeevi
-> from Balayya fans to political parties
-> from Abhilasha to Venky
-> from Ravi on dubbing artists
-> from Anil on Fans and stars
-> from Rain to Telugu film industry
-> from Venu and Kishore to Bala Krishna
-> from Nandamuri (IBDB) to Bala Krishna
-> from NBK fans to Bala Krishna
-> from Anil to Telugu film heroes
-> from Surendra to Allu Arjun
-> from Vineeth to Allu Arjun
-> from Ramesh on Naani film
-> from MD to YSR
-> On Telugu heroines from Anil
-> From Swetha to Anoop
-> From Raja to Chiranjeevi
-> From Supriya to Nagarjuna
-> From Vijay N to Nagarjuna
-> From Ravi S Banda to Uday Kiran
-> From Ram Narayan to NTR
-> From Kishore to Shyam Prasad Reddy
-> From Malladi KS Pathy to VV Vinayak
-> From PC to Telugu film industry
-> From Archana to Sirivennela
-> From Giri to Chiranjeevi
-> From Suresh to Bala Krishna
-> From Vijay to Shankar
-> From Thodakottu to Hari Krishna
-> From Mahesh to Vamsy
-> From Raghava to Bala Krishna
-> From Rocky to Chiranjeevi
-> From Bhanu Prakash to Nagarjuna
-> From Srikanth to Chiranjeevi
-> From Vijay to the team of KMG
-> From Megapowerstar to Pawan Kalyan
-> From Saradhi to Telugu film industry
-> From Sneha to Telugu film writers and lyricists
-> From Coolphani to Uday Kiran
-> From Prabhakar on Telugu cinema
-> From Raj to director Vikraman
-> From Hardhik about SP Balu's liveshow at NJ
-> From Yathiraja to Chiranjeevi
-> From Mouna Laya to TV Channels
-> From Kiran to Chiranjeevi
-> From Srilekha to Mahesh Babu
-> From Kanak to Nagarjuna
-> From Ashok about Nijam
-> From Srinadh to Chiranjeevi
-> From Simha to Pawan Kalyan
-> From Venkat to Venky and Chiru
-> From Prathima & Sujatha to Nijam
-> From Shaik Abdul to Bala Krishna
-> From Sudheer to Pawan Kalyan
-> From NBK fan to Balayya
-> From Bobby to Teja
-> From Bhargavi Chowdary to Venky
-> From Ram to Teja
-> From Nikhila to RP Patnaik
-> From Vinu regarding Johnny
-> From Murai regarding Johnny
-> From Sreeni regarding Johnny
-> From Krishna regarding Johnny
-> From Raj regarding Johnny
-> From Balu regarding Johnny
-> From Sreedhar regarding Johnny
-> From Nagender on PK-DC Issue
-> From Ranga on PK-DC Issue
-> From Gowtam to Johnny distributors
-> From Srikanth to Guna Sekhar
-> Responses to openletter to Chiranjeevi from DPS
-> To Chiranjeevi from DPS
-> To Pawan Kalyan from LP Harsha
-> To RP Patnaik from Raj
-> To film Industry from Naresh (Jamaica)
-> From Vijay to Krishna Vamsi
-> From Sharjah NRIs to Teja
-> From Rani to Venkatesh
-> From Harish to Devi Sri Prasad
-> From JKV Sharma to Mani Sharma
-> From Malladi to Guna Sekhar
-> From Satish to Allu Arjun
-> From Jhansi to Chiranjeevi
-> From Ravindranath to Okkadu team
-> VJ to Okkadu team
-> From Hemanth to Jr. NTR
-> From Rajesh to Guna Sekhar
-> From Srinivas to Bala Krishna
-> From Shrinivas to K Vijaya Bhaskar
-> From VJ to Krishna Vamsi
-> From Kiran to Khaled
-> From Khaled to Phani
-> From Sankar to Nagarjuna
-> Chakri Response to Anil
-> Phani response to Anil
-> From a fan to Nagarjuna
-> From Anil to Indian
-> From Gowtam to Aswini Dutt
-> To MAA from Soma
-> To Venky from Shailaja
-> To Trivikram Srinivas from Raja
-> To Krishna Vamsi from Hasan
-> To Ravi Teja from Somy Ali
-> Do we know our mother?
-> To Mahesh Babu from Soma
-> To Mahesh Babu from Superstar Fan
-> To K Raghavendra Rao from Hasan
-> To Chiru fans from Prince
-> Think a while by SMD
-> An open letter to IB DB participants by Venkat
-> An open letter to IB DB participants by Kiran
-> An open letter on plight of Telugu movie lovers in Malaysia
-> An open letter regarding Video Piracy
-> From Anupama to Pawan Kalyan
-> From Prince to Nagarjuna fans
-> From Ravi to Sirivennela
-> to editor from Ramana Reddy
-> To Chiranjeevi from Buzz
-> To Teja from Kumar Kuppam
-> From Vikram Aditya to Gemini Kiran and Ramoji Rao
-> Plight of Telugu films by Murthy
-> from a Chiru fan from Bellari to idlebrain visitors
-> to Allu Arvind from Aditya
-> To Nagarjuna from Krishna
-> To Teja from a Telugu fan
-> To Chiranjeevi from a fan
-> From Raja to Teja
-> From Anupama Prasad to Indra Unit
-> From Prakash to idlebrain.com visitors
-> From Venu to Bala Krishna
-> From Rajesh Sonti to Late Rao Gopal Rao
-> From Venkat to Usha
-> From Srinivas to EVV Satya Narayana
-> From Balaji to Pawan Kalyan
-> From Naga Kalyan to Pawan Kalyan
-> From Pavan Karthik to Ram Gopal Varma
-> From Pradeep to Teja
-> From Hrudaya to Pawan Kalyan
-> From BKR to Chiranjeevi
-> From Amit Patel to Chiranjeevi
-> From Anupama Prasad to Chiranjeevi
-> Nagarjuna meets idlebrain openletter writer Raju
-> From Ajay Kumar Reddy to Chiranjeevi
-> From Chandrika to idlebrain community
-> From Raju to Nagarjuna
-> From Bharat to Chiranjeevi
-> From Srinivas Josyula to Chiranjeevi