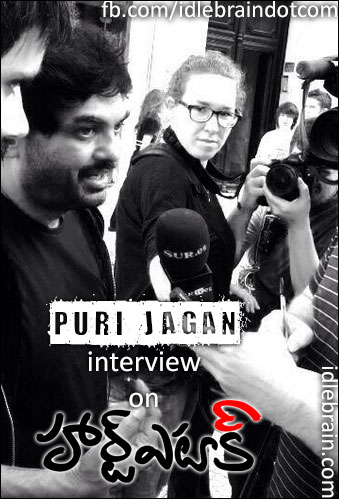 8 February 2014
Hyderabad

Success/money chases people who don't care for it. Puri Jagan is a monumental example for this fact. He has introduced a new characterization to Indian screen with Idiot film. He has directed an all time industry hit Pokiri which later became a 100 crore film when remade in Hindi. Despite of being a premiere commercial director, Puri Jagan has always been a man who is striving to make well-intended film like Neninthe and experiments like Nenu Naa Rakshasi and Devudu Chesina Manushulu. Idlebrain.com has met Puri Jagan at his service apartment of Park Hyatt for an exclusive interview. Here are the excerpts -
Tell us about how Heart Attack happened?
I listened Aur Ho song from Hindi film Rockstar during the shoot of climax of Iddarammailatho and I loved the pain and emotional depth in that song. I penned the story of Heart Attack in one hour. I narrated this story to my direction department and everybody loved it. My idea was to make a Hinglish film with a Hollywood/World Cinema hero and a Indian heroine. It's about a hippie falling in love with Indian girl. Love story happens in abroad and hero comes to Goa while searching heroine. When I told the story idea to Mahesh Babu, he has suggested that I should do this story with Ranbir Kapoor in Bollywood.
Thats when Aswini Dutt has approached me to prepare a script to launch Varun Tej (Naga Babu's son) as hero. But, it didn't happen. I decided to start a new banner and make Heart Attack.
What's reason for starting a new banner PJTT (Puri Jagannadh's Touring Talkies) when you already had a banner called Vaishno Media?
I wanted to start afresh. I want to make a new beginning with PJTT. I had been known as a producer's director when it comes to budget. I had attempted many films with different ideas and hatke storylines (Neninthe, Nenu Naa Rakshasi, Devudu Chesina Manushulu etc) in the past. But the output of the movie is not the way I wanted because I always wanted producers to be happy, there by I compromised on making. Heart Attack is my first film where I didn't think about producer and economics while directing a film. I will produce films in my direction and I will also produce films by introducing my promising assistant directors on PJTT banner.
Tell us about casting of Heart Attack?
Nitin: I knew Nitin for a long time and we always wanted to work together. Since Nitin is stylish looking with city-bred looks, I thought he is an ideal guy to portray hippie character. Nitin is a guy who has seen ups and lows in career. Hence is grounded and willing to work hard. He is a big asset to Heart Attack.
Adah Sharma: Adah Sharma is my friend for three years. I auditioned a lot of girls for Hayati character in Mumbai, but didn't get anybody. Adah Sharma has accidentally met me and asked me if she can be auditioned. I select heroine on my personal taste most of the times. But for the first time, I asked the opinions of my team and they unanimously liked her. I loved her ability to express during auditions. She is basically a Kathak dancer and hence, is highly expressive. Heroine has to show a lot of pain in the second half and she did extremely well in those scenes. I gave her a Bohemian look because her face and physique supports it.
Nicole: Nicole is my personal friend for the past two years. She is from Cape Town, South Africa. I have selected her as one of heroines in Iddarammailatho film. But the producer didn't want a foreigner as heroine and I had to drop her at the last moment. She was so upset that she started crying. I had a guilt feeling since then. I have casted her in a crucial role that comes in second half. She is a noted model and you can see a lot of her hoardings in Hyderabad as well.
Hari Narayana Das: The guy who did Haridas role has an interesting background. He was one of the fighters of Iddarammayilatho interval fight. His real name is Hari Narayana Das. He was born and brought up in ISKON. He is more religious than most of us Hindus. I was so much impressed by him that I wrote entire Brahmanandam plot which is a major hit in the first half because I wanted to cast Hari Narayana Dad. When I went to Bangkok for story discussions, I sent a car to Haridas's hotel, but he didn't come. When enquired, he said that there is no need to listen to story for a fighter character. That's when I told him that he is playing a crucial role and it has got nothing to do with fights. He played his real life character. He is excellent with Bhajans and dancing. He sang the 'radha kyon gori main kyon kala' bhajan for real in the film. He stays in Brindavanam for a month every year.
Amol Rathod is getting unanimous appreciation for Heart Attack?
This is his 3rd movie with me after Nenu Naa Rakshasi and Iddarammayilatho. I feel that the relationship between director and technician is like a boy and girl chemistry. If the chemistry works well, we get terrific results.
Heart Attack is probably the best Telugu film that is shot in abroad with authenticity. Tell us about it?
I am basically a traveler and a free soul just like the Varun character in the film. I love to have detailing in my films, but didn't get the opportunity so far. Heart Attack is the first film where I paid a lot of attention to detailing, authenticity and production values. I always feel that locations should become a character in the film and should make an impact. Let me explain how I made locations notable characters in the movie.
1. Hero introduction fight: The first thing that comes to our mind while thinking about Spain in bullfight. I want a symbol of bull to be prominently displayed for the first fight where hero is introduced. We got that symbol made here and took it to Spain. We started it off as the hero introduction shot where 'after 1 year' splashes on the bull sign. It brought a new dimension to the entire introduction fight.
2. Interval fight: The lead pair meet in a bullring (an arena where bullfight happens) for kissing and we have villains interrupting it. The lead pair starts kissing once the fight is over. We had to shoot the kiss scene in an intense way. we have covered the faces of lead pair with muleta (red cloth used in bullfights) and shown them navigating throughout the bullring (sitting, standing, walking over bodies of baddies and eventually kicking one of them when tried to attack)
3. Fort Aquada: We shot the first hero/villain confrontation scene in Fort Aquada, Goa. Though many films were shot there before, we exploited it to maximum effect by designing scenes, drama and fight inside the fort.
How many days do you take write a script?
It takes only two weeks to write a script irrespective of hero/budget/genre. I take 7 days to write scene order in Pattaya. Then I come to Hyderabad to ask my team to work on casting and other logistics. Then I go to Pattaya again and take another 7 days to do dialogue version.
Where exactly do you write in Pattaya?
I stay in A-One Royal Cruise Hotel whenever I go to pattaya. There is beach across the road of this hotel. I sit in that beach and write.
You are a free soul like Varun in Heart Attack?
Yes. Varun character is more like me in nature. I am a free soul and a traveler. And I dont commit to anybody in relationships.
Don't you get tired of making movies?
No. My passion is growing these days. Heart Attack is my most passionate film.
There is a huge complaint about the way women are treated in your movies?
If you are complaining about hero calling heroine 'osey' and 'yeme', I can understand. But I have utmost respect for women and it shows in my films as well. Most of heroines in my films have right attitude and individualistic character. I show women as working women in my films.
If you have to quote three of the best characters you have written for heroes?
1. Neninthe
2. Businessman
3. Heart Attack
Pokiri film is being shown in IPS training facilities since 2006. Neninthe film is used for self motivational courses in Vizag and Hyderabad.
What is your opinion about 'fear of failure'. Being a highly successful director, there is so much of pressure on you to deliver hits all the time. But the way you attempted subjects like Neninthe, Nenu Naa Rakshasi and DCM, it's evident that you don't care?
I don't have any fear of failure. But I try to correct myself and return to path of success whenever I deliver a bad/unpopular film. It's very dangerous not to have fear of failure. If you don't fear failure, you might find comfort in delivering failures. I do have reality check and yet I try not to be afraid of a flop. I am a free soul and will never be governed/controlled by money/success!
Any proud moments you have experienced recently?
Yes. I want to tell you about a successful squash player Lakshmi Sruthi Settipalli, an 18 years old girl. She is a huge fan of Businessman film. She is a Telugu girl from Chennai. She has seen this film for 150 times so far. She has won international tournaments in many countries. She watches Businessman film before crucial matches to get motivated and primed up.
Tell us about your future films?
I am going to do a film with Mahesh Babu after he completes Aagadu. It will be produced by Aswini Dutt. If there is sufficient gap before the start of shoot of Mahesh Babu's film, I might come up with a quick film in between.