Story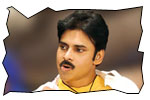 Rambabu (Pawan Kalyan) is a mechanic and a hot-blooded angry young man who doesn't tolerate injustice happening to the people around. Cameraman Ganga (Tamanna) works as a cameraman for a TV channel and she notices Rambabu's intensity and recommends him as a reporter to her TV channel. Rambabu joins as a reporter and starts cracking whip on the opposition leader (Kota) and his son (Prakash Raj). It becomes a war between Rambabu and opposition's CM candidate (Prakash Raj). The rest of the story is all about how Rambabu exposes CM candidate.
Artists Performance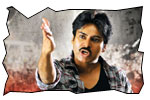 Pawan Kalyan: Pawan Kalyan is known as a guy who responds to atrocities happening around him. His character in this film is an identifiable to Pawan Kalyan at a personal level. One can see superb intensity when Pawan talks about social responsibility and the injustice around us. There is energy and magnetism flowing all the intense scenes. Pawan Kalyan has given extraordinary performance. However, he has put on a bit of weight compared to Gabbar Singh time.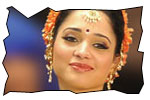 Others: Tamanna has done a tom-boyish role. She is okay. Gabriela who has done the second heroine role is not effective. It's a cake walk for both Kota Srinivasa Rao and Prakash Raj. Prakash Raj entertains again with his minute expressions combined with smart comic timing (example is interval fight). Ali and Brahmanandam characters are used to show how Indian TV channels spice up a normal happening into a comically emotional issue. MS Narayana is very good in the role of Pawan Kalyan's adopted uncle.
Technical department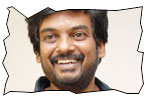 Story - screenplay - direction: Puri Jagan has gone away from a regular masala films a couple of years back and is concentrating on issue based films. The story of the film is about the anger of a common-man against the political system. He has also shown how TV channels manipulate and doctor the news in such a way that it becomes more of an entertainment program than a a proper news-reading. I remember Puri Jagan creating satires on TV media for the first time with Asha Saini character in 143 film. Now he has made a full-length movie and provided satires on TV media without hurting them. Puri Jagan's strength has always been the characterization and dialogues. If he gets performers who own these characters and take it further, it helps the commercial result of the movie. Pawan Kalyan is one such rare actor in Telugu cinema who behaves like a wounded tiger for such characters and creates empathy from audiences. Direction is good in intense scenes.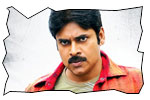 Other departments: Dialogues by Puri Jagan is a huge asset. There is no vulgarity in dialogue and they are intense/entertaining and deeply philosophical at times. Background music by Mani Sharma is good. But we expect better songs from a man of his calibre. My favorites are melikal followed by extraordinary from the picturization point of view. Cinematography is Sam K Naidu is good. Editing by new guy SR Sekhar is nice. Fights composed by Vijay are power-packed. Art direction by Chinna is appropriate.
Analysis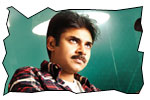 First half of the film is alright. The second half is explosive. It's a completely clean film from Puri Jagan. There are four best scenes in the film (1. Pawan Kalyan - Prakash Raj confrontation which waters down the entire movement 2. Philosophy of how men make ordinary women extraordinary 3. News room scene where Brahmi makes masala out of straight news items. 4. Pawan Kalyan's call to people in the pre-climax episode) do stand out. Strengths of the film are Pawan Kalyan's explosive performance and Puri Jagan's superb characterization/dialogues. On the flip side, the holistic approach and strong villain characterization is missing in the film. There is enough fire power in the movie to make it commercially work. You may watch it for the Puri Jagan's version of angry young man Pawan Kalyan.
CGR links
• Press meet
• Photo gallery
• Wallpapers
• Videos

Jeevi reviews of previous films
• Rebel
• Avunu
• Life is Beautiful
• Shirdi Sai
• Srimannarayana
• Sudigaadu
• Julayi
• Onamalu
• Uu Kodathara Ulikki Padathara
• Eega
• All the best
• Mem Vayasuku Vacham
• Shakuni
• Oka Romantic Crime Katha
• Endukante Premanta
• Gabbar Singh
• Dhammu
• Racha
• Lovely
• Ee Rojullo
• Mr. Nookayya
• Ishq
• Poola Rangadu
• Love Failure
• SMS
• Snehitudu
• Bodyguard
• Businessman
• Rajanna
• Journey
• Panjaa
• Priyudu
• Solo
• Sri Ramarajyam
• Oh My Friend
• Mogudu
• Nuvvila...
• 7th Sense
• Pilla Zamindar



More Reviews