May 4 , 2009
Veedokkade: Action Movie Lover's Must Watch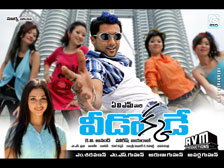 I watched Veedokkada this past weekend - I loved it. Most of the reviews rated as an average flick, in my opinion, it is a must watch movie if you like no non-sense high-powered action movie. Undoubtedly, Surya is Leonardo of Indian Cinema. Tamanna is just OK, nothing great about her role or her act. She needs to take care in not becoming monatomic in her roles. Music is OK, it does not stand out. What stands out is Surya's performance and action sequences.
Veedokkade definitely has a flavour of "Catch Me if You Can", "Blood Diamond" and couple of other Hollywood picks. At personal level, I have visited Congo so I can certainly relate to the action scene they shoot in Congo. I was able to recollect my memories from Pointe Noir, Congo. Cinematography is simply superb. They wasted no time with unnecessary comedy track or over-dosage of love and romance. Arundathi movie got lot of applauses for sticking to the horror genre. Just like Arundathi, Veedokkade stuck to high-powered action sequences with routine and predictable story. I am also an aspiring actor so I can appreciate Surya's finesse as maintaining boy-next-door image as well as highly intelligent smuggler. I particularly loved Prabhu's role. I wish Veedokkade was a direct Telugu make, it does have traces of overact ion geared for Tamil movie-goers and they could have edited 10 to 15 min in the second half.
We must be proud of the quality of cinematography of Indian cinema and definitely watch Veedokkade on the big screen!!! I watched this movie with my wife and 15 yrs old son, my son loved this movie and my wife said it is OK. For action movie lovers, Veedokkade is a perfect movie to watch this summer.
Srinivas Chittaluru
chittaluru at gmail dot com
More My Movie experiences:
Delhi 6 by Vamsi
KIKK by Sweta
Luck by Chance by Srini
KIKK by Lalitha Spoorthi
Arundhati by Naveen
Arundhati by Srini
Arundhati by Bharat
Sasirekha Parinayam by Santhi Venkat
Sasirekha Parinayam by Vamshi Muthapu
Sasirekha Parinayam by Niharika Reddy
Nachavule by Vamsi Krishna
Neninthe by movie lover
Avakai Biryani by Vamsi Krishna
Kotha Bangaru Lokam by Vamsi Krishna
Kotha Bangaru Lokam by S
Ashta Chemma by Deepthi
Ashta Chemma by Lalitha Spoorthi
Sarkar Raj by Pradeep
Jalsa by Lalitha Spoorthi
Gamyam by Sridhar
Gamyam by Sreekanth D
Gamyam by Sanjay
Halla Bol by Purnesh
Taare Zameen Par by Ashok Varma
Taare Zameen Par by Raja Simha
Happy Days by Krishna Sastry
Chirutha by Phani Kumar
Chak De India by Ravi
Yamadonga by Lalitha
Chak De India by Shyam
AMAV by Darsakudu
5 in March by Sashidhar
Okkadunnadu by Anand
Black Friday by Ratnakar
Desamuduru by Krishna Prasad
Guru by It's opinion
Dhoom 2 by Lalitha Spoorthi
Dhoom 2 by ASK
Don - Syam
Boss - Anand
Boss - Hrithik
Stalin - Bala
Bommarillu - Nandini
Bommarillu - Darsakudu
Bommarillu - Vasu
Bommarillu - Harsha Prakash
Bommarillu - Lalitha Spoorthi
LRMB - Shravan
Bommarillu - Anirudh
LRMB - Srinivas
LRMB - Darsakudu
LRMB - S Sridhar
Bommarillu - Shridevi
Bommarillu - Vasudev
Bommarillu - Roopa
Sriram - Godavari
Sarath - Bangaram
Bala - Pokiri
Srinadh - Allari Pidugu
Sudheer Allari Pidugu
Anu - Athadu
Shyam Krishna - Iqbal
Purnesh - Grahanam
Sudhindra - Super
Vijay - Aparichitudu
Madhav - Aparichitudu
Hazaraon Kwaishein Aisi
Swades
Shyam - Black
Sai - Anand
Rohit - Anand & Veer Zaara
Jaya Prakash - 7GBC
Raj - Anand
Purnesh - Anand
Purnesh - The Village
Sriram - Gudumba Shankar
Purnesh - Gharshana
Purnesh - Lakshya
Purnesh - Yuva
Leenesh - Yuva
Kis - Lakshmi Narasimha
Indian Pride - Tagore
Raj - Boys
Phani - Gangotri
Phani - Khadgam
Vikram - CKR
BKR - Indra (Singapore)
Ram - Indra (Dubai)
Ranjeet - Idiot
Rahul - Indra
King Koduri - Indra
Srilakshmi Katragadda - Mitr: My Friend