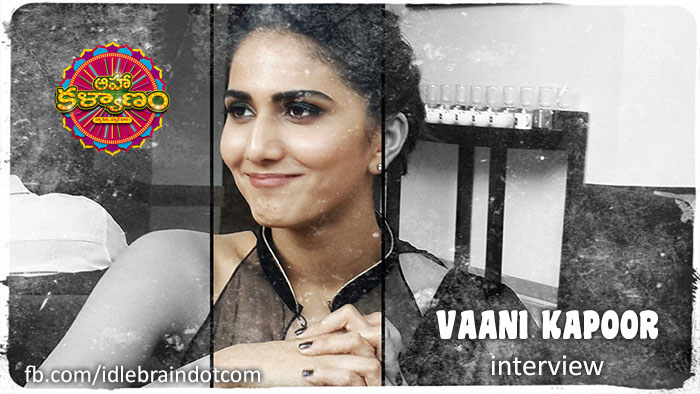 17 February 2014
Hyderabad

Vaani Kapoor - a lanky lass from Delhi has made her debut with hit Bollywood film Shuddh Desi Romance. Now she has acted in Aha Kalyanam, a Telugu/Tamil remake of Band Baaja Baarat. She has a 4-film contract with Yashraj Films. Here are the excerpts of idlebrain.com's exclusive interview with Vaani Kapoor -
Background:
I am born and brought up in Delhi. I have completed my graduation in Tourism Studies. I have done internship for 3 years in Oberais, Jaipur. Then I joined ITC. I am like a son for my parents as I don't have brothers. I have ambition to become an actress, but my responsibility kept me away from pursuing it. I decided to take a break for an year and try my hand at acting.
I have met Shanoo Sharma, Casting Director at YashRaj Films. They have auditioned me and selected me for the role of Tara in Shuddh Desi Romance. I entered into a 3+1 (3 Bollywood films and 1 South film) contract with YRF.
You played the role of Tara in Shuddh Desi Romance and are playing the role of Shruti in Aha Kalyanam. Which one is close to your real character?
I am more like Shruti (aha kalyanam) than Tara (SDR). I am impulsive and I am an emotional fool. I am also hyper-active.
Any influence of Anushka Sharma while doing Aha Kalyanam?
It's a clean slate for me. My energy level is different from that of Anushka Sharma. There is southern culture to the characterization. My performance going to be pretty different compared to Anushka's.
Was it difficult to mouth Tamil/Telugu words?
Yes. It's very different about how Tamil/Telugu people hold and release words while speaking a sentense. I rehearsed all my lines and Nani is very helpful to me in that.
Are there any script changes for Aha Kalyanam?
Yes. Since it's a southern remake, lots of cultural changes have been made. I have watched the film and it felt like watching a fresh film. Songs are going to be USP of the film. Brinda choreographed all the songs. I enjoyed watching the film.
Tell us about Nani?
He is easy going as an actor. He is very passionate about his work. He doesn't want to do the same thing again and thrives to push the envelope and ease the boundaries. He is a sweet guy and and a comfortable actor to work with.
What's you height?
It's 5' 7". But it's not a good height. I have seen women who are 5' 9".
You are born in Delhi and working in Mumbai. How different are these cities?
Delhi is political and fashion capital. Mumbai is financial and glamor capital. Each city has it's own culture.
How was your valentine's day?
I spent my 14 Feb by promoting Aha Kalyanam. I didn't find a guy worth it so far. I don't want to date any guy just for the sake of it. I never had any boy friend.