Story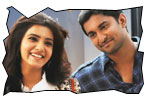 Varun (Nani) and Nitya (Samantha) are friends at an age of 8 and they stay in the same apartments. Then they join school together though their financial status keep growing apart. They study together in college. They have a typical on-and-off complex relationship. It could be ego, indecisiveness, stupidity or lack of long-term thinking. Whenever one person is fully committed, the other person goes on tentative mode. The rest of the story is all about how all ends well.
Artists Performance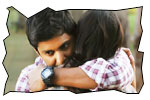 Nani: It's a kind of 15-years-old to 24-years-old gradual transformation for Nani and Samantha. Nani might not look so impressive in the beginning of the film. But with one episode, he wins you over with amazing histrionics. The climax scene in which Nani goes to the house of Samantha is an outstanding scene. It works purely on Nani's brilliance as an actor. If the actor is not good enough, then the entire climax get killed. The nuances, intensity, controlled aggression, undying passion and agony are perfectly portrayed by Nani in that scene.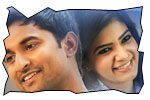 Others: I am impressed the way Samantha changed her looks and body language in each stage of growth from a school-days girl to a 24-years-old woman. She starts as a kid and ends as a woman. Her performance is worth commending. Krishnudu played a full-length role and he is nice. Ravi Prakash played the role of hero's brother with natural performance. His role was meaty in the beginning and but was abrupt in the later part. Jiiva appears in a small scene.
Technical department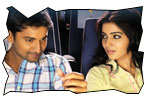 Story - screenplay - direction: Story of the film is about a journey of a couple. It's about breakups and reunions. Gowtam Menon who makes movies by getting in his groove makes sure that this film too is not an exception. He selected light moments to narrate the story instead of going for a typical sweet narration with commercial payoffs. The 9-minute duration interval episode on terrace and 22-minute climax episode tells us his level of commitment towards what he thinks is right. Certain moments in the film are good. But screenplay of the film is not good enough. There are two issues with the movie - one is snail-paced narration and the other one is lack of gradual rise of tempo that leads to break-up scenes. I liked the scene in which Nani tells to Samantha about his girl-friend in Australia. Very cute scene it is. And the climax scene is well-conceived though it's too lengthy.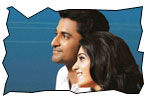 Other departments: Music by Ilayaraja is very good. Yedhi Yedhi song is the best followed by Koti Koti tarallona, Yenthentha Dooram, Laayi Laayi and Inthakaalam. However, the first two back-to-back songs failed in giving story a good take-off. Cinematography in inconsistent and should have been better. Dialogues are natural and are in tune with orientation. I liked the way detailing in the film has been done. Be it a maruti zen, netscape navigator, old hotmail template and old-style of yahoo messenger windows etc. Editing is jerky and certain scenes in the film don't have proper establishment.
Analysis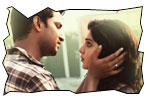 Yeto Vellipoyindi Manasu is a daring attempt by Gowtam Menon to narrate a moments-based film without bothering about payoffs. Entire movie runs on a thin plot and a single conflict point. Since there is not much of a plot and conflict point, the narration of the film is very slow. Plus points are lead actors performances, music and moments. On the flip side, one-side orientation and slow-paced narration hinder the movie's effectiveness. On a whole, YVM is a multiplex film and we got to wait and see how it fares.
Yeto Vellipoyindi Manasu links
• Gowtam interview
• Samantha interview
• Music launch
• Photo gallery
• Posters
• Wallpapers
• Videos

Jeevi reviews of previous films
• Krishnam Vande Jagadgurum
• Routine Love Story
• Dhamarukam
• Tupaki
• Denikaina Ready
• Cameraman Gangatho Rambabu
• Rebel
• Avunu
• Life is Beautiful
• Shirdi Sai
• Srimannarayana
• Sudigaadu
• Julayi
• Onamalu
• Uu Kodathara Ulikki Padathara
• Eega
• All the best
• Mem Vayasuku Vacham
• Shakuni
• Oka Romantic Crime Katha
• Endukante Premanta
• Gabbar Singh
• Dhammu
• Racha
• Lovely
• Ee Rojullo
• Mr. Nookayya
• Ishq
• Poola Rangadu
• Love Failure
• SMS
• Snehitudu
• Bodyguard
• Businessman
• Rajanna
• Journey
• Panjaa
• Priyudu
• Solo
• Sri Ramarajyam
• Oh My Friend
• Mogudu
• Nuvvila...
• 7th Sense
• Pilla Zamindar



More Reviews