May 16, 2009
99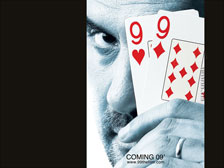 When a movie is made with right proportions of logic, creativity, performance and humor, with solid cinematography, editing and background music, you expect an interesting outcome: '99' turns out to be an out of the ordinary movie, worth of every penny you spend on the ticket.
Basic plot is about two ordinary street smart friends ending up in a web of money extortion, illegal betting and dealing with criminal gangs, creating more and more problems to themselves. The characters they get involved with including a pretty girl (heroine?) that falls for the main lead actor (hero?) all end up in this riveting conclusion of the problem they gotten into. It is not fair to provide any more details of the story; otherwise I may ruin your experience. The first half of the story slowly takes you to that first hike in a roller coaster and the second half takes you through the non-stop twists, leaving you surprised how fast, exciting and entertaining the ride was.
I felt there were multiple climax scenes, each with its thrilling end as directors solve the puzzles one by one. Directors Raj and DK ensured that the stage is properly set and logic is never missed in this plot from 1999. The story is very much believable and combined with backdrop of some true incidents that rocked the cricket world in that year. It is a hard task to mix such true incidents with an imaginary tale, but directors succeeded in doing so. Very apt for the movie liner: Pure Fun, Part True, Part Fiction.
All the main characters gave wonderful performance. Boman Irani, Kunal Khemu and Mahesh Manjrekar deserve special reference. I expected more outright comedy scenes with Cyrus Broacha. Amit Mistry(Kuber) was hilarious, Soha was just perfect for her role and Vinod Khanna did his role with a lot of ease. Casting in total was very appropriate for the roles in the script.
If you are one of those people looking no-non-sense, no-BS and stimulating fun, that is 99. If you ever wished a bollywood movie no typical songs, no over-drama and interestingly natural, that is 99.
Go watch '99', you leave the theatre feeling you made a '100' (century) !
Bala Tirumalasetty
balasubramanyam at gmail dot com
More My Movie experiences:
Veedokkade by Srinivas
Delhi 6 by Vamsi
KIKK by Sweta
Luck by Chance by Srini
KIKK by Lalitha Spoorthi
Arundhati by Naveen
Arundhati by Srini
Arundhati by Bharat
Sasirekha Parinayam by Santhi Venkat
Sasirekha Parinayam by Vamshi Muthapu
Sasirekha Parinayam by Niharika Reddy
Nachavule by Vamsi Krishna
Neninthe by movie lover
Avakai Biryani by Vamsi Krishna
Kotha Bangaru Lokam by Vamsi Krishna
Kotha Bangaru Lokam by S
Ashta Chemma by Deepthi
Ashta Chemma by Lalitha Spoorthi
Sarkar Raj by Pradeep
Jalsa by Lalitha Spoorthi
Gamyam by Sridhar
Gamyam by Sreekanth D
Gamyam by Sanjay
Halla Bol by Purnesh
Taare Zameen Par by Ashok Varma
Taare Zameen Par by Raja Simha
Happy Days by Krishna Sastry
Chirutha by Phani Kumar
Chak De India by Ravi
Yamadonga by Lalitha
Chak De India by Shyam
AMAV by Darsakudu
5 in March by Sashidhar
Okkadunnadu by Anand
Black Friday by Ratnakar
Desamuduru by Krishna Prasad
Guru by It's opinion
Dhoom 2 by Lalitha Spoorthi
Dhoom 2 by ASK
Don - Syam
Boss - Anand
Boss - Hrithik
Stalin - Bala
Bommarillu - Nandini
Bommarillu - Darsakudu
Bommarillu - Vasu
Bommarillu - Harsha Prakash
Bommarillu - Lalitha Spoorthi
LRMB - Shravan
Bommarillu - Anirudh
LRMB - Srinivas
LRMB - Darsakudu
LRMB - S Sridhar
Bommarillu - Shridevi
Bommarillu - Vasudev
Bommarillu - Roopa
Sriram - Godavari
Sarath - Bangaram
Bala - Pokiri
Srinadh - Allari Pidugu
Sudheer Allari Pidugu
Anu - Athadu
Shyam Krishna - Iqbal
Purnesh - Grahanam
Sudhindra - Super
Vijay - Aparichitudu
Madhav - Aparichitudu
Hazaraon Kwaishein Aisi
Swades
Shyam - Black
Sai - Anand
Rohit - Anand & Veer Zaara
Jaya Prakash - 7GBC
Raj - Anand
Purnesh - Anand
Purnesh - The Village
Sriram - Gudumba Shankar
Purnesh - Gharshana
Purnesh - Lakshya
Purnesh - Yuva
Leenesh - Yuva
Kis - Lakshmi Narasimha
Indian Pride - Tagore
Raj - Boys
Phani - Gangotri
Phani - Khadgam
Vikram - CKR
BKR - Indra (Singapore)
Ram - Indra (Dubai)
Ranjeet - Idiot
Rahul - Indra
King Koduri - Indra
Srilakshmi Katragadda - Mitr: My Friend