Open letter to Chiranjeevi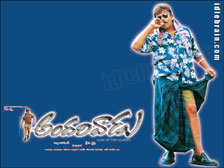 Hello Sir,
I am a very big fan of your movies from my childhood. You have been my role model my mentor and you are very important person to me that affects me in everything I do. Not only as an actor but as a humble person and your impeccable work for charity has made you a real hero in my eyes. As far as I know you are the best actor for me and no one can match you in acting, dances, fights or comedy timing.
Sir I just wanted to let you know that many of your fans were greatly disappointed with the way your latest movie andarivaadu is getting released. Geeta arts is supposed to be the one of the most prestigious and reputed banner not only tollywood but all over India. And a movie being produced by Allu Arvind and you as a hero will have huge expectations and everyone including fans will be eagerly waiting for that movie. And this movie was delayed twice and at the last minute due to some technical problems it was postponed again. Advance tickets in most of the places in India and overseas was already sold. Fans in India and overseas were greatly disappointed the way this movie was released. We never expected this kind of things happening to your movie that too produced from a banner like Geeta arts.
For you and the producer it might not be a big deal to postpone the movie by a day or two. But there are some fans that are eagerly waiting in front of the theater gates from days just to see your movie. And last minute they find out that the movie is being postponed again imagine how deeply they will be hurt and disappointed. I was eagerly waiting to see your movie on Friday night but now I will be seeing the movie on Sunday instead. For some fans like me this is really a big deal and just like others I was greatly disappointed when I found that the movie was postponed last minute. I heard you are on your vacation here in USA. I just wanted to let you know how many of your fans are feeling about this whole situation.
Finally I want to tell you that you are the megastar of tollywood and will remain the megastar in our hearts forever. No one has ever matched you on screen or off screen and don't think there will be one in future. All your fans will be a part of anything you do in regards to any social services. And you will have our support forever and want you to continue helping the people who need help. I was always proud to say that I am chiranjeevi fan and my hero is not only a hero on the screen but a real hero in real life. We want you to continue entertaining us just like you have been doing it from past 25 years and continue your good work outside.
Regards,
Sanjay
[email protected]

Other Open Letters
-> to NTR from Jai
-> to Pawan Kalyan from Vinay
-> to Krishna Vamsi on Chakram film
-> by Ravi on Indian Cricket Team
-> to lyricist Chandrabose
-> from Sunil about filmfare awards
-> from Sabita about filmfare awards
-> from Pournami to MS Raju
-> from Deepti Raj to Devi Sri Prasad
-> from Sivaram to Telugu film industry
-> from Ravi to Ram Gopal Varma
-> from Rohit to Pawan Kalyan
-> from Saradhi to Krishna Vamsi
-> from Srikanth on Arjun piracy
-> from Raj to USA Distributors
-> from Srikanth on Remakes
-> from Ravi Kiran to Krishna
-> from Aparna to Chiranjeevi
-> from Balayya fans to political parties
-> from Abhilasha to Venky
-> from Ravi on dubbing artists
-> from Anil on Fans and stars
-> from Rain to Telugu film industry
-> from Venu and Kishore to Bala Krishna
-> from Nandamuri (IBDB) to Bala Krishna
-> from NBK fans to Bala Krishna
-> from Anil to Telugu film heroes
-> from Surendra to Allu Arjun
-> from Vineeth to Allu Arjun
-> from Ramesh on Naani film
-> from MD to YSR
-> On Telugu heroines from Anil
-> From Swetha to Anoop
-> From Raja to Chiranjeevi
-> From Supriya to Nagarjuna
-> From Vijay N to Nagarjuna
-> From Ravi S Banda to Uday Kiran
-> From Ram Narayan to NTR
-> From Kishore to Shyam Prasad Reddy
-> From Malladi KS Pathy to VV Vinayak
-> From PC to Telugu film industry
-> From Archana to Sirivennela
-> From Giri to Chiranjeevi
-> From Suresh to Bala Krishna
-> From Vijay to Shankar
-> From Thodakottu to Hari Krishna
-> From Mahesh to Vamsy
-> From Raghava to Bala Krishna
-> From Rocky to Chiranjeevi
-> From Bhanu Prakash to Nagarjuna
-> From Srikanth to Chiranjeevi
-> From Vijay to the team of KMG
-> From Megapowerstar to Pawan Kalyan
-> From Saradhi to Telugu film industry
-> From Sneha to Telugu film writers and lyricists
-> From Coolphani to Uday Kiran
-> From Prabhakar on Telugu cinema
-> From Raj to director Vikraman
-> From Hardhik about SP Balu's liveshow at NJ
-> From Yathiraja to Chiranjeevi
-> From Mouna Laya to TV Channels
-> From Kiran to Chiranjeevi
-> From Srilekha to Mahesh Babu
-> From Kanak to Nagarjuna
-> From Ashok about Nijam
-> From Srinadh to Chiranjeevi
-> From Simha to Pawan Kalyan
-> From Venkat to Venky and Chiru
-> From Prathima & Sujatha to Nijam
-> From Shaik Abdul to Bala Krishna
-> From Sudheer to Pawan Kalyan
-> From NBK fan to Balayya
-> From Bobby to Teja
-> From Bhargavi Chowdary to Venky
-> From Ram to Teja
-> From Nikhila to RP Patnaik
-> From Vinu regarding Johnny
-> From Murai regarding Johnny
-> From Sreeni regarding Johnny
-> From Krishna regarding Johnny
-> From Raj regarding Johnny
-> From Balu regarding Johnny
-> From Sreedhar regarding Johnny
-> From Nagender on PK-DC Issue
-> From Ranga on PK-DC Issue
-> From Gowtam to Johnny distributors
-> From Srikanth to Guna Sekhar
-> Responses to openletter to Chiranjeevi from DPS
-> To Chiranjeevi from DPS
-> To Pawan Kalyan from LP Harsha
-> To RP Patnaik from Raj
-> To film Industry from Naresh (Jamaica)
-> From Vijay to Krishna Vamsi
-> From Sharjah NRIs to Teja
-> From Rani to Venkatesh
-> From Harish to Devi Sri Prasad
-> From JKV Sharma to Mani Sharma
-> From Malladi to Guna Sekhar
-> From Satish to Allu Arjun
-> From Jhansi to Chiranjeevi
-> From Ravindranath to Okkadu team
-> VJ to Okkadu team
-> From Hemanth to Jr. NTR
-> From Rajesh to Guna Sekhar
-> From Srinivas to Bala Krishna
-> From Shrinivas to K Vijaya Bhaskar
-> From VJ to Krishna Vamsi
-> From Kiran to Khaled
-> From Khaled to Phani
-> From Sankar to Nagarjuna
-> Chakri Response to Anil
-> Phani response to Anil
-> From a fan to Nagarjuna
-> From Anil to Indian
-> From Gowtam to Aswini Dutt
-> To MAA from Soma
-> To Venky from Shailaja
-> To Trivikram Srinivas from Raja
-> To Krishna Vamsi from Hasan
-> To Ravi Teja from Somy Ali
-> Do we know our mother?
-> To Mahesh Babu from Soma
-> To Mahesh Babu from Superstar Fan
-> To K Raghavendra Rao from Hasan
-> To Chiru fans from Prince
-> Think a while by SMD
-> An open letter to IB DB participants by Venkat
-> An open letter to IB DB participants by Kiran
-> An open letter on plight of Telugu movie lovers in Malaysia
-> An open letter regarding Video Piracy
-> From Anupama to Pawan Kalyan
-> From Prince to Nagarjuna fans
-> From Ravi to Sirivennela
-> to editor from Ramana Reddy
-> To Chiranjeevi from Buzz
-> To Teja from Kumar Kuppam
-> From Vikram Aditya to Gemini Kiran and Ramoji Rao
-> Plight of Telugu films by Murthy
-> from a Chiru fan from Bellari to idlebrain visitors
-> to Allu Arvind from Aditya
-> To Nagarjuna from Krishna
-> To Teja from a Telugu fan
-> To Chiranjeevi from a fan
-> From Raja to Teja
-> From Anupama Prasad to Indra Unit
-> From Prakash to idlebrain.com visitors
-> From Venu to Bala Krishna
-> From Rajesh Sonti to Late Rao Gopal Rao
-> From Venkat to Usha
-> From Srinivas to EVV Satya Narayana
-> From Balaji to Pawan Kalyan
-> From Naga Kalyan to Pawan Kalyan
-> From Pavan Karthik to Ram Gopal Varma
-> From Pradeep to Teja
-> From Hrudaya to Pawan Kalyan
-> From BKR to Chiranjeevi
-> From Amit Patel to Chiranjeevi
-> From Anupama Prasad to Chiranjeevi
-> Nagarjuna meets idlebrain openletter writer Raju
-> From Ajay Kumar Reddy to Chiranjeevi
-> From Chandrika to idlebrain community
-> From Raju to Nagarjuna
-> From Bharat to Chiranjeevi
-> From Srinivas Josyula to Chiranjeevi