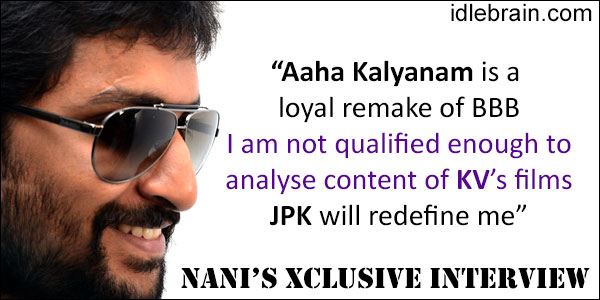 20 February 2014
Hyderabad

YashRaj Films' first South India venture Aaha Kalyanam (a remake of Band Baaja Baarat) is going on release on 21 February. Here is our exclusive interview with Nani -
What went right/wrong with your last release Paisa?
I have got the biggest opening in my career, which is a positive thing. I am not qualified enough to analyse or comment on the content of revered director like Krishna Vamsi. It was a gutsy attempt made with genuinity. Krishna Vamsi himself felt that Paisa is forgettable film on technical front.
Why is Aaha Kalyanam a Tamil film dubbed in Telugu?
It might be a disappointing thing to see me in a dubbed film. But I take a lot of pride being the hero to be acting in first South Indian venture of the prestigious Yashraj films. They have seen my work in Veppam and Naan Ee (Tamil version of Eega) and felt that I make an ideal choice for the remake of Band Baaja Baarat in Tamil.
As you are aware that I was doing Jenda Pai Kapiraju film in last year and my character is enacted by Jayam Ravi in Tamil. Director Samudrakani was shooting Telugu version first and Tamil version next schedule-wise. I had four months gap between shoots and that's when Yashraj films approached me. I accepted it to complete in the gap. The second character in Jenda Pai Kapiraju has a tonsured head and I can't act for Aaha Kalyanam once my head is tonsured. Since it was just 4 months I had to work for, we didn't have time to shoot both versions of Aaha Kalyanam together. Hence we decided to shoot in Tamil and dub it in Telugu.
Are we going to find any changes in Band Baaja Baarat and it's remake Aaha Kalyanam?
Aaha Kalyanam is a loyal remake of BBB. We retained the soul. However, we changed the characterizations. The finishing of climax is a little different. Original has Delhi/Punjabi culture in it and Aha Kalyanam has southern flavor.
How is it to be launched as a solo and full-length hero in a straight Tamil film?
It's thrilling. There is a great buzz for the film. The friday tickets in Chennai were sold out when booking was opened 3 days back. Being a Telugu guy and getting such a great launch in Tamil by YRF is like a dream come true. It's an achievement for me.
You have seen the final version. What's your gut feel?
I saw both versions. It is a feel-good and enjoyable film. There might be lack of lip-sync in some scenes of Telugu version. My request to the audience is to treat it a Tamil dubbed film. Tamil dubbed love stories like Sakhi did exceptionally well. I am hopeful that a pleasant soulful film like Aaha Kalyanam will be lapped up by Telugu audiences very well. If you come out of Ala Modalaindi film theater laughing, you will come out of Aaha Kalyanam theater with a smile.
Tell us about your next release Jenda Pai Kapiraju?
Jenda Pai Kapiraju will redefine me as an actor. It will be my proudest film.