Story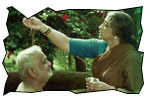 Appadasu (SP Balu) and Buchi Lakshmi (Lakshmi) are old couple who live in a remote village. Their kids are in USA and the old couple prefer staying in their own house. Appadasu believes that retirement is for the routine job and it should give an opportunity to indulge in various odd jobs (gardening, farming, weaving, cobbling etc). He is also a huge food-lover. Buchi Lakshmi is an understanding yet playful wife. Midhunam is all about how they romance the rest of the part of their life.
Artists Performance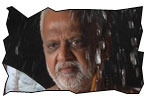 SP Balasubramanyam is born to play this role. He is extremely natural and lived the role of Appadasu. You will see an entirely different SP Balu in this film who unabashedly romances his wife in an aesthetic way. Lakshmi has given one of her finest performances as an old lady who longs for to see her children. She is a natural actress and she makes you emotional while performing emotional scenes. Mohana Krishna Indraganti dubbed for the son's character that speaks over phone.
Technical department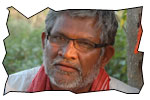 Story - screenplay - direction: Story of the film is based on a 21-page short story written by Sri Ramana. Tanikella Bharani has developed it into a full fledged script. Tanikella Bharani is known to us as a great writer and then a great actor. He has directed a couple of short films earlier. Tanikella Bharani surprises us all by his ability to make a 2-hour length feature film with two old characters. It's extremely difficult to make people sit for 2 hours for a 2-characters film. But, Tanikella comes out with flying colors in engaging the audiences and entertaining them. There is a lot of creativity (Woody Allen style) in Tanikella and he uses that creativity to add fun/humor to this subject. Entire film takes place in a house and it's backyard. Tanikella Bharani who one of the the prime motivators for another beautiful film Grahanam (directed by debutant Mohana Krishna Indraganti) comes up with another proud offering in the form of Midhunam. He used Aakasavani/Vividha Bharathi backdrop and the food-craving habit of Apparaju to create ample entertainment. The way he has shot coffee dandakam song shows that creativity knows no age. No effort was made to commercialize the movie, yet he made sure that we sit in the seats without squirming. Probably no other Telugu (or Indian) director made a debut at at the age of 56 and came up with such a daring yet entertaining movie.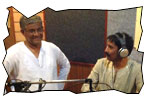 Other departments: Music by Veenapani is very good and he used old tunes and radio bgm to very good effect. Dialogues by Tanikella are of top notch. Cinematography by Rajendra Prasad Tanikella is worth commending. Editing by SB Uddhav is smooth. Art direction by Nagendra Babu is very good. People who lived in villages in childhood will feel nostalgic about entire set-up. Costumes by Sindhe Rajesh are very apt. I loved the lyrics penned by Jonnavithula (especially coffee song) The producer Anand Rao should deserve a great appreciation for believing in such a non-formatted film and invest in a creative idea.
Analysis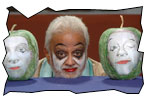 I have not read the book before watching the film. It's a fascinating concept of an after-retirement couple who stay in their secluded village house and whose kids stay faraway chasing dollar dreams. Tanikella Bharani has mixed humor and creativity to a subject that is highly contemporary. Midhunam is a film that should be watched though one might think twice because of the orientation/title/actors. It's an art film with entertainment and lot of meaning. It will get awards purely on it's merit. This film is of 'world cinema' quality on international circuit. On a whole, Midhunam is a film that every Telugu person should watch.
Midhunam links
• Photo gallery
• Posters
• Videos

Jeevi reviews of previous films
• Yeto Vellipoyindi Manasu
• Krishnam Vande Jagadgurum
• Routine Love Story
• Dhamarukam
• Tupaki
• Denikaina Ready
• Cameraman Gangatho Rambabu
• Rebel
• Avunu
• Life is Beautiful
• Shirdi Sai
• Srimannarayana
• Sudigaadu
• Julayi
• Onamalu
• Uu Kodathara Ulikki Padathara
• Eega
• All the best
• Mem Vayasuku Vacham
• Shakuni
• Oka Romantic Crime Katha
• Endukante Premanta
• Gabbar Singh
• Dhammu
• Racha
• Lovely
• Ee Rojullo
• Mr. Nookayya
• Ishq
• Poola Rangadu
• Love Failure
• SMS
• Snehitudu
• Bodyguard
• Businessman
• Rajanna
• Journey
• Panjaa
• Priyudu
• Solo
• Sri Ramarajyam
• Oh My Friend
• Mogudu
• Nuvvila...
• 7th Sense
• Pilla Zamindar



More Reviews