24 July, 2009
Oy!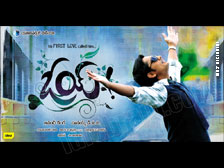 Usually the common thing that happens to me when I look forward to a film is that I naturally have very high expectations for it and when I watch the film at many a time it all comes crashing down. However, with Oy my experience was rather different. Being a somewhat die-hard Siddharth fan, an understatement in fact, one can imagine that I already had very high expectations from the film, naturally since this is the guy who gave me classic like Nuvvostanante Nennodantana, Bommarillu and Rang De Basanti, and these expectations were only heightened when the promotion of the film commenced with everyone touting it as a classic love story and not another family affair like NVNV, Bommarillu and KIKK. However, very soon I decided that Oy would prove to be a disappointment thanks to the reviews that came out which declared it to be a tragic love story, a theme that I have never quite liked and also a theme cinema had explored countless times. So basically I had double judged a film and lowered my expectation beyond imagination and then as it so happened when I finally witnessed the film a week or so ago I was pleasantly surprised and absolutely taken back with what proved to be a fantastic script and a film packed with powerful performances. It is because of the misconception I feel many reviews, with the exception of Jeevi's review, have created about this film that I write this review and dedicate it to the team of Oy in the hope to tell them what the 'ordinary' audience or cinegoer may feel about this film.
As you read that synopsis of the film you're instantly driven away by the thought of 'why would you watch a film when you know it'll end in tears' or 'how could a film leave a good impression despite being so tragic' but let me remind you that it's not uncommon for audiences to love and adore stories that end in tragically. Indian cinema is well known for this and I guess Oy revives this trend many years later.
One of the obvious highlight of the film has to be Siddharth's performance which I say as a strongly unbiased fan is his best performance till date! His character demands him to go on an emotional roller coaster as he changes from happy-go-lucky-care-free guy to a lover boy and then to a carrying life partner and at last to a man in love who loses his battle against fate. He's required to be comical, to be loveable and to be emotional in a span of two and a half hour and if that isn't the biggest challenge the actor has conquered than I wouldn't know what would be! He simply takes his comical side to another level and his emotional portrayal to a much higher height than what we had witnessed in Bommarillu and Rang De Basanti. I couldn't imagine a better slap in the face to all those reviewers of KIKK who said he was getting boring in his portrayals.
Shamilee on the other hand looks and handles the part with immense maturity and proves to be a perfect choice for the role. The role demanded not just any odd actress a young man could be infatuated by but one who had a special charm that not all would recognise or find attractive. Sandaya and Shamilee seem to have gone hand in hand making the film very much realistic.
The other highlight after Siddharth has to be Yuvan Shankar Raja's music and it picturisation. If you've heard the album I am sure I need not explain any further why I regard it as the highlight of the film. What is even more impressive is that the picturisation was as great as the music and didn't let me down one bit! It in fact surprised me and went to a whole new level than to what I had imagined. In particular 'I'm Waiting For You' left me simply speechless with it emotions, cinematography and subtle choreography. Annukone's choreography was simple and traditional which went perfectly with the character whilst Saradaga was bright and colourful like the vocals and rhythms of the track. Simply mind-blowing!
Going from highlights to down falls of the film is rather painful but a job that has to be done. The only obvious downfall was the waste of time post interval where certain comic portions and angles are stretched longer than needed. This is rather painful because Sandhya's secret has been unveiled by the interval and this wasting of time simply nags you as the audience because you know much better use of the time can be made because there still remains so much to be done and said by the characters and when the climax comes, although it has the right performance in terms of emotions you felt the emotions could have been grander given the situation. This is an obvious flaw and one that could have been so easily avoided.
The film as a whole is classy, unique and credible. It avoids clichés which many such scripts adopt, has great comic relievers in the first half and most importantly has sensational performances by the lead pair. With only one flaw in mind as I have mentioned above I can safely say that Oy had so many plus points that it was very easy to forget this flaw. Especially because the film ends in quite a unique way in my understanding. I had imagined something much more melodramatic and 'filmy' but was pleasantly surprised by a mature and classy ending that avoided all the clichés. So at the end of the day I'd say to you all to avoid all the critics' reviews that has been circulating and simply go for your gut feeling and enjoy and cherish great film. It's definitely Siddharth's best work.
I trust that my letter not only provided you with a definite insight of what the average cinegoer may think of the film but I also hope that I have exposed to others who read this to not be misguided by many of the reviews circulating in the media and simply give the film a chance and surely you will not be dissapointed if you're one who appreciate unique, classy and cinema that awe to be highly acclaimed.
Prathna Tiwari
prathnatiwari at gmail dot com
More My Movie experiences:
99 by Bala Thirumalasetty
Veedokkade by Srinivas
Delhi 6 by Vamsi
KIKK by Sweta
Luck by Chance by Srini
KIKK by Lalitha Spoorthi
Arundhati by Naveen
Arundhati by Srini
Arundhati by Bharat
Sasirekha Parinayam by Santhi Venkat
Sasirekha Parinayam by Vamshi Muthapu
Sasirekha Parinayam by Niharika Reddy
Nachavule by Vamsi Krishna
Neninthe by movie lover
Avakai Biryani by Vamsi Krishna
Kotha Bangaru Lokam by Vamsi Krishna
Kotha Bangaru Lokam by S
Ashta Chemma by Deepthi
Ashta Chemma by Lalitha Spoorthi
Sarkar Raj by Pradeep
Jalsa by Lalitha Spoorthi
Gamyam by Sridhar
Gamyam by Sreekanth D
Gamyam by Sanjay
Halla Bol by Purnesh
Taare Zameen Par by Ashok Varma
Taare Zameen Par by Raja Simha
Happy Days by Krishna Sastry
Chirutha by Phani Kumar
Chak De India by Ravi
Yamadonga by Lalitha
Chak De India by Shyam
AMAV by Darsakudu
5 in March by Sashidhar
Okkadunnadu by Anand
Black Friday by Ratnakar
Desamuduru by Krishna Prasad
Guru by It's opinion
Dhoom 2 by Lalitha Spoorthi
Dhoom 2 by ASK
Don - Syam
Boss - Anand
Boss - Hrithik
Stalin - Bala
Bommarillu - Nandini
Bommarillu - Darsakudu
Bommarillu - Vasu
Bommarillu - Harsha Prakash
Bommarillu - Lalitha Spoorthi
LRMB - Shravan
Bommarillu - Anirudh
LRMB - Srinivas
LRMB - Darsakudu
LRMB - S Sridhar
Bommarillu - Shridevi
Bommarillu - Vasudev
Bommarillu - Roopa
Sriram - Godavari
Sarath - Bangaram
Bala - Pokiri
Srinadh - Allari Pidugu
Sudheer Allari Pidugu
Anu - Athadu
Shyam Krishna - Iqbal
Purnesh - Grahanam
Sudhindra - Super
Vijay - Aparichitudu
Madhav - Aparichitudu
Hazaraon Kwaishein Aisi
Swades
Shyam - Black
Sai - Anand
Rohit - Anand & Veer Zaara
Jaya Prakash - 7GBC
Raj - Anand
Purnesh - Anand
Purnesh - The Village
Sriram - Gudumba Shankar
Purnesh - Gharshana
Purnesh - Lakshya
Purnesh - Yuva
Leenesh - Yuva
Kis - Lakshmi Narasimha
Indian Pride - Tagore
Raj - Boys
Phani - Gangotri
Phani - Khadgam
Vikram - CKR
BKR - Indra (Singapore)
Ram - Indra (Dubai)
Ranjeet - Idiot
Rahul - Indra
King Koduri - Indra
Srilakshmi Katragadda - Mitr: My Friend