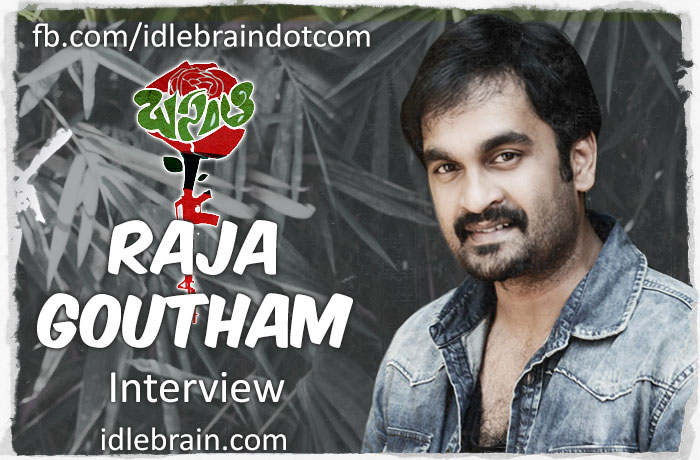 28 February 2014
Hyderabad

Raja Goutham who made his debut a decade back with Pallakilo Pelli Koothuru is all set for his comeback with Basanthi. Though it was a high profile lanch involving big names like K Raghavendra and MM Keeravani, Pallakilo Pelli Koothuru didn't give positive result. Later on he acted in a small profile film Vaareva. Raja Goutham is pnning his hopes on this film as it is directed by Chaitanya Danthuluri who gave a critically acclaimed film like Baanam in the past. Here are the excerpts of an exclusive interview -
What's the reason for gap in between your films?
I had done two films and realized that I should do films with good content. I was looking for script-based films and luckily got Basanthi.
Tell us about Basanthi?
Most of the people might think that it's the name of the heroine. But, Basanthi is the name of the college in which story happens. It's a love story happening in the backdrop of a terrorist activity and it involves hostage situation. This film is a different film with excellent content.
You had a grand launch and now you are trying for a comeback with Basanthi?
I was just 19 years old when I acted in Pallakilo Pelli Koothuru film and I was in my final year of BBA. I was sent to Satyanand master in Vizag for training after my intermediate was over. I had all the traditional training that requires for a Telugu film hero. But things didn't work out. I think this is the right time and right script for me to make a mark.
Tell us about how Basanthi happened?
Basanthi is the script that Chaitanya Dantuluri has planned much before his debut film Baanam. I have accidentally fumbled on him and he discussed Basanthi script with me. I made him meet my father and got a go ahead.
Tell us about the experience of working with Chaitanya Dantuluri?
Acting is a continuous learning process and I learned a lot about acting while working for Basanthi film from the director. His dedication, sincerity, focus and passion are evident in his work. He is a dedicated man not just as a director, but also as a human being.
What do you think will work for Basanthi?
It's a students film. The plot and situation it is set up in the second half will work. People will connect a lot with the second half.
Any unpleasant experience while shooting?
There is a vital song called Vellakura in which I needed to jump as the fire blows in the background (you can see it in the last shot of theatrical trailer). Dragon Prakash is the action choreographer. They sprayed something on my back and had me plug my ears for that shot. It was a kind of risky one. That song is going to be the highlight of the movie. The climax of the film is shot for five days. Dr. KSI (Krishna Shrikanth Iyengar) is doing the role of a villain. He is from theater background. He sometimes used to hit me in real in fight to get realistic effect.
Tell us about your brother Siddhu. What's in store for him?
He wants to become a director. He is doing a fulltime course in NYFA, USA which involves direction, editing and cinematography. He is my best critic and talks very frankly with me. He liked a film of mine for the first time. He was so excited after watching Basanthi rushes that he woke my father up at 2:30 am to tell that news.
Being a son of star like Brahmanandam has it's advantage and disadvantage. How are you handling the pressure?
I got a dream debut like Pallakilo Pelli Koothuru because of my father. But one has to have it in him to shine and make a mark. I thought my debut was premature. My father leaves decision making to myself. He has not listened to the story of Basanthi at all. He didn't act in Basanthi as there is no scope for him in this story. Basanthi is an intense film and my father will become a diversion if he acts in it.
My father is a biggest believer in Bhagavatgeeta. Do your work and leave the rest to Lord Venkateswara is his philosophy. He is unaffected by what people think about him. He doesn't watch his own films. If somebody praises him, he passes on all those praises to Lord Venkateswara. That is why he has been so successful over the decades as success means nothing to him. He is a huge devotee of Lord Venkateswara.
What is the reaction of Brahmanandam after watching Basanthi?
He saw the first copy and was extremely thrilled. My father is a blunt man when it comes to giving a honest feedback. His feedback is something I count on for important film like Basanthi. He said that the film is very good and all teammates have put in excellent efforts.
What is your next project?
I wanted to prove myself with Basanthi. A project has been pending for a long time in the direction of Chandra Sekhar Yeleti. A announcement of that film is due.