Story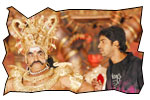 Naresh (Allari Naresh) is an youngster whose favorite pastime is acting in stage plays. During one of these stage plays, he pairs up with Yamaja who is none other than the daughter of Yama. She gets hooked to him and feels that he is her husband. Yama sends his son (Bharath) and his assistant Chitragupta (Krishna Bhagawan) to bring Yamaja back. She refuses. Then Yama comes down and takes his daughter back to Yamalokam. Naresh catches the tail of Yama's buffalo and reaches there. The rest of the story is all about how he brings back his love Yamaja.
Artists Performance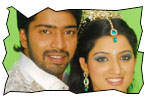 Allari Naresh banks again on his comedy timing and delivers. There are sentiment scenes towards the climax. Richa Panai is alright as the heroine. But her dubbing is irritating (especially the way she calls hero mogudaaa). They tried Sridevi's Maanavaa (JVAS) type of conversation, but failed horribly. Sayaji Shinde is alright as Yama mainly because the writer didn't write difficult dialogues to him. Ramya Krishna plays the role of Yama's wife and she dances with son-in-law in 'alluda mazaka' fashion. Master Bharath is an entertainer and he makes sure that he entertains in this film as well. Naresh is good as Narada. Jyothy plays the role of Silk who shows dirty picture to everybody except for her husband. Krishna Bhagawan is in his elements (comedy timing and double meaning dialogues).
Technical department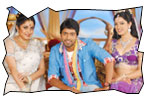 Story - screenplay - direction: We have seen many Yama vs hero films and this is the first one of Allari Naresh. However, the character of Yama is degraded more in this movie and shown as a guy who look out to bed any woman he likes (including Allari Naresh in woman's dress). The director has prepared a story that suits the strengths of Allari Naresh. ¾ of the film has entertainment as the main agenda as the last half an hour focuses on family drama and sentiment. The entertainment part is nice, but the sentiment part looks forced (especially the joker song). Screenplay should have been better.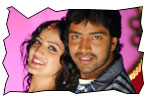 Other departments: Music by Koti is average and he has re-used his own tune Atho Athamma Koothuro for Alluda Majaaka for this movie. Cinematography by Ravindra Babu is passable. Dialogues are good in parts (typical Allari Naresh kind of comedy liners). Editing is okay. The set of Yamalokam is good.
Analysis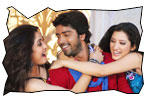 Allari Naresh has evolved as an entertainer who gives minimum guarantee entertainment over a period of time. This film too has entertainment, but director couldn't handle the latter part of the second half well. Plus points of the film are Allari Naresh and comedy. On the flip side, the climax episodes should have been effective. One should not bother about blasphemy and logics while watching this movie.
Yamudiki Mogudu links
• Music launch
• Photo gallery
• Videos

Jeevi reviews of previous films
• Midhunam
• Yeto Vellipoyindi Manasu
• Krishnam Vande Jagadgurum
• Routine Love Story
• Dhamarukam
• Tupaki
• Denikaina Ready
• Cameraman Gangatho Rambabu
• Rebel
• Avunu
• Life is Beautiful
• Shirdi Sai
• Srimannarayana
• Sudigaadu
• Julayi
• Onamalu
• Uu Kodathara Ulikki Padathara
• Eega
• All the best
• Mem Vayasuku Vacham
• Shakuni
• Oka Romantic Crime Katha
• Endukante Premanta
• Gabbar Singh
• Dhammu
• Racha
• Lovely
• Ee Rojullo
• Mr. Nookayya
• Ishq
• Poola Rangadu
• Love Failure
• SMS
• Snehitudu
• Bodyguard
• Businessman
• Rajanna
• Journey
• Panjaa
• Priyudu
• Solo
• Sri Ramarajyam
• Oh My Friend
• Mogudu
• Nuvvila...
• 7th Sense
• Pilla Zamindar



More Reviews