3 August, 2009
Magadheera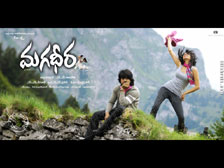 I am writing this letter and want to share the experience with you about good movie in recent times.
First I want to thankful to the producers,distributors and exhibitors who made & brought this celluloid in US. we book this tickets online for Saturday evening show in Irving, Tx USA. When we went to theatre so much crowd is waiting in the queue to enter.After 10 min we went inside and sat in theatre.
The film is started with excellent scene in the movie. Dont miss the begining. The story of the movie is simple. But Director Rajmouli narated the story very interesting with excellent screenplay. First half is with nice love story with good entertainment and second half is very heavy action drama which u didnt see this before in any indian film .
Story written by Vijayendra Prasad. We already know how many blockbuster movie stories he has writeen Simhadri,Chatrapati,Vikramarkudu,Yamadonga...
He knows how to penned a Blockbuster movie story.We hope many yet to come........ Thanks Vijayendra Prasad sir for giving the excellent stories.
Dialogue by Ratnam. The dialogues between Ramcharan and srihari are the highlight of this movie. Both Story & Dialogue writters are the greatest assets for Rajmouli fims.
Editing: Kotagiri Venkateswara Rao. Editing is good. so u don't feel that this scene is unnecessary. The length of this movie is 2 hrs 45 min. But u wont feel bore single minute in this movie
Music by keervani & kalyanMallik is excellent. When we listen audio first time it is medicore. But after watching movie the music is good asset for the movie.And the background score is awesome.It increases the mood of the audience while watching in theatre.
Cinematography by Senthil Kumar.There is one scene in the second half of movie which the camera angle will take from bottom to top between two pillars
With this scene. This is my one of the best scene in this movie. we can judge how talented he is. Great work
Art by Ravinder. The first scene will tells u the talent of art director. This movie looks like grand film . This entire credit goes to cinematpgraphy,art director and Visual dept. Visuals in this movie are awesome.
Fights by Peter Hynes & Ram Lakshman . There is no need to disuss about fights. There are lot of fights and action scenes in this movie which will u really enjoy. Highlifght of this movie is Horse riding.
Ramcharan . He has shown much ease in this movie. He looks like very experience in dances(Bangaru Kodi petta) & fights(mainly horse riding).He has shown lot of variation from his first film. He looks like roaring tiger in this movie.His styling in this movie is excellent. He single handed list the movie to higher levels And kajol has done beautiful role in this movie. Both characters are made for each other. This credit also goes to Rama Rajmouli who did styling for this movie.
Direction by S S Rajmouli . There are lot of expectations on this movie. Because it is trademark of rajmouli file and megastar Chiranjeevi son film.
But he has done beyond our expectations by selecting different subject line (Intelligent decission) We can see each and every frame how he has worked for this film. He have very good command in screenplay and direction dept. The second half is highlight of the movie.He knows how to make a story to blockbuster movie. Hatsoff Rajmouli for your hardwork. We are expecting different kind of films from your in future.
Last but not least thanks to AllAravind andBhogavally Prasad who made this grand celluloid. This movie is going to create records in telugu film industry.
Thanks to all technicians, producers and director who made and brought this movie. This movie is defnitly asset in your career. Great team work.
Audience: Go and watch this movie today in your nearest theatre.It will defnetly reach above your expectations. Please don't encourage pirated copies.
We should give support and encourage our producers and telugu film industry so that more films will come in near future.

Regards
SS
saisridhar.p at gmail dot com
More My Movie experiences:
Oy by Prathna
99 by Bala Thirumalasetty
Veedokkade by Srinivas
Delhi 6 by Vamsi
KIKK by Sweta
Luck by Chance by Srini
KIKK by Lalitha Spoorthi
Arundhati by Naveen
Arundhati by Srini
Arundhati by Bharat
Sasirekha Parinayam by Santhi Venkat
Sasirekha Parinayam by Vamshi Muthapu
Sasirekha Parinayam by Niharika Reddy
Nachavule by Vamsi Krishna
Neninthe by movie lover
Avakai Biryani by Vamsi Krishna
Kotha Bangaru Lokam by Vamsi Krishna
Kotha Bangaru Lokam by S
Ashta Chemma by Deepthi
Ashta Chemma by Lalitha Spoorthi
Sarkar Raj by Pradeep
Jalsa by Lalitha Spoorthi
Gamyam by Sridhar
Gamyam by Sreekanth D
Gamyam by Sanjay
Halla Bol by Purnesh
Taare Zameen Par by Ashok Varma
Taare Zameen Par by Raja Simha
Happy Days by Krishna Sastry
Chirutha by Phani Kumar
Chak De India by Ravi
Yamadonga by Lalitha
Chak De India by Shyam
AMAV by Darsakudu
5 in March by Sashidhar
Okkadunnadu by Anand
Black Friday by Ratnakar
Desamuduru by Krishna Prasad
Guru by It's opinion
Dhoom 2 by Lalitha Spoorthi
Dhoom 2 by ASK
Don - Syam
Boss - Anand
Boss - Hrithik
Stalin - Bala
Bommarillu - Nandini
Bommarillu - Darsakudu
Bommarillu - Vasu
Bommarillu - Harsha Prakash
Bommarillu - Lalitha Spoorthi
LRMB - Shravan
Bommarillu - Anirudh
LRMB - Srinivas
LRMB - Darsakudu
LRMB - S Sridhar
Bommarillu - Shridevi
Bommarillu - Vasudev
Bommarillu - Roopa
Sriram - Godavari
Sarath - Bangaram
Bala - Pokiri
Srinadh - Allari Pidugu
Sudheer Allari Pidugu
Anu - Athadu
Shyam Krishna - Iqbal
Purnesh - Grahanam
Sudhindra - Super
Vijay - Aparichitudu
Madhav - Aparichitudu
Hazaraon Kwaishein Aisi
Swades
Shyam - Black
Sai - Anand
Rohit - Anand & Veer Zaara
Jaya Prakash - 7GBC
Raj - Anand
Purnesh - Anand
Purnesh - The Village
Sriram - Gudumba Shankar
Purnesh - Gharshana
Purnesh - Lakshya
Purnesh - Yuva
Leenesh - Yuva
Kis - Lakshmi Narasimha
Indian Pride - Tagore
Raj - Boys
Phani - Gangotri
Phani - Khadgam
Vikram - CKR
BKR - Indra (Singapore)
Ram - Indra (Dubai)
Ranjeet - Idiot
Rahul - Indra
King Koduri - Indra
Srilakshmi Katragadda - Mitr: My Friend