Open letter to Chiranjeevi Fans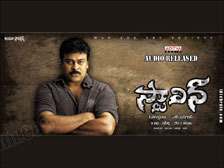 I am not filmy fan of Chiranjeevi garu but I like his acting very much, I am a big fan for his social concern i like him very much for his humanity. I am very much influenced by him recently
I am already known to some of the viewers of idlebrain.com as struggling music director vasu, as couple of my news have been covered by this site and was helpful to me in meeting so many kind hearted people.
I had a dream of becoming music director from my childhood and even had a mega dream of composing music for sri chiranjeevi garu ,initially I struggled a lot to become a music director, I had no helping hand so I had to wait for long time to see my first album released, I released couple of albums one was very successful and other was not marketed properly any way I am very happy as my music was appreciated by different walks of people who then expected a good future and liked to see me in a big role which has not happened .I tried to work for movies but my efforts went fruitless as I don't have right contacts so i stopped trying for movies and I am trying to remove disappointment from my life and changed my career plans after getting inspiration from the activities of Sri Chiranjeevi garu
Now I am with the following opinion whether it is right or not please let me know dear brothers and sisters
There are so many well talented ,challenging music directors in the industry and still so many in queue, if one myself not serve the film industry there is no loss to anyone, I can settle with a feeling that I am not suppose to be the movie music director I have plenty of demonstrations and sufficient experience and good relations with all level singers.
I don't want my music to go in vain. I want to bring out music for society and my mother land and I feel proud in doing so. I want to serve the society by the aid of my music, I want to work on very important issues of society through cultural activities at least some good should happen to society by me , this is my motto, this idea is a result of the inspiration from sri chiranjeevi garu.
I got this feeling when I listened to chiranjeevi garu in many interviews and I am very happy to do some service to society through cultural activities.
I have some good projects in mind ,with these projects I want to bring out music in me and also to serve society through cultural activities
First among them is SURAKSHA to protect our human values this is a album for children (if we know life better we can live life better is the concept of the album) for which skeletal work is completed and I am moving forward in bringing out these project a memorable one, I got a good report in my survey and I had some talks with few school managements, elders citizens, different walks of people in society all of them welcomed my concept and assured fullest support ,they mentioned it as the need of the hour.
very important
As a matter of fact that I got inspiration from sri chiranjeevi garu I would like to dedicate a song to him on his humanity with which i feel so many others to will inspire and follow his guidelines and simultaneously my dream to compose a song for this mega star will also turn true, so I am planning to compose a special song on this great man's social life( what the power he is and he has...) so I request you to present some valuable opinions in this regard
My heartfelt regards to all the fans of this great human being sri CHIRANJEEVI garu. I once again thank kind natured gv garu in making this platform so useful
my mail id is [email protected]
B.Srinivas (vasu)
hyderabad

Other Open Letters
-> To Sumanth from Nilanjana
-> To Telugu film industry from Padma Rohilla
-> To Dil Raju from Soujanya
-> To Telugu film industry from Rekha
-> To Siddharth from Prathna Tiwari
-> To Siddharth from Shridevi
-> To Telugu film industry from Vijay
-> To Genelia from Murali Krishna
-> Ram Anand on the ban of Da Vinci Code
-> Music director Sandeep Chowta about Karunya
-> Hema to Allu Arjun
-> Ratna to Telugu film industry
-> The emperors have no cloths... by Stalin
-> To Krishna Vamsi to Kakarla Kishan
-> To Telugu film industry from Vamsi
-> To Vineeth from Ranjeeth
-> To MM Keeravani from Mohan
-> To Dasari from Bhanu Prakash
-> To Ram Gopal Varma from Sudhindra
-> To Pawan Kalyan from a fan
-> To Nagarjuna from Sudhindra
-> To Chiranjeevi from Jhansi
-> To Chiranjeevi from Kishore
-> To Shreya Ghoshal from Meher
-> To Shankar from Ronzit S Simha
-> To Prabhudeva from Nirupama
-> On Telugu dubbing by Sridhar
-> to Chiranjeevi from Sanjay4us
-> to NTR from Jai
-> to Pawan Kalyan from Vinay
-> to Krishna Vamsi on Chakram film
-> by Ravi on Indian Cricket Team
-> to lyricist Chandrabose
-> from Sunil about filmfare awards
-> from Sabita about filmfare awards
-> from Pournami to MS Raju
-> from Deepti Raj to Devi Sri Prasad
-> from Sivaram to Telugu film industry
-> from Ravi to Ram Gopal Varma
-> from Rohit to Pawan Kalyan
-> from Saradhi to Krishna Vamsi
-> from Srikanth on Arjun piracy
-> from Raj to USA Distributors
-> from Srikanth on Remakes
-> from Ravi Kiran to Krishna
-> from Aparna to Chiranjeevi
-> from Balayya fans to political parties
-> from Abhilasha to Venky
-> from Ravi on dubbing artists
-> from Anil on Fans and stars
-> from Rain to Telugu film industry
-> from Venu and Kishore to Bala Krishna
-> from Nandamuri (IBDB) to Bala Krishna
-> from NBK fans to Bala Krishna
-> from Anil to Telugu film heroes
-> from Surendra to Allu Arjun
-> from Vineeth to Allu Arjun
-> from Ramesh on Naani film
-> from MD to YSR
-> On Telugu heroines from Anil
-> From Swetha to Anoop
-> From Raja to Chiranjeevi
-> From Supriya to Nagarjuna
-> From Vijay N to Nagarjuna
-> From Ravi S Banda to Uday Kiran
-> From Ram Narayan to NTR
-> From Kishore to Shyam Prasad Reddy
-> From Malladi KS Pathy to VV Vinayak
-> From PC to Telugu film industry
-> From Archana to Sirivennela
-> From Giri to Chiranjeevi
-> From Suresh to Bala Krishna
-> From Vijay to Shankar
-> From Thodakottu to Hari Krishna
-> From Mahesh to Vamsy
-> From Raghava to Bala Krishna
-> From Rocky to Chiranjeevi
-> From Bhanu Prakash to Nagarjuna
-> From Srikanth to Chiranjeevi
-> From Vijay to the team of KMG
-> From Megapowerstar to Pawan Kalyan
-> From Saradhi to Telugu film industry
-> From Sneha to Telugu film writers and lyricists
-> From Coolphani to Uday Kiran
-> From Prabhakar on Telugu cinema
-> From Raj to director Vikraman
-> From Hardhik about SP Balu's liveshow at NJ
-> From Yathiraja to Chiranjeevi
-> From Mouna Laya to TV Channels
-> From Kiran to Chiranjeevi
-> From Srilekha to Mahesh Babu
-> From Kanak to Nagarjuna
-> From Ashok about Nijam
-> From Srinadh to Chiranjeevi
-> From Simha to Pawan Kalyan
-> From Venkat to Venky and Chiru
-> From Prathima & Sujatha to Nijam
-> From Shaik Abdul to Bala Krishna
-> From Sudheer to Pawan Kalyan
-> From NBK fan to Balayya
-> From Bobby to Teja
-> From Bhargavi Chowdary to Venky
-> From Ram to Teja
-> From Nikhila to RP Patnaik
-> From Vinu regarding Johnny
-> From Murai regarding Johnny
-> From Sreeni regarding Johnny
-> From Krishna regarding Johnny
-> From Raj regarding Johnny
-> From Balu regarding Johnny
-> From Sreedhar regarding Johnny
-> From Nagender on PK-DC Issue
-> From Ranga on PK-DC Issue
-> From Gowtam to Johnny distributors
-> From Srikanth to Guna Sekhar
-> Responses to openletter to Chiranjeevi from DPS
-> To Chiranjeevi from DPS
-> To Pawan Kalyan from LP Harsha
-> To RP Patnaik from Raj
-> To film Industry from Naresh (Jamaica)
-> From Vijay to Krishna Vamsi
-> From Sharjah NRIs to Teja
-> From Rani to Venkatesh
-> From Harish to Devi Sri Prasad
-> From JKV Sharma to Mani Sharma
-> From Malladi to Guna Sekhar
-> From Satish to Allu Arjun
-> From Jhansi to Chiranjeevi
-> From Ravindranath to Okkadu team
-> VJ to Okkadu team
-> From Hemanth to Jr. NTR
-> From Rajesh to Guna Sekhar
-> From Srinivas to Bala Krishna
-> From Shrinivas to K Vijaya Bhaskar
-> From VJ to Krishna Vamsi
-> From Kiran to Khaled
-> From Khaled to Phani
-> From Sankar to Nagarjuna
-> Chakri Response to Anil
-> Phani response to Anil
-> From a fan to Nagarjuna
-> From Anil to Indian
-> From Gowtam to Aswini Dutt
-> To MAA from Soma
-> To Venky from Shailaja
-> To Trivikram Srinivas from Raja
-> To Krishna Vamsi from Hasan
-> To Ravi Teja from Somy Ali
-> Do we know our mother?
-> To Mahesh Babu from Soma
-> To Mahesh Babu from Superstar Fan
-> To K Raghavendra Rao from Hasan
-> To Chiru fans from Prince
-> Think a while by SMD
-> An open letter to IB DB participants by Venkat
-> An open letter to IB DB participants by Kiran
-> An open letter on plight of Telugu movie lovers in Malaysia
-> An open letter regarding Video Piracy
-> From Anupama to Pawan Kalyan
-> From Prince to Nagarjuna fans
-> From Ravi to Sirivennela
-> to editor from Ramana Reddy
-> To Chiranjeevi from Buzz
-> To Teja from Kumar Kuppam
-> From Vikram Aditya to Gemini Kiran and Ramoji Rao
-> Plight of Telugu films by Murthy
-> from a Chiru fan from Bellari to idlebrain visitors
-> to Allu Arvind from Aditya
-> To Nagarjuna from Krishna
-> To Teja from a Telugu fan
-> To Chiranjeevi from a fan
-> From Raja to Teja
-> From Anupama Prasad to Indra Unit
-> From Prakash to idlebrain.com visitors
-> From Venu to Bala Krishna
-> From Rajesh Sonti to Late Rao Gopal Rao
-> From Venkat to Usha
-> From Srinivas to EVV Satya Narayana
-> From Balaji to Pawan Kalyan
-> From Naga Kalyan to Pawan Kalyan
-> From Pavan Karthik to Ram Gopal Varma
-> From Pradeep to Teja
-> From Hrudaya to Pawan Kalyan
-> From BKR to Chiranjeevi
-> From Amit Patel to Chiranjeevi
-> From Anupama Prasad to Chiranjeevi
-> Nagarjuna meets idlebrain openletter writer Raju
-> From Ajay Kumar Reddy to Chiranjeevi
-> From Chandrika to idlebrain community
-> From Raju to Nagarjuna
-> From Bharat to Chiranjeevi
-> From Srinivas Josyula to Chiranjeevi