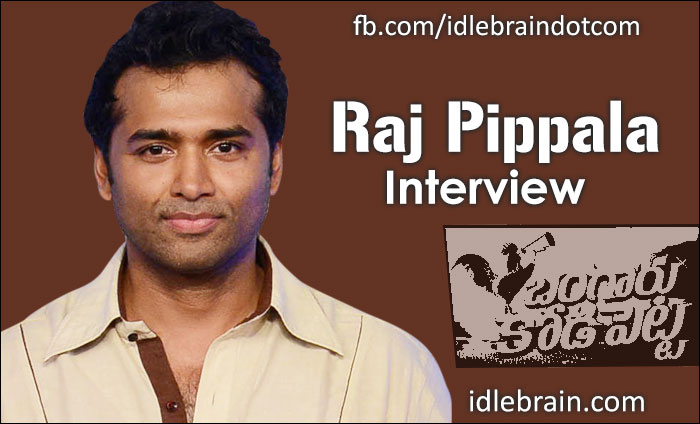 7 March 2014
Hyderabad

Raj Pippalla who has made his debut with Boni is all set to release his second film Bangaru Kodi Petta (BKP) on 7 March. Raj has taken the road less travelled - a heist thriller with anthology theme in Telugu. Raj Pippalla says that BKP is a film with humor and heart. Here are the excerpts of our exclusive interview -
What went wrong with Boni?
We have used cycle parts to make a car. I realised after making Boni film that the director has to be a solo player to make certain films work in Telugu film industry. The tone of Boni is a risky one. But I take completely responsibility to Boni failure as a director.
Have you implemented any of the lessons learnt from Boni while making Bangaru Kodi Petta?
I have decided to depend less on others and focus more on the craft. Since I don't get a big budget/star cast after the failure of Boni, I need to make sure that I should have a solid script to make the film work. Hence, I have chosen a heist thriller with three stories intertwined. I feel that even if one story strikes emotional chord with audiences, it will yield good commercial results.
The format of anthology film and the genre of heist is a potential combination. But these kinds of the films give audiences kick during the latter part of the film. Is it not risky to do such films in Telugu?
Bangaru Kodi Petta is definitely not targeted for all kinds of audiences. I am looking at urbane crowd and youth to patronise it. BKP is an original script with humor and heart. There is Teluguness in the film. It's a thriller where things unfold in the second half. It's true that things get better and interesting in second half in most of heist films as the scenes in first half make sense only after going through the climax of the film. It's kind of risk that pays off if the film is made in a convincing fashion. I think I have made the right film.
Talking about Teluguness, you sound more like an NRI than a proper Telugu-bred man. How did you get Teluguness right in the film?
Though most of the time I lived out of India, I make sure that I spend 3 months of each and every year in my home town Bheemavaram. I am a kind of guy who watched Badri back-to-back second shows. I am a Telugu guy at heart. I have seen kodi pandelu from a close quarters and understand how money flows in it. I have twin uncles. I have used all that information while designing Ram Lakshman thread in BKP.
Tell us about three story threads in BKP?
The thread of Navadeep and Swathi caters to urbane crowds. Ram - Laxman thread caters to village and has a heart in it. Pizza boy thread is about aspirations and ambitions. There is another character that denotes greed. The character of Bhanu played by Swathi is modeled after sales girls I see in malls. Most of them come from lower middle class background. They dress modernly, but look pretty unconvincing with their body language and dictions. They might be earning Rs. 5000/- per month, but what they sell might cost around 15000/- a piece. I used such character where it's easy to get tempted to chose a wrong path.
I wrote the screenplay of BKP in such a way that the transition from one story to another one is smooth and seamless. The thread of pizza boy acts a s glue that bonds these three stories together.
What is the reason for the delay?
chinna cinema kastalu!! We have looked into three parameters while making BKP - quality, money and time. In order to get the best quality it takes a lot of time. To get 60% quality is easy. But if you strive for more, it's going to take a lot of time. We tried achieving a quality of 70-80% with BKP.
Tell us about the producer Sunitha Tati?
She was involved in the production of my debut film Boni too. When I wanted to direct another film, I have decided that I should also contribute to the film financially. I have put in some money and raised some more with the help of friends and relatives. Sunitha made the entire process smooth once she helmed the project. I needed a producer who is sensitive to the story and Sunitha is the one who fits in the shoes perfectly.
What is the reason for getting U/A certificate despite of having a clean content?
The censor officers gave U/A as the story involves robbery. They have muted thokkalo word. There is no rhyme or reason behind such acts. We are at their mercy.
Tell us about your next film?
I have a script for an action comedy. It will be either a two-heroes film or one hero doing two roles.