Story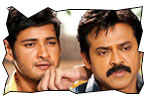 There is a beautiful family in Relangi village. Father is a good samaritan with beautiful outlook towards life. Mother is the one who takes all the pains with a pinch of salt and spreads love. There is a bamma (granny). Then there is Peddodu (Venkatesh) and Chinnodu (Mahesh Babu) - both of them are graduates and unemployed. Peddodu is a straightforward guy with a high temperament. He has an attitude problem. Chinnodu is a playful guy who can resolve any issue, but for convincing his brother. Seeta (Anjali) lives in the family and she is the sister-in-law (maradalu) of Peddodu. There is another family in Vijayawada that is related to Relangi family. The family head (Rao Ramesh) is a practical guy and a millionnaire. There is a conflict between Peddodu and Vijayawada family. The rest of the story is all about how the father of the family makes his kids understand the value of spreading love in life and how Vijayawada family head realizes the greatness of the man.
Artists Performance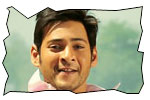 Mahesh Babu: Mahesh Babu is planning his career in a beautiful way. After doing an all-round entertaining character in Dookudu and terrific character of a ruthless angry young man in Businessman, Mahesh has selected a nice family guy role in this movie. The character is playful most of the times and highly intense in a few conflict scenes. It's a right career move for Mahesh Babu. Films of such sensible story lines will only work when superstars attempt them. There is a bit of romance and a bit of comedy from him to satisfy his fans.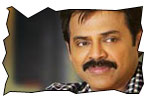 Venkatesh: Venkatesh is known as a ladies man and no other senior actor fits the role like him. Venkatesh has always done family characters as a sweet family member. But the character he played in this film is a different one. He is neither sweet husband nor a sacrificing family member. His character has an attitude problem. It's great on part of Venkatesh to accept and perform a role that is realistic. This role is a cakewalk for Venky.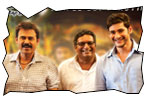 Other actors: It's one of the career best characterizations for Prakash Raj. A good Samaritan and a selfless man who treats everybody (including haters as good people). Prakash Raj is an asset for the movie. Anjali looks young and acts very spontaneously. Samantha plays love interest of Mahesh. She has a relatively small role in this film. Dubbing for Samantha is good. Rao Ramesh has done a few mature characters earlier, but the work he has done in Seetamma Vakitlo is nearly perfect. One can see subtle influence of his dad Rao Gopal Rao in dialogue delivery. Who else can do the role of mother? Jayasudha is the best. Rohini Hattangadi is cool as granny. Murali Mohan has done a short yet important role of an MLA. Tanikella Bharani and Kota Srinivasa Rao did nice roles. Ravi Babu plays the role of a hunchback simpleton. New actors Harish Koyalagundla and Vennela Rama Rao are noticeable as Nallodu and Viajayawada guy respectively. Abhinaya is good as heroes' sister.
Technical department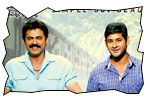 Story - screenplay - direction: It's a wafer-thin storyline with a sensible conflict point which is between Venkatesh and Rao Ramesh. The movie ends with both of them realising their mistakes. The character of Prakash Raj holds the theme of the film: treat every human you come across as a family member with a smiling face. Anjali character is the key because the conflicts arise due to the delicate position she is in. Firstly, director Sreekanth Addala should be appreciated for sticking to his script and for not including any commercial stuff for the sake of fans (except for a song for Venkatesh). The way he introduced all characters (except for heroes' sister) with a voiceover is superb. The conflicts between brothers is subtly handled. The break-ups happen because of Venkatesh. Since he loves his brother, Mahesh expresses helplessness by throwing things around (throwing glass, cellphone and kicking flower pot). The director has beautifully shown the reunion scenes of brothers. He has also wrote nice romantic introductory scenes for Mahesh - Samantha. The screenplay in the first half is neat. But it should have been more compact and racy in the second half. A few scenes in the film are heart-touching (1. Venky - Anjali episode in pelli choopula scene 2. Venky asking Mahesh 'enduku kunda tannavu' 3. Murali Mohan calling Prakash Raj in climax).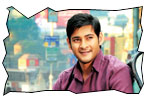 Other departments: Songs scored by Micky J Meyer are good. The title song is excellently picturized. Background music by Mani Sharma is very good. The dialogues penned by Ganesh Patro and Sreekanth Addala are natural and meaningful. Cinematography by Guhan is a feast to eyes. Art direction AS Prakash is excellent. Editing by Marthand K Venkatesh is smooth. Dil Raju is known for producing films to be watched by entire family. He has created a casting coup by bringing two big stars together and making a film that sticks to the script. His commitment should be applauded in trying to produce a good and meaningful cinema that focus on family bonding and human relationships.
Analysis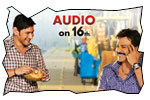 SVSC should not be treated as a multi-starrer, but should be seen as a multi-actor film. The roles played by Venkatesh and Mahesh Babu are realistic with a bit of grey shades and natural emotions. There are no fights, forced comedy scenes and other 'routine' commercial elements. First half of the film is beautiful and the second half is simple. This film addresses a brothers-conflict and the concept of vasudhaika kutubam (one family). On a whole, SVSC is a different and sensible film to be watched along with the families.
SVSC links
• Music launch
• Photo gallery
• Working stills
• Wallpapers
• Videos


Jeevi reviews of previous films
• Naayak
• Yamudiki Mogudu
• Midhunam
• Yeto Vellipoyindi Manasu
• Krishnam Vande Jagadgurum
• Routine Love Story
• Dhamarukam
• Tupaki
• Denikaina Ready
• Cameraman Gangatho Rambabu
• Rebel
• Avunu
• Life is Beautiful
• Shirdi Sai
• Srimannarayana
• Sudigaadu
• Julayi
• Onamalu
• Uu Kodathara Ulikki Padathara
• Eega
• All the best
• Mem Vayasuku Vacham
• Shakuni
• Oka Romantic Crime Katha
• Endukante Premanta
• Gabbar Singh
• Dhammu
• Racha
• Lovely
• Ee Rojullo
• Mr. Nookayya
• Ishq
• Poola Rangadu
• Love Failure
• SMS
• Snehitudu
• Bodyguard
• Businessman
• Rajanna
• Journey
• Panjaa
• Priyudu
• Solo
• Sri Ramarajyam
• Oh My Friend
• Mogudu
• Nuvvila...
• 7th Sense
• Pilla Zamindar



More Reviews