7 August, 2009
Magadheera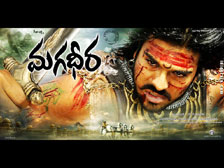 Firstly, I would like to thank IDLEBRAIN for giving me this oppurtunity to share my feelings/experiences about MY MOVIE. You guys are rocking!!!
You don't know how many times I open this site a day !!!!(even at my office, don't think that Iam work less there, have loads of work, inspite of being caught red-handed by my managers:-( )
After watching the movie Magadheera, I couldn't resist myself writing about the Movie.
Magadheera, incredible movie which adapted the new emerging technologies to the maximum. I could say that this movie is bundle of high techincal values, performances and efforts.
Though there are many movies with the re-birth concept, this is definitely a fantastic movie and dominated all the others.I used to believe that movies should carry some message for our society.
But after watching Magadheera, I felt that movies can also be watched just for entertainment, Imagination, relaxing and they can take us to a different world, where we wish we could be in that.
I follow the saying "A picture tells thousand words", but from this one, i thought "A picture shows thousand things" . Music,Cinematography, choreography, Action, art ,Costumes,Visual Effects and what not, everything is good. We can see the talent, hard work, efforts, passion of entire crew.
When I saw people talking about this movie in TV shows/audio functions/Previews, I definitely thought that they are creating hype as this came from one of the members of MEGA FAMILY. But this proved me wrong.I could see people in the theatre sticking to the chairs with pin drop silence in the second half. A clean and senseous romantic love story.This is the first movie, I watched twice in theaters in the recent years.
I never liked voilence in movies, but when I thought about my favourite scenes in this movie, the scene came to my mind is "Fight with 100 people" episode (I can't imagine this). Almost felt that a real warrior is fighting in the war. We could visualise the great work, perfection in every inch of the frame (partilcularly in the second half).Even though there are few scenes that does not make any sense practically, they got shadowed out or dominated by the good ones.
Coming to the artists performance, Charan acted in both the characters with ease. Particularly in the second half, he is simply superb. He is perfect for this role, royal,strong,terrific, handsome (Greekku veerudu :-).Amazing performance in both dance and fights as well. For a while Iam made to believe that "He is born talented" :-)
Kajal is awesome, elegant,gorgeous in the princess role. Kudos to Rama mouli for her great work in Styling.
Rajamouli, a perfect director who proved that one create wonders even with the weak script :-)
Lastly, I would like to congratulate each and every one in the Magadheera crew for giving us a marvellous movie.
Watch this movie, iam sure that you will come out with feeling that your 15/20$ are not ravaged.
Regards
~Anitha Vamshidhar~
anithabejawada at googlemail dot com
More My Movie experiences:
Magadheera by SS
Oy by Prathna
99 by Bala Thirumalasetty
Veedokkade by Srinivas
Delhi 6 by Vamsi
KIKK by Sweta
Luck by Chance by Srini
KIKK by Lalitha Spoorthi
Arundhati by Naveen
Arundhati by Srini
Arundhati by Bharat
Sasirekha Parinayam by Santhi Venkat
Sasirekha Parinayam by Vamshi Muthapu
Sasirekha Parinayam by Niharika Reddy
Nachavule by Vamsi Krishna
Neninthe by movie lover
Avakai Biryani by Vamsi Krishna
Kotha Bangaru Lokam by Vamsi Krishna
Kotha Bangaru Lokam by S
Ashta Chemma by Deepthi
Ashta Chemma by Lalitha Spoorthi
Sarkar Raj by Pradeep
Jalsa by Lalitha Spoorthi
Gamyam by Sridhar
Gamyam by Sreekanth D
Gamyam by Sanjay
Halla Bol by Purnesh
Taare Zameen Par by Ashok Varma
Taare Zameen Par by Raja Simha
Happy Days by Krishna Sastry
Chirutha by Phani Kumar
Chak De India by Ravi
Yamadonga by Lalitha
Chak De India by Shyam
AMAV by Darsakudu
5 in March by Sashidhar
Okkadunnadu by Anand
Black Friday by Ratnakar
Desamuduru by Krishna Prasad
Guru by It's opinion
Dhoom 2 by Lalitha Spoorthi
Dhoom 2 by ASK
Don - Syam
Boss - Anand
Boss - Hrithik
Stalin - Bala
Bommarillu - Nandini
Bommarillu - Darsakudu
Bommarillu - Vasu
Bommarillu - Harsha Prakash
Bommarillu - Lalitha Spoorthi
LRMB - Shravan
Bommarillu - Anirudh
LRMB - Srinivas
LRMB - Darsakudu
LRMB - S Sridhar
Bommarillu - Shridevi
Bommarillu - Vasudev
Bommarillu - Roopa
Sriram - Godavari
Sarath - Bangaram
Bala - Pokiri
Srinadh - Allari Pidugu
Sudheer Allari Pidugu
Anu - Athadu
Shyam Krishna - Iqbal
Purnesh - Grahanam
Sudhindra - Super
Vijay - Aparichitudu
Madhav - Aparichitudu
Hazaraon Kwaishein Aisi
Swades
Shyam - Black
Sai - Anand
Rohit - Anand & Veer Zaara
Jaya Prakash - 7GBC
Raj - Anand
Purnesh - Anand
Purnesh - The Village
Sriram - Gudumba Shankar
Purnesh - Gharshana
Purnesh - Lakshya
Purnesh - Yuva
Leenesh - Yuva
Kis - Lakshmi Narasimha
Indian Pride - Tagore
Raj - Boys
Phani - Gangotri
Phani - Khadgam
Vikram - CKR
BKR - Indra (Singapore)
Ram - Indra (Dubai)
Ranjeet - Idiot
Rahul - Indra
King Koduri - Indra
Srilakshmi Katragadda - Mitr: My Friend