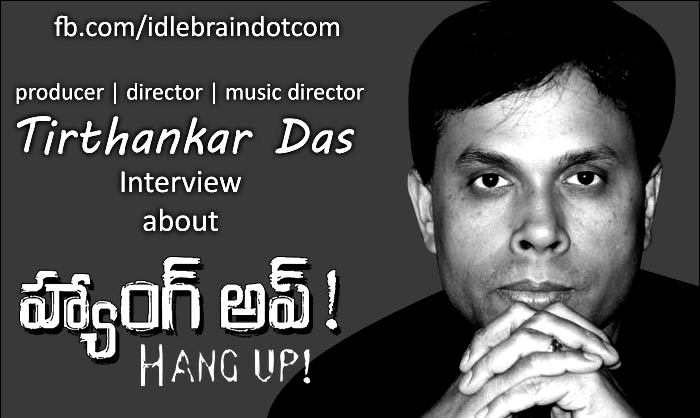 13 March 2014
Hyderabad

Tirthankar Das has good educational background and work profile. It's his passion for music and cinema that has brought into making films. His debut film Hang Up - a Telugu suspense thriller set in USA backdrop is getting ready for the release on 14 March. Here is an exclusive interview of Tirthankar Das -
Background:
I am a graduate of BITS Pilani and went to USA to do Masters in Connecticut. I am always interested in music and composed music for a few independent projects. I went to film school 'Digital Film Acaddemy' and completed a course in film direction. I have shot a few independent feature films and they were exhibited in film festivals. Then I have decided to make my first commercial feature film 'Hang Up' for which I am credited in three departments. I am the producer, one of the directors (along with Hyder Bilgrami) and one of the music directors (along with Shyam Vai) of the movie.
What's the story of Hang Up?
It's a youthful thriller about how a young girl gets trapped by somebody who uses modern way of communication to stalk and harass. It's like a puzzle which she solves and realises that she is in deep danger. This film is shot in USA.
Casting:
Sudhakar Komakula was in USA at the time I was looking for the right cast. I cast him after 'Life is Beautiful' film is released. Since we are shooting the film in USA and he is a natural actor, he is the right choice. Natalie is from UK and I auditioned her. She is perfect for the role.
Tell us about the new actress Natalie?
She is a multi-talented person who can be a role model. She did her medicine from Cambridge. She is among the top 10 classical dance (Kathak and Odissi) prodigies in India last year. She is also an 8th grade piano player and flutist. She has also attended and worked in Royal Academy of Dramatic Art, UK.
What do you think are the high points of your thriller?
Unique theater experience. Most of Indian suspense thrillers are narrated with loud sounds, but we have a natural yet effective sound in Hang Up. I got good vibes from the patrons in preview shows about the unique sound mix. The natural performance of Sudhakar and Natalie are going to charm audiences.
Tell us about the release?
We have managed to get around 70 theaters across AP. We have handpicked these theaters with nice sound equipment. We have managed to sell the dubbing rights for Tamil. We have been awarded A certificate due to murder scenes. However, there are no cuts in the movie.
What's the reason for choosing suspense thriller as your debut film?
Suspense thrillers are universal and don't need regional/cultural background. Thrillers are based on treatment in storytelling. They don't require big budget as story happens in a limited locations on limited characters. It gives us an opportunity to show our craft.
What's your inspiration for suspense thrillers?
Alfred Hitchcock - the master of suspense. I grew up watching his films. My favorite films are Birds and Vertigo in that genre.
What is your reading on thrillers from Mahesh Bhatt's stable?
He is a mindboggling producer. He has mastered the art of making movies and mixes all commercial ingredients (suspense, sex appeal and music) in right proportions.
What is your favorite Indian suspense thriller?
It's Khamosh directed by Vidhu Vinod Chopra.
Tell us about your next project?
It's going to be an out and out comedy film. An internationally known Indian actor has principally agreed to act in this movie. I got this film funded as well.