Story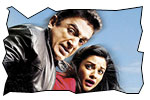 Viswanatham (Kamal Hassan) is a dance teacher in New York. He is married to Dr. Nirupama who is working as oncologist in nuclear medicine. It was a marriage of convenience as an elder Viswanatham wants a companion and young Nirupama (Pooja Kumar) wants somebody from US so that she can go higher up in life. Her life turns upside down when she discovers that her husband is not a feminine dance teacher, but a manly warrior. The rest of the story is all about past of Viswanatham and the present danger.
Artists Performance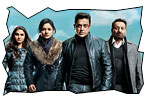 Kamal Hassan has got three avatars in this film which he portrays to the perfection. He is excellent with feminine body language as dance teacher. He is extremely believable in Muslim character and superbly stylish in action sequences in NY with another get-up. Pooja Kumar is alright. Gowtami's dubbing for Pooja's character appeared too mature. Andrea Jeremiah did the role of Kamal's companion and she is cool. Sekhar Kapoor did another important role. Rahul Bose is menacing as a terrorist. His make-u, dubbing and body language are extraordinary.
Technical department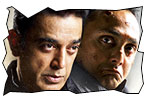 Story - screenplay - direction: Kamal Hassan who has a grand vision has designed a grenadier canvas for Vishwaroopam. Its story is set against terrorism in New York which has genesis in Afghanistan. Kamal who has penned the script had three finely etched get-ups and backdrops for the character played by him. It's an actor's delight to have such a multilayered role. He has narrated the story in spaced-flashbacks. The revealing of new hero avatar in the first half is very well done. The entire first half of the film relies on revealing characters and explaining the basic conflict between hero and villain. The second half is about resolving the conflict. Kamal Hassan gave two different tones based on the backdrop. The entire Afganistan episode has docu-feel whereas New York story is given the tone of a Hollywood action thriller with comedy (Pooja Kumar getting surprised/thrilled at her husband's new avatar). Kamal who has set-up the plot nicely with the scene where he reveals his trueself has lost the grip on first half by narrating the most of the flashback in the rest of first half. There are around 3 short flashback revelations in the second half. A film of thriller orientation needs racy screenplay. I loved the way pigeons are shown during the title cards and how Kamal has connected the pigeons importance to the story (both metaphorically and physically).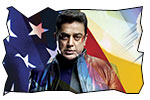 Other departments: Background music of the film is excellent. The only song choreographed by Kathak exponent Pandit Birju Maharaj is aesthetically done. Cinematography Sanu Varhese is very good. Special effects are of world class quality. The make-up work is extraordinary. Stunts in the film are good. The art director deserves a major applause for realistic Afghanistan sets he has erected in Chennai. Kamal Hassan has made sure that the entire film is mounted on a huge scale without any production compromises.
Analysis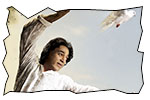 Viswaroopam is the dream project of Kamal Hassan and he has made it the way he wanted it to be. It's a spy thriller with sluggish narration. Don't expect major commercial payoffs while watching the movie (except for a scene I mentioned two in my review so far). If you have orientation of watching Hollywood films, you might connect with it. The emotional content should have more depth so that audiences can travel with the character and understand the motives. The success of the movie will depend on how well audiences connect with the content.
Vishwaroopam links
• Music launch
• Photo gallery
• Working stills
• Posters
• Videos


Jeevi reviews of previous films
• SVSC
• Naayak
• Yamudiki Mogudu
• Midhunam
• Yeto Vellipoyindi Manasu
• Krishnam Vande Jagadgurum
• Routine Love Story
• Dhamarukam
• Tupaki
• Denikaina Ready
• Cameraman Gangatho Rambabu
• Rebel
• Avunu
• Life is Beautiful
• Shirdi Sai
• Srimannarayana
• Sudigaadu
• Julayi
• Onamalu
• Uu Kodathara Ulikki Padathara
• Eega
• All the best
• Mem Vayasuku Vacham
• Shakuni
• Oka Romantic Crime Katha
• Endukante Premanta
• Gabbar Singh
• Dhammu
• Racha
• Lovely
• Ee Rojullo
• Mr. Nookayya
• Ishq
• Poola Rangadu
• Love Failure
• SMS
• Snehitudu
• Bodyguard
• Businessman
• Rajanna
• Journey
• Panjaa
• Priyudu
• Solo
• Sri Ramarajyam
• Oh My Friend
• Mogudu
• Nuvvila...
• 7th Sense
• Pilla Zamindar



More Reviews